Todays post in our series will be Copywriting for Online Ads. Once you get the hang of writing copy for blog posts, you'll want to consider trying online paid advertising next. Google AdWords, Facebook ads and Pinterest paid ads (Promoted Pins) are all great places to try your hand at online ads.
Most online advertising works this way: You bid on a specific keyword. When a user types in your keyword or looks for content on that subject, your advertisement is displayed.
Hello and welcome to Fearless Affiliate…education for new bloggers and online entrepreneurs.
My name is Irma and I help new bloggers to learn the ropes. There is a lot to take in that first year of blogging, from choosing a niche to changing your mindset to that of a successful entrepreneur.
I like to focus on practical information and positive thinking, so if that sounds good to you please sign up for my weekly newsletter of tips for bloggers.
Click the image below to sign up for my FREE 5-Minute Guide to Copywriting and start improving your website copy to increase engagement and clicks.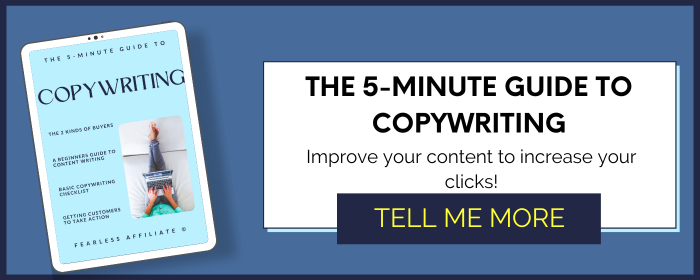 This post may contain affiliate links. If you click a link and make a purchase, I may receive a commission at no extra cost to you. Full disclosure is here.
Advertising can be expensive if you're not careful.
That's why it's important that you understand how to make sure your ads are engaging your audience and driving visitors back to your site.
However, the benefits to display ads versus search ads is the ability to feature graphics, carefully designed text, animation, pictures, fonts, and colors. A side benefit is raising your brand awareness.
Before we get started, here are some Google paid ad best practices from Mark Irvine at Wordstream. I will give you a condensed version:
Test multiple Expanded Text Ads in every ad group (at least 3): Expanded Text Ads (ETA) are something Google added in 2016. They are more than the standard text ads that we used in Google AdWords. This is a good thing becuase ETA's have higher click through rate (CTR). Briefly, expanded ads can come with a third headline, a second description, or up to 90 characters for each description. Read more at Google.
Set your ad rotations to optimize: Look for the words "Optimize for conversions: Show ads expected to provide more conversions". Ad rotation does not affect which ad is shown, but which ad enters the ad auction. Keep an eye on your analytics and deep dive different metrics to see which ads work for you. Watch for my post next week on using analytics to tweak your copy.
Use all the different ad extensions: It is can be challenging to keep up with the new extensions being added, but they do help with CTR. Extensions enhance your ads with features like: maps to show your business location, call extensions that add your contact information to the ad, and sitelinks. Read more at Google.
Create ad extensions across the entire account: Do not forget to apply your extensions! You can create a generic ad extension that will apply to your entire business at the account level.
Additionally and also from Wordstream, here are the latest updates to ETA's so you can see what is new and expanded even further.
* This post contains affiliate links. If you click a link and make a purchase, I may receive a commission at no expense to you. Full disclosure at the bottom of this page*
Engaging Copywriting for Your Online Ads:
5 Simple Tips
1. Identify Your Goal
Before you write an advertisement or start bidding on keywords, you need to decide what your end-goal is for this advertisement. Do you want to use the advertisement to drive traffic back to your blog? Or do you hope to get visitors to buy your latest product or book a consultation with you? Is it subscribers for your weekly newsletter that you are after? Different goals require different copy.
Keep in mind that you should have just one goal per ad campaign. Too many goals and you'll water down your message and risk confusing visitors. When your visitors are confused, they aren't sure what to do so they take no action. We do not want this.
2. Create a Short but clever or catchy Headline
Try to show your audience how you will solve their problem using a short, snappy headline. If your headline is too long, it will get cut off in the middle and sound awkward, so minimalism is key.
You want your headline to be relevant to what your ad is about. For example, if you sell outdoor equipment, you want your headline to have a related keyword phrase to catch the reader's attention. You can see keywords highlighted in Google Search returns, so this is important.
Related Post: 101 Blog Post Titles That Really Work (and can be used for your copywriting!)
People click ads because they believe that the ad will be helpful to them in some way
Not because the ad is flashy or cool. Mirror your customers end-goal and appeal to their desires in your headlines using great keywords like "sell your car for top dollar" or "100 easy 5-ingredient recipes".
Use emotional triggers. People do not click based solely on logic, so you need to appeal to their emotions in some way. Ever hear of the phrase from the late 60's "does she or doesn't she?". Clairol took over the home hair coloring market with that phrase, which appealed to women because they could color their hair and no one would know!
Or at least that is what the ad copy implies. Your mileage may vary. Not only is this statement intriguing, it also an emotional trigger for women who may feel insecure about their grey hairs. How great is it to color your hair and no one knows? This is a huge benefit to some people, so put lots of 'benefits' into your ad copy.
Thanks to that ad slogan, Clairol's sales increased fourfold and it caused 70% of all women to color their hair within the next six years. Copywriting for online ads will focus on benefits, not features.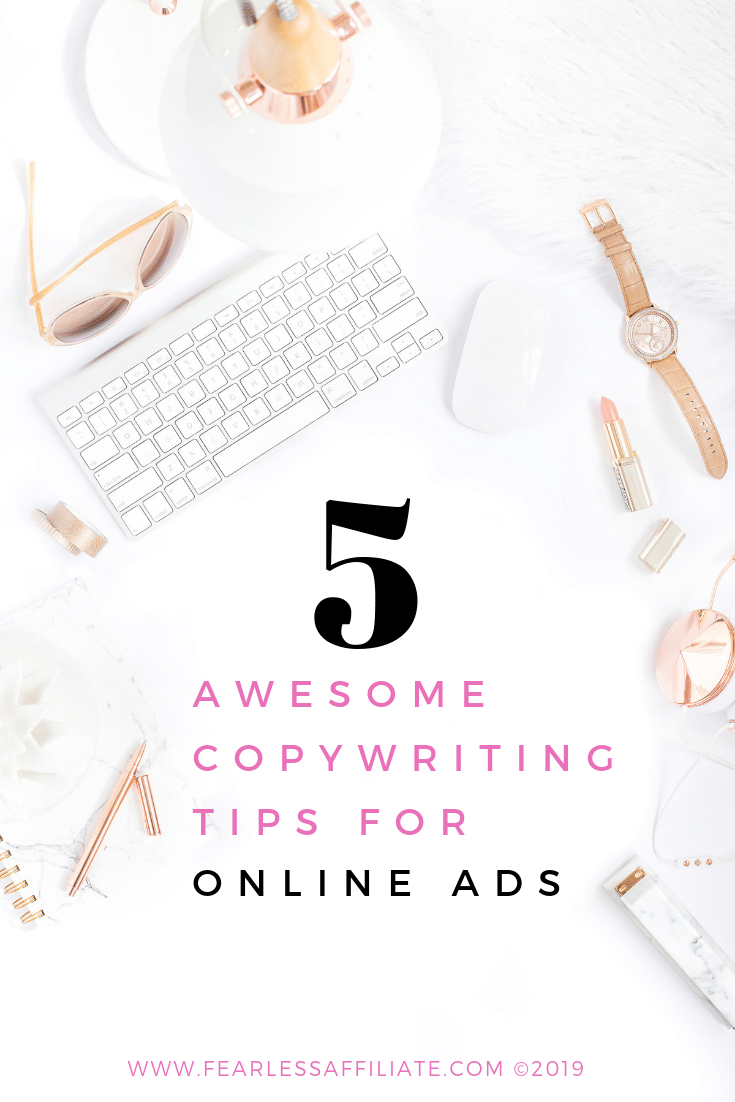 3. Research Image Sizes
Some online advertisements will give you the option to include an image. Ad extensions are an example of this. You definitely want to do this if possible because a beautiful, relevant image can quickly capture the interest of site visitors.
That doesn't mean you can use just any old image. You want to do your research and make sure you choose the correct image size for your platform. The wrong size may look distorted and drive visitors away.
You want your ad to stand out
AdWords has around 10 different banner display sizes that can be used on desktop or mobile. Plus there is one size that is only available on mobile, which is the 320 x 50 Mobile Leaderboard. Go with ads no bigger than 150kb in file size to stay within Google's acceptable limits.
Images must be in JPEG, PNG, SWF, or GIF formats. Google will not accept any other formats.
For Facebook ads, check this Facebook help article, but they say that images with less than 20% text perform better. There are plenty of great examples of what to do and what not to do in that article.
Also, be sure to use your brand colors as well so that visitors who click through don't get confused and think they are at the wrong website.
Related Post: Copywriting for Social Media Posts
4. Keep Your Body Copy Simple
With an online advertisement, you typically only have enough space for a sentence or two. Just because the copy is short doesn't mean it's ineffective. Thousands of advertisers create memorable messages with just a sentence.
Related Post: AIDA: The Copywriting Template for Bloggers
Like other forms of copywriting, focus on solving the customer's problem.
Do some research on your competitors and try to identify something they are missing that you can expand upon. Maybe you can offer better deals or a better product.
For example, if you sell webinar software, your copy might focus on how frustrating webinars can be if your visitors don't have the technical knowledge they need. Then you'll want to mention how simple webinars can be with your software which have an option that others do not. If users are curious, they'll click through to your website to learn more.
Related Post: Using Analytics for Copywriting
5. Send Visitors to a Landing Page
Don't send your users to your website front page. They may get overwhelmed or be uncertain about what to do next.
Instead, send them to a simple page where you share more information about your product or service. Landing pages do not have all the distractions that your website's home page has, with ads, sidebar information and other calls-to-action. Your email service provider may have landing pages that you can create and link to.
I use MailerLite and they have simple landing page templates that you can customize with your brand colors. MailerLite is free for the first 1000 subscribers, as well as having analytics for these pages.
Related Post: Copywriting for Landing Pages
A landing page also makes it easier for you to track how your users interact with your site once they click on your ad. This can give you valuable insights into what your visitors want and need from your brand. In my next post on copywriting, we will be looking into using analytics to tweak your copywriting so watch for that post next week.
Conclusion
I hope you are enjoying this series of posts on copywriting for beginners. Copywriting for Online Ads is your next level writing and is designed to get conversions, so it is a must for all bloggers to learn.
In this post I have linked to the other posts in my copywriting series, so please read them to learn all that you can about copywriting and see how it can help your website or blog.
Speaking of sharing, please share this post with anyone who may benefit from it. And don't forget to click the image below to sign up for my FREE my 5-Minute Guide to Copywriting.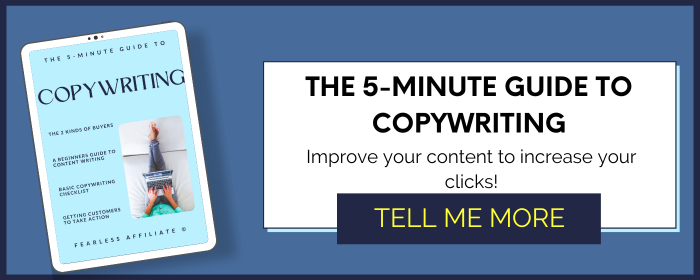 Happy blogging! You can also follow me on Pinterest.
-Irma 🙂