Today we will talk about how to make money online the easy way.
Every online business has a slightly different business model. And many people have found easy success making money with digital information products.
That is today's topic, because it is easy to implement and easy to scale.
Welcome to Fearless Affiliate.
My name is Irma and I help new bloggers to learn the ropes. There is a lot to take in that first year of blogging, from choosing a niche to changing your mindset from worker bee mentality to that of successful entrepreneur.
I like to focus on practical information and positive thinking. If that sounds good to you please sign up for my weekly newsletter of tips and exclusive content for subscribers.
Right now, get this 5 MINUTE GUIDE TO INTERNET MARKETING SUCCESS to help you understand better how to use internet marketing to create income online. You will be added to my weekly newsletter of tips for new online entrepreneurs.
This post may contain affiliate links. If you click a link and make a purchase, I may receive a commission at no extra cost to you.
Thank you for supporting my business! Full disclosure is here.
7 Steps To Make Money Online With Your Words

All around the web there are people who are making money with nothing but their words.
You've probably seen some of these folks. Maybe you've even felt a little envious of their success. And perhaps you've wondered how they do it.
Good news—you're about to find out.
Personally, I prefer to do the steps starting with the main product and working backwards from there.
However if you are new to this concept, it is good to see all the parts you need to create to set up your successful money making funnel.
Step 1. Design an Interesting Lead Magnet
Your first step is to create something to pull targeted prospects into your sales funnel.
One good way to do this is to create a lead magnet, which is a high-quality product you offer for free in exchange for an email address.
Now, while a lead magnet could be most anything, we'll focus on lead magnets you can create with your words.
Digital downloads should be easy to consume.
They also give the reader a taste of the education, so that they can determine if it is right for their situation/problem. For example:
Multi-part ecourse.
Report or ebook.
Mind map.
Swipe files.
Cheat sheets.
And similar items.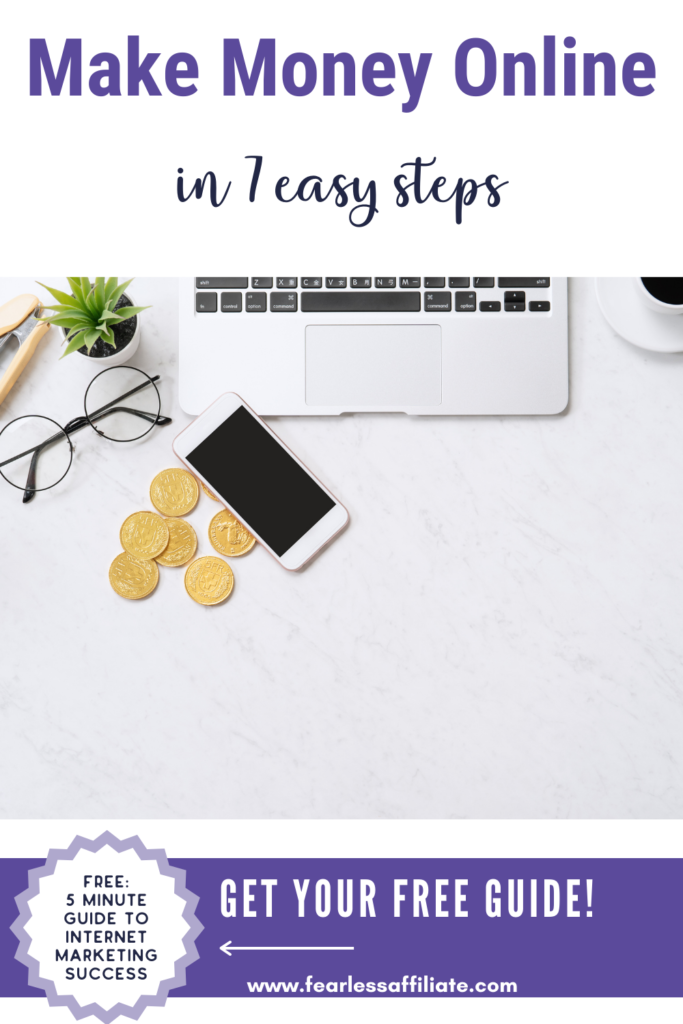 Step 2. Craft a Tripwire Product to start Making Money
Your next step is to create a tripwire product.
Tripwires are high-value, low-cost product that you promote to the prospective customers who took advantage of your lead magnet offer.
Basically, you want a highly desirable offer that's priced so affordably your prospects can't help but snap it up.
$7 or $9 is a good price range, but you can go up to $19 depending on size.
The mission is to turn your prospects into customers as quickly as possible.
Because once someone buys something from you, they're much more likely to buy something else.
So you need to offer something really enticing to get them to the order button so that you can build a relationship and then sell more products later.
You're going to promote this tripwire offer in two places:
Within your lead magnet.
In the series of emails you send to your prospects. (More on this in a few moments.)
Now at this point what you need to be thinking about is how all the pieces and parts in your sales funnel work together.
Step 3. Build Your Main Offer for More Online Income
Your main offer is a product that you're going to sell to those who purchase your trip wire product. This main offer could be anywhere in the $39 range to $97 or more.
The natural progression is lead magnet => tripwire => main offer.
In other words, each of these pieces should naturally lead to the next product.
Let's look at an example…
Suppose you're selling a discipline course for small dogs.
Here's what the first three pieces in your sales funnel might look like:
Lead magnet: Is your dog a trouble-maker? (This allows people to see if they need the full course or not)
Tripwire: 25 Tips to Help You Start Disciplining Your Dog The Helpful Way
Main offer: How to Train Your Dog To Be Obedient At All Times
To reverse engineer:
Create an outline for your full course.
Then create the tripwire product as a taste of what your course offers. This could be chapter 1 of your course.
And finally create the free item that points people towards the tripwire.
Step 4. Create an Upsell Offer For Added Value
What you're going to do here is create a product that enhances the use and enjoyment of the main offer.
Then offer this product as an upsell/cross-sell on your order form.
This is a good time to offer an upsell of a higher priced product you have created or a qualifying affiliate product.
If your main product sells for $49, a good price for this upsell is the $97 range.
This is the classic, "Do you want fries with that?" strategy.
All you have to do is think about what upsell offer goes together with your main product in the same way fries and a drink enhance the enjoyment of a burger.
Step 5. Design a Backend Offer To Promote Quality Affiliate Products
The next question to ask yourself: is what are you going to offer to the people who just purchased your main offer?
Again, the key here is to offer something highly related.
You want each piece of your sales funnel to be part of a solution.
This backend offer could be additional courses, ebooks, or even personal coaching.
Typically this backend offer carries a price tag that is at least as much as the main offer, and in some cases considerably more.
In other cases, you might create a product that offers you residual income, such as a membership site.
Let's look at some examples:
You sell an in-depth course to bodybuilders. Next, offer personal nutritional coaching on the backend.
Your product is a Facebook marketing course for online marketers. The next promotion could be to offer a package of ad templates, swipes and other tools to make it easy for them to create their ads.
Maybe you offer an organic gardening course. On the backend you can promote a series of books that give in-depth information on how to plant and nurture a variety of vegetables.
So where do you promote this backend offer?
Obviously, you'll embed calls to action and links inside your main offer.
However, you'll also follow up with your customers and promote related offers via email.
But before you do that, do you have your autoresponder set up?
Step 6. Set Up Autoresponders To Communicate With Your People
For this step, you're going to set up an autoresponder for every product in your sales funnel.
You do not need all of the products or all of the autoresponders in the beginning.
To get started, work on what you want your main offer to be, the corresponding tripwire and an ideal freebie.
So for this example, you'd have the following autoresponders:
Autoresponder 1
Is for prospects who join your list to get your lead magnet.
This is a five to seven part email series that is solely focused on selling the tripwire product.
This is also known as a "nurture sequence".
Each email will introduce you and how you started solving these problems and then pitch the tripwire as the rest of the solution.
Autoresponder 2
This is for customers who purchased the tripwire.
You'll remove the prospects from autoresponder list 1 (the prospect list) and onto the buyer's list.
This is a three to seven part series that is solely focused on selling the main offer.
Autoresponder 3
Will be for those who purchase the main offer. This is a three to five part series that is solely focused on selling the backend offer.
Autoresponder 4
Is for those who purchased the backend offer.
You'll set this autoresponder up once you have other offers to promote to your customers.
In other words, your backend selling is done on autopilot.
You will need to spend some time upfront creating the emails for each autoresponder sequence.
Once that's done you'll have a set of sales tools that work around the clock for you to generate income.
Here are two tips for optimizing this strategy:
Be sure your emails are evergreen. That means that they won't get outdated. Your content should be as useful and fresh six months from now as it is today. That way you don't have to spend time constantly updating your email sequences.
Promote just one offer per sequence and email. People need multiple touches and exposure to a product before buying, which is why you need to send out a sequence of three or more emails. You should also promote just one offer per email – if you promote more, it tends to dampen your conversion rates and people don't buy anything.
Step 7. Start Promoting Your Landing Pages
Now that you have the initial pieces of your sales funnel set up, it's time to start promoting your landing page.
Your main offers should have their own landing pages. This makes collecting data easier.
Your opt-in freebie should have its own page. From there you can re-direct to the tripwire or any related offers.
Create a page for your tripwire.
And a page for your main offer.
It is helpful for all the sales pages to have their own URL's, which makes adding them to shopping cart software much easier.
Use your favorite traffic generating methods to get your freebie out to as many people as you can find.
When you start making money, consider using paid ads to get even more traffic.
Conclusion
Congratulations – you just discovered a simple seven-step process for turning your words into cash in the bank. It's like pulling money out of thin air.
Sales funnels are just one way to earn money with online marketing. Other ways to earn online are: membership programs you run, coaching, putting ads on your site or paying for ads to promote products. When you create your online business, you can combine many of these for a totally unique business.
If you are ready to get started with an online business, then I have what you need!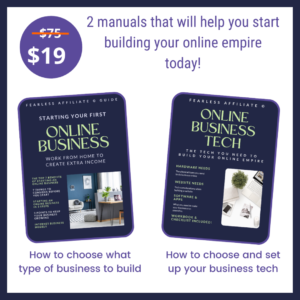 Your First Online Business gives you the information that you need to start your business:
7 things you should consider before starting an online business,
The different and most popular business models for online marketing,
How to start your business in 3 steps and
Ways that you can make money with your business model, plus a lot more
Also included is the Online Business Tech guide, which will teach you what kind of tech you need depending on which business model you chose. Learn about hardware, software and apps you may want to use in your business.
The Tech guide also comes with a 15 page workbook so you can take notes while researching your choices. And you get a checklist for the tools you choose to help you stay organized and for later reference.
This is an amazing deal for this much comprehensive help so if you have been thinking of starting an online business, please check out the Your First Online business bundle to see if it meets your needs.
Please share with others…sharing is caring! Let me know in the comments if these tips work for you! Until next time, happy blogging and follow me on Pinterest!
-Irma 🙂