Do you have a blogging business mentor? Do you need a mentor? What is a mentor? These are all valid questions for budding entrepreneurs.
In the words of Zig Ziglar 'A lot of people have gone further than they thought they could because someone else thought they could.' That is what a mentor can do…they help you see how far you can go! And who doesn't need that?
Finding a good mentor within the blogging universe can be a bit of a challenge,
because the nature of blogging is online. For many people, myself included, you cannot just run out to a networking event and find the kind of mentor that understands blogging.
Or can you?
When I first started looking for a mentor, I started looking at who was successful in the blogging world, like the Neil Patel, Yaro Starak, Pat Flynn or Darren Rowse.
However, since they had been blogging a long time and I was just starting out, I thought that maybe I needed someone who did not intimidate me like these super successful folk.
I found a number of people who were a bit further ahead of me with their blogs,
so I hung around and tried to pick their brains, but they did not like sharing their knowledge. It was as if they thought that I, with my fledgling blog, was competition. Really?
I joined a few Facebook groups for pin sharing, and I thought I might get lucky in one of those groups and find someone who did not mind sharing some wisdom, but it was very 'salesy'. What I mean by that is that people kept trying to sell me courses and ebooks. #nothelpful
And you can only go so far on the information that you get in Facebook groups, blog posts that you read from Pinterest pins, and general knowledge gained thus far.
What is a blogger to do? Well, first thing is to figure out what you are really looking for.
*This post may contain affiliate links. If you click a link and make a purchase, I may receive a commission at no extra cost to you. Full disclosure is at the bottom of the page. Thank you!*
What is a mentor?
A mentor is someone who currently is where you want to be.
So you have to decide what that is for you.
If you are a newer blogger, think 1 year of blogging or less, then that can mean you might want a mentor who has been blogging for 2 or 3 years, and that person can help you with beginners SEO pointers or email marketing set up or other next steps such as helping you dig yourself out of the weeds of pointless tasks.#facebook #twitter #readingemail
If you have an older blog, then you may be seeking someone who can help you figure out how to achieve steady growth, how to tweak what you already have, or more advanced steps like applying to better ad networks.
A mentor is someone who can give you the benefit of their experience
To help guide you to doing the work that benefits your blog, and avoiding the time-wasting tasks that give the appearance of 'work' but do not have a great ROI (return on investment).
The relationship you have with a mentor can be an official one, or it can be informal such as following in the footsteps of someone you admire.
A mentor can also give you valuable feedback
If you allow them to be honest with you.
Not all mentors have to be in your real life. If you need some tips on success thinking, then you can read books by Tony Robbins and Jack Canfield.
You can also take courses on the subject that most interests you, or that you think your blog can benefit from the most. When you find a course or book that resonates with you and has had benefit for your blog, then consider starting a relationship with the author if he/she is someone whose success is worth emulating to you.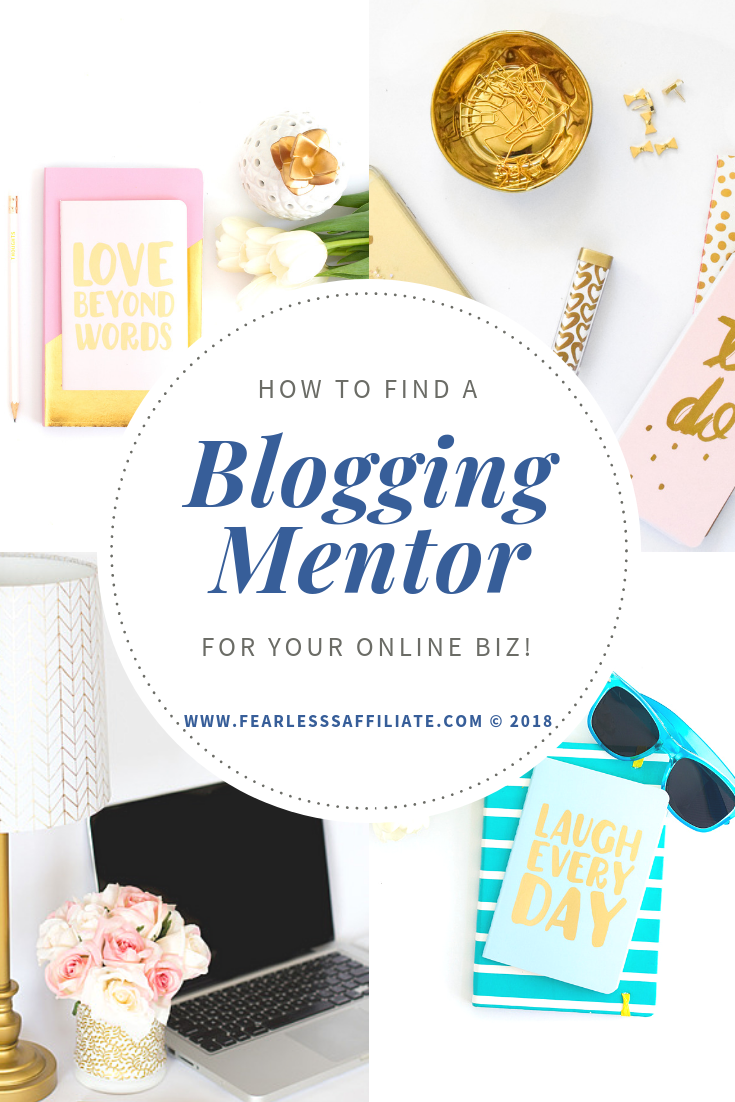 Why do i want a mentor?
The easiest answer is that you are the sum of the people that you associate with. If your other bloggers friends know as much as you do, then you will all get stuck at the same places, more or less.
Finding people to associate with who have more knowledge and skills than you do, that you can hang out with and 'pick their brains' elevates you to their level. Think about that. Here is a video that illustrates my point. And even though it is geared for young guys who are climbing the corporate ladder, many of the points are true for all of us entrepreneurs.
Be Aware! Colorful language ahead!
What to look for in a mentor
You might think success is the most important factor, but then you can end up in the territory that I was in when I discovered that a person that I wanted to be like (i.e successful website owner) had been doing some shady stuff while trying to get a leg up on the competition…and they got caught.
Which begs the question what is success? And is all success equal? I do not believe that it is, especially if the successful person does things that border on unethical.
So instead, let's look at experience, and steady growth.
Mentors have experience and have gone through the growing pains towards success. They have learned things, many things, and they will know what kinds of training you may need or skills to develop.
Start by looking at people who have been blogging for a number of years.
What that number might be is totally up to you, but for me, now, that number is minimum 5 years. For you, it may be 3 years or 10.
Long enough so that you can see that they had a slow and steady rise to the top, but not so long that they are out of touch with how things are now and how the blogging landscape has changed.
As well, what do you need the most help with in your blog?
Growth? Content creation? Pinterest traffic?
Seek out people who are successful with what you want to be successful with. Naturally, this can change over time, so seek out mentors who are where you want to be all along your route to success.
Think about what you want to get out of the mentor relationship
If you have set clear goals for your blog and know what direction you want to go in, this can greatly improve your chances of finding someone who is a good fit.
You have to set clear expectations
so that your mentor can help you achieve some, if not all, of them. Or at least set you on the right path.
People are busy and may not have as much time to help you as you may want or expect. Having clear goals that are broken down into chunks can make what you are asking for easier for your potential mentor.
The best you might be able to hope for is someone who can email you once a month. You need to be open to what other people have to offer you. Be flexible. Once a month may be more than enough help.
An ideal mentoring relationship is also a two-way street.
You have to willing to bring value into the lives others if you expect to get value.
Do you need a mentor or a mastermind group?
You can have mentors in mastermind groups, but not all mastermind groups have mentors….say that three times fast!
Mastermind groups have been around forever, and Napoleon Hill talks a lot about mastermind groups in his book Think and Grow Rich.
The idea of the mastermind group is to have several peers of varying levels of expertise together in a group that everyone can learn and benefit from.
If you want to be in a mastermind group but do not know where to start,
consider creating one and inviting others to join. Look for 3 to 5 people (or more) with different skill-sets who can bring unique information to the table.
As long as the group has the same type of goals.
Then everyone can benefit, because we are all at different stages of blogging and can learn from anyone who has mastered something that we need to master.
The nice thing about mastermind groups is that you can set up a schedule for meeting and use Skype or Facebook groups to get together.
And who knows, you may end up finding mentors within your mastermind group and if not, you may also find something better.
Where else can I find mentors?
The website findamentor.com offers to help you find a mentor, be a mentor, or even create a mastermind group! Not all of the mentors here will be free, so keep that in mind.
Sites like Quora have forums filled with authorities in all areas of life. This is a great place so scout around and meet some new people. You may not find a mentor right away, but you may find the kind of people who can connect you to one.
Another blogging site that may have the help that you need is the Warrior's Forum.
In fact the last time I visited the site, the fourth thread down was someone asking for a mentor.
You do not have to discount people in your real life either. There are a lot of people who are non-bloggers who are very good at marketing and business strategy.
Check out your local Meetup groups
or look in your local papers for networking opportunities. Even local events for book tours (think Rich Dad, Poor Dad for example) will have tons of like-minded people attending.
Along these same lines, do you ever chat with people while you are standing in line? This is a perfect time to elevator pitch your blog and you never know who might be listening!
If you can find opportunities to talk about what you are doing, you may find someone picks up on that. That person may become your new mentor.
Should you pay for a mentor?
I don't know…can you afford to? If there is someone who can act in a mentor capacity and they are willing to do this for free, then consider going with that.
On the other hand, paying for someone to help you lets you hold them accountable. This is a crucial aspect of mentoring. Without it, you could be spinning your wheels, going nowhere. You don't want to waste time as the entire reason to take on a mentor is to save time in getting you further in your development.
Final Thoughts
I hope that this post has been helpful for anyone who may be thinking of getting themselves a mentor.
Mentors can help you to find direction for your blog,
but so can mastermind groups and even networking groups. Be open to finding what you need in a different place than you might normally look.
While seeking out a mentor of my own, I ended up joining a new blogging community over the summer. See my related post below. I am finding that I get what I need within this group…bloggers who are on the same journey as I am.
Related Post: Billionaire Blog Club/Dare To Conquer
Please share this post with anyone that you think can benefit from it. And sign up for my newsletter of tips, deals, and freebies for bloggers.
Also, be sure to follow me on Pinterest. If you blog about blogging, I have a Pinterest group board that you can join…Fearless Bloggers. Just follow the instructions.
To try the Tailwind Pinterest/Instagram scheduler, I can get you 100 free pins and $15 off (one month) a yearly subscription. Just click this link.
Until next time, happy blogging!
-Irma 🙂