Today's post is why blogging is important…for most businesses. These days, anyone who is a serious business owner has a website to help market their business.
After seeing countless news reports of giant brick and mortar businesses going under, while online shops are on the rise, I think I can confidently say that the writing is on the wall…or the feed?
This post was originally published October 2nd, 2018 and has been updated to be current with new information. This post may contain affiliate links. If you click a link and make a purchase, I may receive a commission at no extra cost to you. Full disclosure is here.
Welcome to Fearless Affiliate.
My name is Irma and I help new bloggers to learn the ropes. There is a lot to take in that first year of blogging, from choosing a niche to changing your mindset from worker bee mentality to that of successful entrepreneur.
I like to focus on practical information and positive thinking, so if that sounds good to you please sign up for my weekly newsletter of tips and free stuff for bloggers.
Subscribers will get exclusive content, including the password to my resource library of PDF printables for bloggers like my: Google Analytics Cheatsheet or my SEO Checklist.#win-win
Still haven't picked a blog niche?
I can help with that too! Read my 5 Secrets To Finding Your Niche eReport…it's in the Resource Library. Sign up now and check it out.
Why Blogging is Important
A website with your chosen domain name (URL) establishes a professional online presence and offers a central hub for all of your online and offline marketing efforts.
Even if you sell all your products on Etsy, or even at a farmer's market, having a website with your work hours, contact information, and an updated product list can help your business succeed faster.
I have met multiple crafters who don't even use their business Facebook page.
Instead, they 'hope' that word of mouth will help them sell.
Well, those days are gone. Everyone does shopping research online…first.
Even someone who is just starting out with selling at craft fairs can benefit from having a website.
For those new to this concept, you can easily start off with a free website, like Wix or WordPress.com.
Once you get the hang of organizing your site for your customers, you can move up to a professional website that allows you to sell affiliate products.
Affiliate products pay you a commission for selling them and there are products for almost all niches.
If you selling knitting patterns, then you can sell needles, yarn, and other associated products to earn some cash on the side.
Health bloggers can sell supplements, exercise clothing or equipment.
Those who write or make videos of outdoor activities can promote camping gear, tents, hiking boots etc.
However, if you have not updated your website recently or posted fresh content to it, it's time to enhance your online presence to improve your chances of succeeding.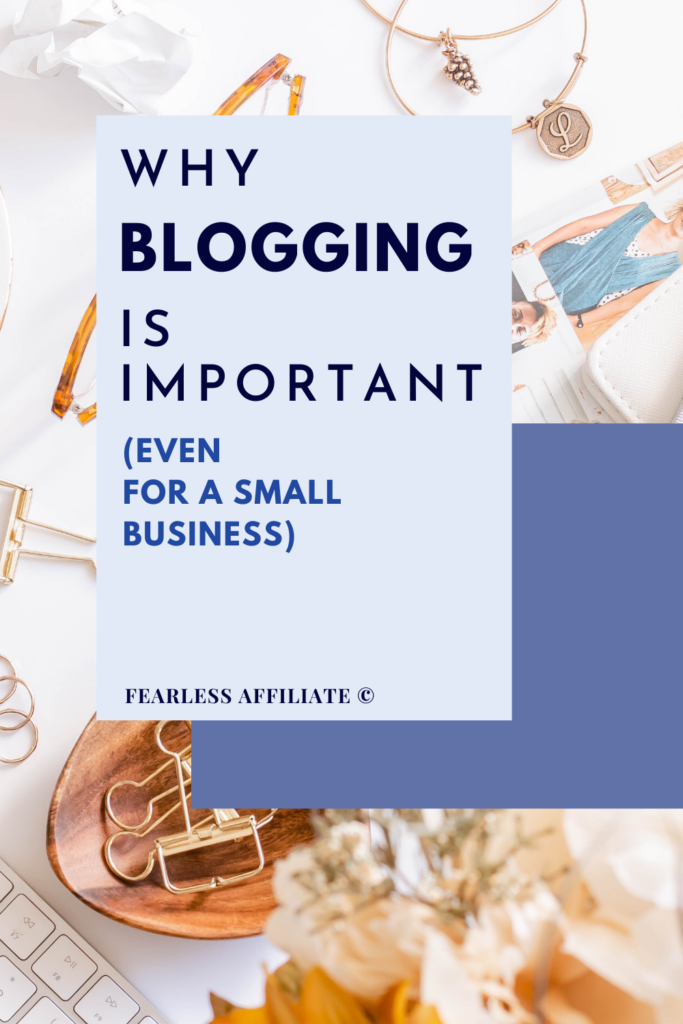 Types of Websites available
You can get a specific website theme if you need an option for online appointments and calendars with available opening.
This is great even for home-based businesses, like massage therapists, hair stylists/barbers, and people who teach crafting at their homes.
A regular blog website allows users to create text-based pages, like this one, to inform or teach online.
Many of these website themes allow video, so if you want to show people "how it is done", just add a YouTube link.
This is awesome if you want to show people how to do a specific exercise, how to chop veggies, or how to change a tire.
Storefront websites are specific to the "online store" functionality.
They allow you to showcase different options, like color choices or sizes.
If you create crafting items, like wooden toys that can be painted, you may want this option to show what the item looks like when completed.
You can get specific themes that are better for recipe sites or that allow you to use a lot of "how-to" photos.
There are website themes for almost every type of business, so it is in your best interests to get a theme that will promote you and your products.
How To Enhance Your Website
First thing first…what does your website look like to others? Many people are scrolling their phones, even doing research while at the store looking at a physical product.
They compare prices locally and online, so you should be ready for them.
1.Is your website mobile-friendly?
Consider purchasing a new theme that will enhance your website on mobile phones.
My theme is from Generate Press.
This theme is light-weight, meaning that it does not come bogged down with a bunch of "helper" plugins that are required to make it work right. It loads fast, for both you and people scrolling.
With a GP theme, you can adjust most areas right out of the box. And there is plenty of help on YouTube if you need it.
I also get free updates. Not so with the paid theme I had before.
The purchase of one Generate Press theme allows you to use it on up to 500 websites. #gooddeal
On mobile, the theme looks amazing. Generate Press is affordable, at $59 for the Pro version. You get a discount every year when you renew or you can purchase a Lifetime license for $249.
The Generate Press Pro theme allows you to put opt-in or contact boxes anywhere on the site, wherever you want them.
2.Start A Blog with WordPress.org
A blog is a fun and interesting way to present fresh niche-related content on a regular basis. Keep your visitors in the loop with updated content related to special deals, sales, and up-and-coming new products. It is a great way to reach out with a personal touch.
Write your content, upload it, and set the publication date. Your blog will be updated regularly without you having to work on it every day.
If you are working in a small company or are a solo entrepreneur, you might be thinking that you have no idea how to do either of these task and have no budget to hire anyone.
The good news is that you can kill two birds with one stone with a completely free program called WordPress.
WordPress.com or WordPress.org – what's the diff?
WordPress is the go-to content management system (CMS) for bloggers. 30% of bloggers worldwide us WordPress. And because of vast number of helpful plugins, you will see why when you use it.
There are two ways to accomplish this.
(1) Set up a free blog at WordPress.com.
This basic version of the program is mobile-friendly and will show you just how easy WordPress is to use.
Link to your site and vice versa to drive more traffic. WordPress.com websites were created for hobby bloggers or people who just want to connect with family and friends.
It is not meant for serious business use, because you cannot put affiliate ads on your site (to earn passive income). That is because WordPress is putting their ads on your site, which pays for the free hosting that you get.
(2) Purchase website hosting with a company such as Siteground.
Use their one-click install for the WordPress.org version.
Quality website hosting companies only use the WordPress.org version. It is free open-source software and no one should be charging for it, which is why hosting companies offer to install it for you when you purchase hosting from them.
You can be set up in just minutes. Then you will be looking at the WP dashboard, ready to blog! How easy was that?
The full version of WordPress (WordPress.org) includes 2 key items that can really help your niche business take off.
3.Website Themes
Themes are "skins" that set the overall appearance and functionality of the site, such as a text-based blog versus a photo blog.
You can get themes that are specifically for online stores, online magazines (the layout is different from text-heavy blogs), cooking blogs, restaurant websites, and so much more.
New themes for emerging new business-types are created all the time.
WordPress.org comes with tons of themes. Looking at the choices will keep you busy for a day or two, but you can pick any theme you want and then change it later.
Search through all the free professional-looking themes – and there are many to choose from – to find the one that is right for the look and feel of your business.
*Note* – Many website themes will come with helper plugins for functionality.
I purchased one theme that required 7 plugins, none of which I was already using. The plugins bogged down my site and made it load slower. I had to pick and choose which options I could live without so that I could get rid of the accompanying plugin.
Things like a special 'bio box' for showcasing your photo and a brief 'About me" are nice to have, but not important to visitors.
4.Plugins
Plugins are little software programs that add a range of functions and tools to your pages and site.
Most plugins are free, but many popular plugins have a free and a paid version.
Paid plugins come with a lot more options. Weigh the cost with the return on investment (ROI) to decide whether to upgrade into the Pro version.
Here are some suggestions:
Social media sharing plugin. I recommend Social Warfare.
An SEO plugin that allows you to modify meta data. I use All-In-One SEO Yoast SEO. (free version)
Forum or discussion board
Top niche products lists with links to buy
Spam catcher plugin, like Akismet Anti-spam. Get this first thing.
Membership site, free or paid
Frequently Asked Questions (FAQs) portal
An image optimizer, to help your page load faster if you have a lot of photos. I use Kracken.io plugin.(free)
Popular posts. You can grab a plugin for this or create a new tab in your menu bar. Social Warfare, the plugin mentioned above, does this in the free version.
And much more. This is another area that can keep you shopping all day, like themes.
However, I caution you to not add plugins all willy-nilly.
Too many plugins, combined with a bloated theme, can slow down site loading time. If your visitor gets tired of waiting, they may move on.
The two most important plugins in the beginning are:
A spam catcher
An image optimizer
As you move forward with your website, you can add other helper tools in later.
A note about website images…
Have you ever gone to a website that takes forever to load? There are so many images and banner ads, all competing to load up first.
This is an unpleasant user experience, especially if you also want to use videos in your content.
Images use up space on your website, and a website that is loaded up with the largest sized images will slow down your website.
It is important to use the smallest size image that you can to tell your story on your website.
Not the teeny tiny thumbnail photos, but not a massive image either.
There are plenty of free stock-image sites where you can get free photos, and most allow you to download an image in different sizes.
Try downloading 2 or 3 different sizes of the same image and put them in your blog post to see if you can tell the quality difference between them. Try to use the smallest size that you can get away with.
Obviously you want your most important images to have the best quality.
But if you use images to fill in the white space on your blog posts, you can lower the image quality.
Note that image optimizer plugins only optimize the photo you added. It does not resize images unless your plugin has that option and if you use it. A better habit is to only upload smaller images first.
Helpful Links For Starting A Blog or Website
Need a domain?
Our recommendation is NameCheap. Try to find a domain name with the .com extension. Everyone types in .com automatically now, so go with it!
Need website hosting?
We recommend Siteground, for their ease of use, excellent technical support, and range of features for all types of users.
Need a theme?
My theme is from Generate Press.
Need a Social Sharing plugin?
I recommend Social Warfare. It is $25 a year and adds a bunch of functionality to your website, for sharing in different ways. Like the "top posts" that you can add to your sidebar. Or how easy it is to share out posts with special images for Twitter, Facebook, Pinterest, and others.
Conclusion
I hope that I have encouraged you to create a website for your small business. Many people are online looking for unusual or custom items that are not found anywhere else. This is how small businesses can blow up in popularity…overnight.
Need help with copywriting? Use my Copywriting Checklist to write compelling call-to-action text for your pins. Encourage readers to come to your site for more information. Sign up for my weekly newsletter and get all my PDF printables for bloggers in my Resource Library.
Happy Blogging, and follow me on Pinterest! And sign up for my free weekly newsletter of tips, deals, and freebies for bloggers.
-Irma :