If getting paid to promote products other people make sounds good to you, you are in the right place.
Affiliate marketing is much like telling your friends about a new product you found. When you find something good, you naturally want to share that information with others.
It is exactly the same to take a physical product you have tried or a digital product that helped you, and share why it helped you.
Welcome to Fearless Affiliate.
My name is Irma and I help new bloggers to learn the ropes. There is a lot to take in that first year of blogging, from choosing a niche to changing your mindset from worker bee mentality to that of successful entrepreneur.
I like to focus on practical information and positive thinking. If that sounds good to you please sign up for my weekly newsletter of tips and exclusive content for subscribers.
Right now, get your FREE 5-Minute Guide to Affiliate Marketing to help you understand better how many ways you can implement affiliate marketing for your online business.
This post may contain affiliate links. If you click a link and make a purchase, I may receive a commission at no extra cost to you. Full disclosure is here.
Why You Should Promote Affiliate Products
You may have dismissed this option as complicated or time-consuming, but it is worthwhile knowing about.
For one, if you understand what affiliate marketing is, you can be on the lookout for great products.
And if you promote other people's work, it will make you money and friends!
No matter who you are, it's important to keep reaching for more – more exposure, more credibility, more income, and more friends!
Promoting other people's work is a wonderful strategy for all of this and more.
As a matter of fact, promoting other people's work is a great way to get noticed by product owners and other collaborators.
Want to capture someone's attention?
Promote their stuff and make them money!
This encourages you to get to know the product creator, and this will help you promote the product on a more personal level.
You can even get started affiliate marketing without a website.
Once you pick a format, you just need to do some marketing to get people to your links.
What's In It for The Product Creator?
Product owners rely on their affiliates to offer their products to a wider audience than they would not otherwise have access to.
The collective reach that affiliates have far exceeds their own and makes it possible for them to connect with new customers with very little effort.
In the same way you benefit from making income without creating products, they make income without having to market their products. It's a win-win.
If you have a successful affiliate sale, the product creator is making money.
Their products are selling and reaching more people.
Many product owners discover large groups of people they never knew that want to consume their products.
Making these new connections can create new opportunities to collaborate and make additional products.
Essentially, the more you sell, the more they notice.
Affiliate marketing is part of a sales funnel.
Your job is to get people to click over to your content and read why they should consider purchasing the product.
After you do your promotion, such as a blog post or video review, your people can click the link to get more information.
This means that it is now the product owners job to make the sale.
After they click that link, your part of the job is done.
The product creator's website copy should help the buyer to decide if the product is right for them or not.
They do all the heavy lifting:
You bring the potential customer,
Their sales copy makes the sale.
They pay you a commission.
You deliver the customer, and they take them across the finish line to the sale.
On that note, be sure to check out all their sales banners and promo items to make sure that they give you what you need to do your part.
And remember to have your disclaimer above the sales pitch content.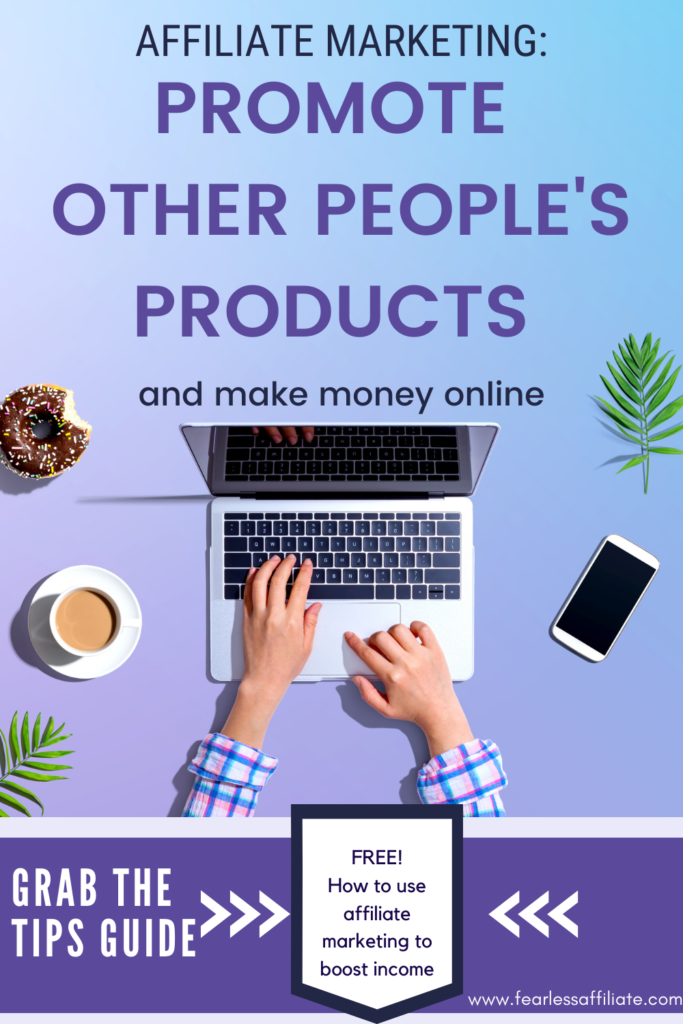 What's In It For The Product Affiliate?
As an affiliate marketer, you benefit your audience by offering them additional goods and services that enhance your other offerings.
Additionally, using affiliate sales can widen the variety of and increase the frequency for making sales.
If you are thinking of creating your own evergreen information products in the future, affiliate products can bridge the gap.
And you can put affiliate links in your future products as well.
This creates multiple streams of income that help you earn more while doing less.
One of the collateral benefits is making connections with product owners you may not have access to otherwise.
These connections can open doors for collaborations or other opportunities that are professionally or socially beneficial.
You never know, a simple affiliate collaboration could launch a new partnership or friendship that takes your business to a whole new level.
It feels good to get paid to promote products
It verifies that the product is a good one and that you can help people by finding good products to promote.
And it also feels great to know that someone endorses your work.
Each time you promote a product owner you are giving them your stamp of approval for their goods, services, or products.
That means a lot.
Promoting other people's work will make you money, but it could make some great new friends as well.
If you are particularly fond of the product or the person who created it, be sure to let them know.
You never know if your connection might open a door to a wonderful new partnership or friendship.
And they may ask you to beta-test new products, so you have advance notice of products to market to your own audience in the future.
Conclusion
Affiliate marketing is one of many ways to earn income with an online business. You can also create your products to sell (recommended) and put affiliate links within them to potentially increase your earnings.
Be sure to sign up to my newsletter and grab that 5-Minute Guide to Affiliate Marketing guide. One is all about affiliate marketing and the other is about using affiliate marketing to boost income. They are free, so sign up now.
Please share with others…sharing is caring! Let me know in the comments if these tips work for you!
Until next time, happy blogging and follow me on Pinterest!
-Irma 🙂