Achieve your blogging goals with free email automation!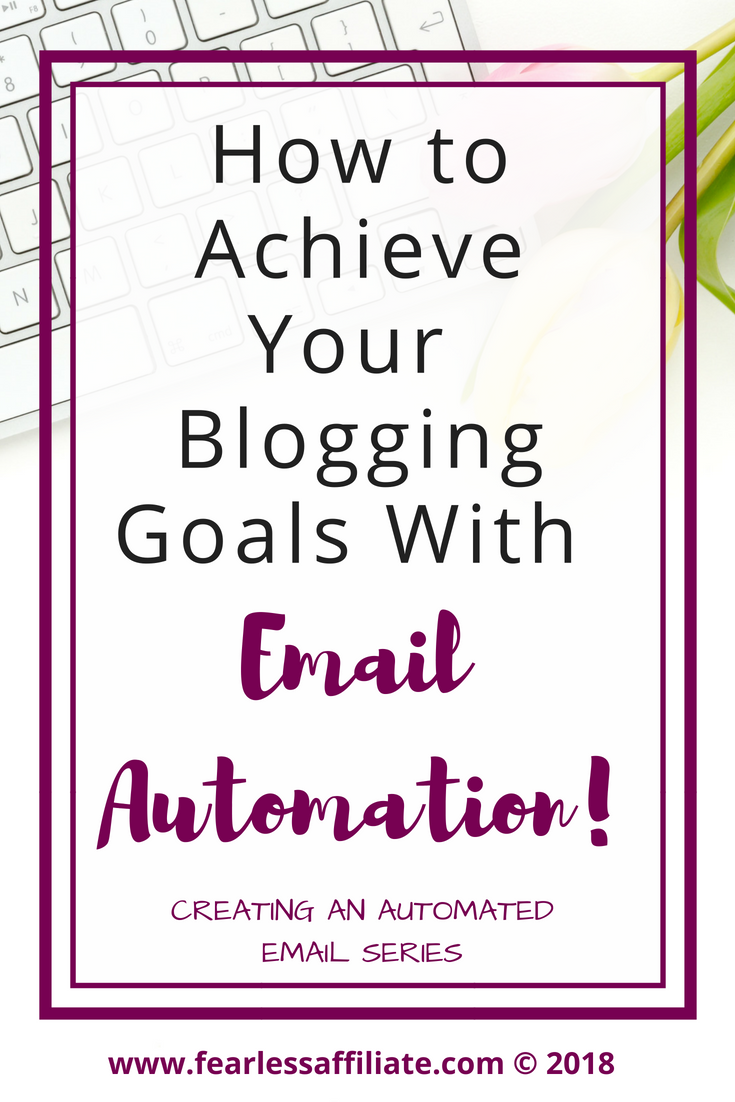 If one of your blogging goals is to monetize and get your blog to the next level i.e. a full time income, you will need subscribers.
If your goal is to figure out what you should be writing about, then ask no more! Subscribers will help you to hone your craft. You can ask them what they want to read about.
Subscribers will respond to your emails in a more personal way than regular blog readers, because even if only one subscriber responds to your request for blog post ideas, at least you will know something. This kind of feedback is valuable!
Is one of your goals to have a loyal audience? If so, subscribers belong to you. They are YOUR audience. They signed up because they want your content. This is a good thing because you will know that you are doing something right if your subscribers stick around. Or what you might be doing wrong so that you can fix it.
Social media may come and go (I am looking at you Facebook), but email will always be yours. And most subscribers are not trolls lol. You get better quality feedback from your audience of subscribers.
Is one of your goals to create a course (or two) to sell? Why spend months creating courses for people, only to hear crickets? Your subscribers will let you know what they want so that you can create a sure-thing to solve their problems and for them to purchase.
I think that the sooner you start email marketing, the sooner you will know exactly what you should be writing about, because now you know who you are writing for!
Related Post: How To Use MailerLite
Related Post: Increasing Traffic with MailerLite Embedded Forms
*This post contains affiliate links. If you click on a link and purchase or sign up for something, I may receive a commission or benefit, at no extra cost to you. I only promote products that I believe in. See my full disclosure at the bottom of the page*
why do I want to create a workflow welcome series?
Automations. Sequences. Series. Workflows. The name changes depending on the ESP, but the concept is the same.
If you want to build a relationship with your readers, there is no better way than introducing yourself via an email series, created with MailerLite. These are called a "workflow" in MailerLite and you find them in the dashboard under Automation. You can also use automations to deliver freebie courses to subscribers…some nice original content that they will love.
Your new subscribers get used to seeing you in their inbox if you send 3 to 5 emails in a one week time period.
The automation that we are going to set up will be a series of emails, dripped out to your subscribers over a period of days, thereby giving you a chance to introduce yourself and your website and what you have to offer.
You have very likely received an email series like this, and if you found those emails helpful you are probably still on that list. People want to be on your list as well, so do not deny them any longer!
Automations will save you a lot of time. Once it is set up, every time someone opts-in to your newsletter, this series will go out to them.
The world gives you automation…use it!
We will set up the entire series at once, and then it is done! I set my MailerLite series up in February, and if I can do it then so can you.
Log in to your MailerLite dashboard
…and choose Automation. Click the orange CREATE YOUR FIRST WORKFLOW button. If you have already attempted this part, then just click the Create a New Workflow button.

You have to give your workflow a name, and no one will see this but you so name it in a way that you helps you to sort it out from any other workflow that you create in the future.
Next, choose a Trigger. The most popular choice is the first one When A Subscriber Joins A Group. This will be triggered by them signing up to your opt-in form on your website (the group being your subscriber list).

After that, choose a group. If you are just starting out, you probably only have one group – your main group of subscribers, so go ahead and choose them.
Later, when you create a free course, you will create an opt-in and make a new group for this offer. Then link that new group to the free course! Are you seeing the possibilities yet? I bet you are.
Below this you should see SETTINGS and you can check the box here. This means that if they unsubscribe and then re-subscribe they will get the series again.
It is up to you if you want someone who unsubscribes and then subscribes again later to get the same welcome series again.
Click Save and we will start building the workflow.
The first step in the workflow should be showing you a box that says "When subscriber joins group…" and then your website URL, and then a line heading down with a circle and a plus sign in it.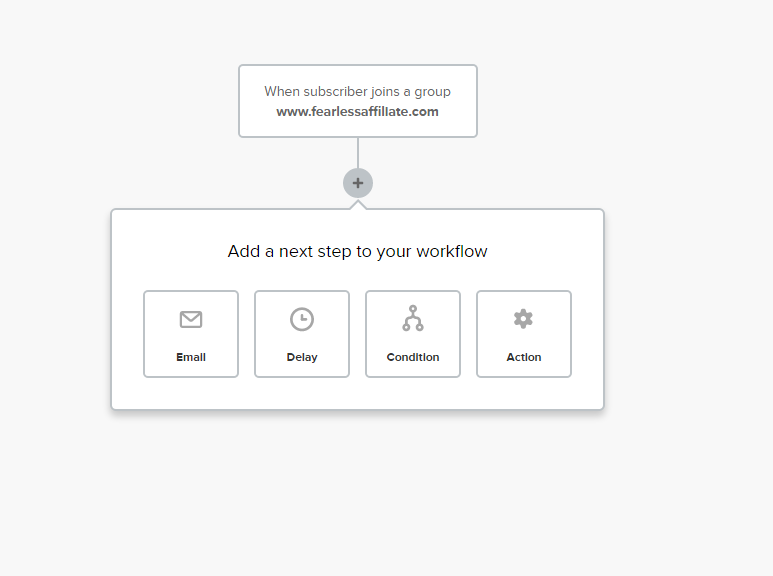 Click the plus sign to access the next step. In our case, choose EMAIL so that you can create your first email to new subscribers. Save.
You can write the emails later, but for now let's just create the workflow.
Under where you clicked EMAIL in the last step, there will now be another circle with a plus sign. Click it and choose DELAY this time. This is where you will set up how much time will pass between the first email and the next one in the series.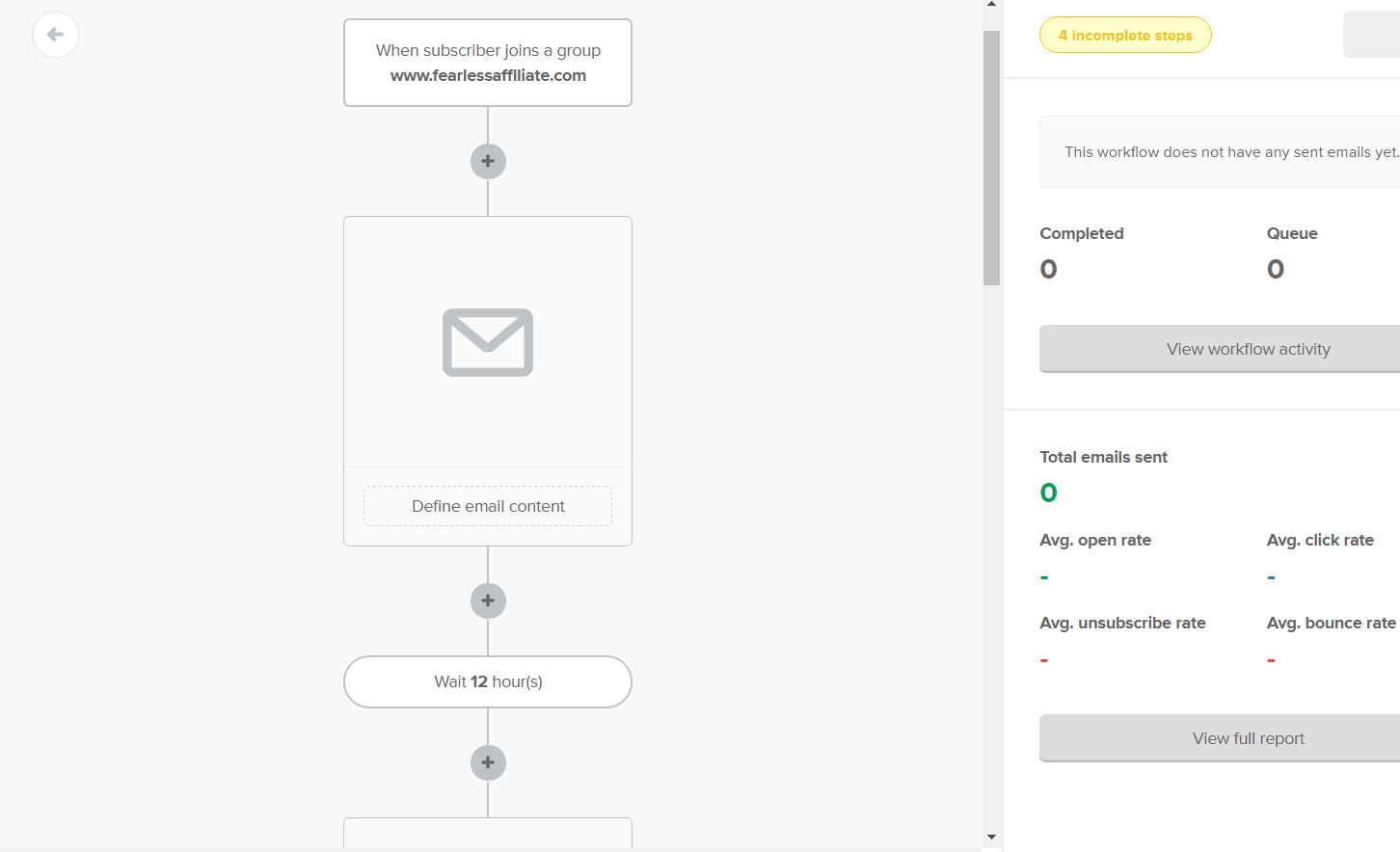 Since the first email goes out immediately after your subscriber opts-in, send the second email out 12 hours later. Save.
We will repeat this process for each email that we want to send in our series. Depending on how many emails that you want to send out, your workflow should look something like this:
Welcome email right after opt-in
Second email after 12 hours
Third email 1 day after second email
Fourth email 1 to 2 days after the third email.
Fifth email 2 days after the fourth email.
I would suggest that you send no fewer than 3 and no more than 5 emails. Essentially, you get into a person's inbox 3 times in the first couple of days and then one or two more times that week. Too many emails, and your new friend might unsubscribe. Not enough, and they will forget who you are.
Yes, more trial and error!
I did not do a fifth in my series only because I thought four was too many! Was it? I do not know. No one emailed me to tell me anything like "you are sending too many emails!!" and I did not get a bunch of unsubscribes, so…
Here is a video from MailerLite, if you want to see the process from start to finish in about 7 minutes…
Ta-da! Automation is set up!
Note: Conditions and Actions are the other two choices that you have in your automation and they have to do with segmenting your audience and then putting those people into a different group. That is another blog post right there.
Write your emails
You get to choose how to create your email, so go with Rich Text Editor so that anyone can view the message using any device. Since so many people are on mobile, simpler is better.
If you are offering a freebie, then put the link to it in this email and thank your subscriber for signing up. Ask them to "whitelist" emails from you so that they do not end up in the spam folder; as well as any other "housekeeping" issues, like adding you to social media.
I try to smile while I write, because inside I was so unsure of myself, and I was hoping that my fears would not come across in the mail. This may help you as well.
I found writing emails to strangers very hard, but now I like to think of subscribers as new friends. It is much easier to talk to people that you are fond of!
I can promise you that it gets easier! Especially if you do not get a lot of unsubscribes right away. You will know that people really want to be on your list, so you can get down to figuring out how best to serve them, which is way less stressful!
You can also link to some of your popular posts that your subscribers might enjoy, or talk about things that you are offering or that you might offer in the future. If you are planning a course in the future, let them know that you will be picking their brains for ideas!
Do not try to sell anything at this point
You are trying to build a relationship. I dislike getting an introductory email that asks for money. Maybe that is just me.
Please check some of the emails in your inbox for ideas on what works and what does not work for you, and then adjust your own emails with this information. There is no hurry, and it is better to know what you want to do before you do it.
What makes you click to open an email? What makes you wait to open it until some other time?
For myself, I like getting roundups in the mail. If someone has a bunch of helpful blog posts, I like checking them out. It helps me to see if they really have the information that I want and that can help me in my life.
My advice is to just bite the bullet and go for it when choosing what to write about. It will be a memory soon, and you really do not know what will resonate with people until you try it.
On email headlines…
If you read my post on Free Blogging Resources, you may remember me giving the link to CoSchedules Headline analyzer. Well they also have a handy-dandy Email Subject line tester. I am really not a fan of click-bait headlines, but there is no reason why you cannot create some buzz. Try to find a balance.
Watch for some popups, at this website, for "How to Write Headlines that Drive Traffic" and also a "Catchy Blog Title Infographic". They are free PDF downloads. Grab both of them. They will always be handy! They are designed for blog posts, you can never have too many good ideas for catchy headlines!
For the second email
Introduce yourself a bit more, such as what part of the world you live in and how you came to be in this person's inbox and why you are doing what you are doing and how you can help others. Not a book, just a paragraph or two to warm them up to you.
You can add a photo of yourself too, so that they know you are a real person.
You can also help them to navigate your website by telling them what is there since they may have subscribed from the sidebar of the first page they went to, and they may not be acquainted with your awesomeness.
Third email
Offer up some more links to great content, either yours or someone else's that you think might help your audience. Talk about your struggles and how you overcame them, because you want to impart to people that you can help them with their struggle.
If this is your last email to them, tell them when they can expect to hear from you again, whether RSS feed of your latest blog post sent to them after publishing or whether you will pop in once a week on whatever day of the week you pick.
Whatever day you pick, stay on schedule with that. People who are expecting your content on Monday are expecting your content on Monday. What can I say? People are like that 😉
Pro Tip: When you start writing your weekly emails, feel free to write a bunch of them and leave them in draft form in MailerLite so that you always have one ready to go. If you get swamped one week, you can still send out something and you can edit it the day before to add something current.
RSS should only be a temporary solution. It is more personal to write a letter to your new audience and link your blog posts within it, than to just send your latest post.
You really have no idea what motivated someone to visit your website, so you can not really be sure of what type of content they are interested in. Linking posts from different areas of your website gives your audience a chance to check out something different, but related to the post that brought them to your site.
For example, if you promote camping gear on your website. A visitor may be interested in tents, but not ready to research camp stoves yet. Sending them a link to your top 5 camp stoves might interest them while they are checking out your tent recommendations, and they can bookmark it for later.
Be sure to thank your subscribers again for signing up!
If you are adding a fourth or fifth (or more) email
Just keep offering links to your awesome content or free products that they can use to help them, or other ways you can be helpful to them.
Don't forget to ask them to write to you at your website email address with any questions that they have or if they want to get posts or newsletters on a particular topic.
The more engaged you are with your audience, the easier it will be to help them!
We made it!
Congratulations on completing your MailerLite email marketing automation series. See, not so hard is it? You have to tools that you need to capture email addresses and to start connecting with people who sign up.
You can easily set this whole thing up and leave it in draft form until you are ready to write the emails, or just go for it get 'er done.
I would suggest that you write your first regular email right after you do the welcome series. Since you are already in the "flow", it will be easy. You may have more published content that you want to share, or if you get a lot of emails, there may be something in them that you want to share with your new friends!
Pick a day of the week that you are comfortable with and choose the "send later" option for your campaign. Your welcome series will go out on whatever day of the week your subscriber signed up. And then they will get a regular email from you on whatever day you have chosen.
Whew! The hard part is done.
As for unsubscribes… Unsubscribes tell you two things: either the person unsubscribing was not a good fit for your content. Or they thought that your approach was a bit too…aggressive? salesy? casual? rigid? Well it is hard to say.
If you have ever signed up for something, and realized it was not quite what you were looking for and then unsubscribed, well there you have it. Do not lose any sleep over the unsubscribes. You will not have that many of them to contend with.
Please leave a comment and tell me how you did setting up MailerLite…was it easier than you thought? Did you have the jitters writing the emails? Are you happy to be able to move past this part of blogging?
Or are you just breathing a sigh of relief that you can now collect an audience? Let me know, and feel free to share this series with anyone that you know who can benefit from the information. That is why we am here…to help!
Have a great week and happy blogging! And go ahead and follow me on Pinterest!
-Irma 🙂