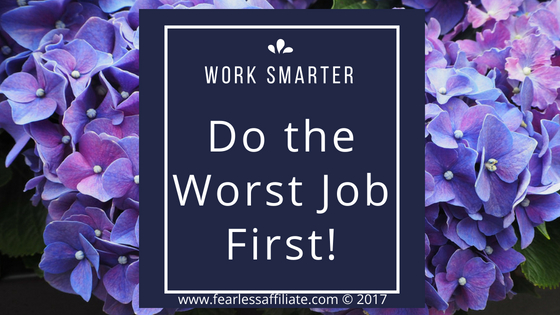 Work smarter and increase your personal productivity!
If you want to obtain your goals in a set amount of time, you must get organized by creating rules for yourself to follow. See my post on setting goals. This will allow you to keep producing content on a regular basis, while still having time for the rest of your life.
As you write out your goals and give them timelines for completion, you may encounter things that you must do but do not want to. This post is about tackling that thing. Procrastination is disaster to success.
In the words of Mark Twain "Eat a live frog first thing in the morning and nothing worse will happen to you for the rest of the day". While Mr. Twain did not advocate eating an actual living frog, his statement instead refers to taking the worst task that you have to do, or the one you procrastinate the most with, and doing it first thing to get it out of the way.
Why are we eating the frog first thing?
In part, to keep you from checking email and Facebook, and getting lost in time. We all know what that is like!
And in part, doing tasks related to building your business website will help you to see progress and keep you from more procrastination. And if you are on a posting schedule, it is best to at least get a few paragraphs done before you start getting lost in the void of online chat.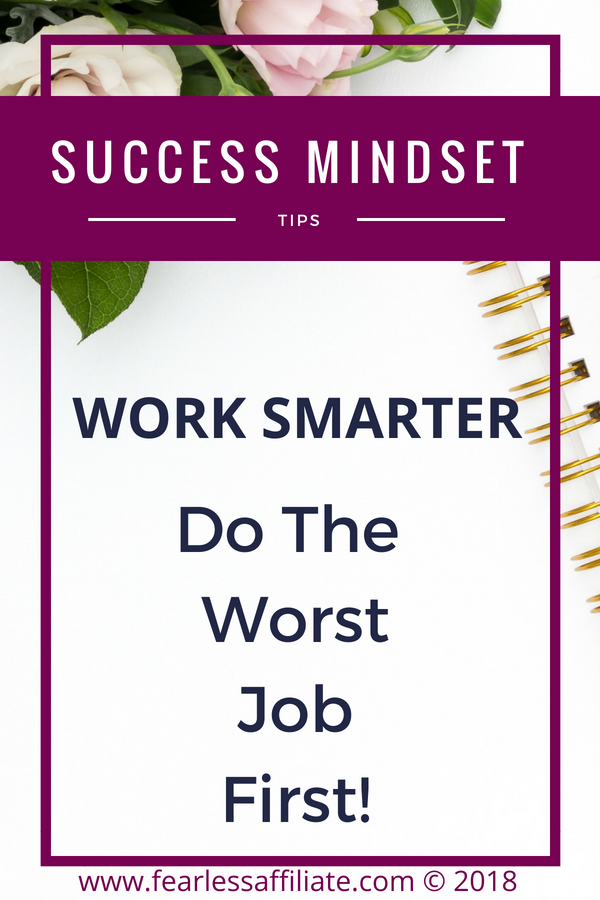 How do I identify the frog?
Your frog is not the most difficult or disliked task, but merely the task that causes you to procrastinate. Completing this task will give a productive result and keep you moving forward, so if you do not get it done, you will be at a standstill in this area. Set aside an amount of time to deal with your frog, and then get to it. Once the task is done, the rest of the day will be easier.
Maybe for you, your frog is keyword research. In this case, on Monday morning, pull up a document of your posting ideas and then a blank doc for research. Research the keywords that you need for at least 2 to 4 posts. Research the keyword, and then look on Google to see who is using your post title and what they have to say. Who is your competition for this keyword? This is important research and can give you the ideas for your post! Leave your doc on your desktop, so you can access it all week while writing posts.
If you have two tasks, start with the one that is harder, more important, or bigger. Getting this one out of the way is a great way to start your day!
How to eat your frog
This is a habit meant to get you out of your comfort zone and put you in control of your websites productivity. We learn from everything, and you can tweak this habit to fit your life, and to show yourself where you are procrastinating. Choose your frog, write it down on paper, and start working on it first thing in the morning. Get it out of the way before anything else!
By taking care of the most challenging task at the start of the day, you not only take care of it with a clear mind, but you also develop a good habit, and these can be hard to establish. They also are the most rewarding. Be sure to set up everything you need to take care of this task the evening before, so that you are ready to go first thing in the morning.
Use the Eisenhower Decision Matrix
If you are overwhelmed by all of the things that you "should" do, try this rule that former president of the USA, Dwight D Eisenhower used. He said "I have two kinds of problems, the urgent and the important. The urgent are not important, and the important are never urgent".
Important – urgent: do it now
Important – not urgent: choose a time to do it
Urgent – not important: delegate it
Not urgent – not important: delete it.
In conclusion…
Successful people have the habits of successful people, including doing things they may not like but that will help them to succeed. By focusing on one task and not trying to multi-task, you will get one thing done well. The satisfaction of having achieved your task will release feel-good chemicals into your brain which will help you to stay motivated, focused and productive to achieve more.
Do you have any comments about this post? Please leave a message in the comments box below; I love to hear from you and if you have any suggestions for future posts, please mention them!
Happy Blogging and follow me on Pinterest!
-Irma 🙂