Hello my friends!
As we move closer to the end of the year, I am spending more and more time on goal setting. I am looking back at all the successes that I have had in 2018 and I am planning to build on these.
As I create my own success story, I also think back to when I started this website. My pathway to success was very clear in the beginning, but at times I have had to navigate feelings of a fear of success. I have 5 easy ways to eliminate fear of success. They help me and they can help you as well.
*This post may contain affiliate links which can earn me a commission if you click through and purchase something. See my full disclosure at the bottom of the page*
Why would anyone have a fear of success?
My latest fear of success is moving forward with course creation. Since I started going all out with Pinterest for traffic I have seen countless blog posts about creating a course of my own. And I follow the links to blog posts to read up on it. And until recently, that was as far as I got.
I agree with the idea…in principal. It seems like a lot of work. Maybe later, after I get this done. Or that. And what would it even be about? Ugh. Later. Is that my fear of success?
So imagine my surprise when reading this article at The Mission written by Tony Fahkry.
Tony posits that fear of success is actually fear of hard work.
Whaaaa?
How did you feel reading that? My first thought was to call B.S.
Let's look at the whole paragraph:
"For this reason, I believe fear of success is really the fear of hard work. It is what author Steven Pressfield calls resistance that stops many from achieving their finest work. Here resistance holds the individual back from writing the first draft of a book they've been wanting to pen for years."
Okay, that is a bit better. It is not fear of hard work, but resistance. Resistance to what?
Resistance to the unknown.
Common fears that bloggers have
Here are some common fears of success.
What if I can't deliver…my blog post, my course, my …?
I like things as they are and I do not want them to change
What if things change and I can't cope with it?
That looks like a lot of work. I should think about it a bit more first.
What if I fail? What if I embarrass myself to my friends and family because I could not make things work.
Do you recognize any of these thoughts? I did. They are all fears in the evolution of a bloggers life.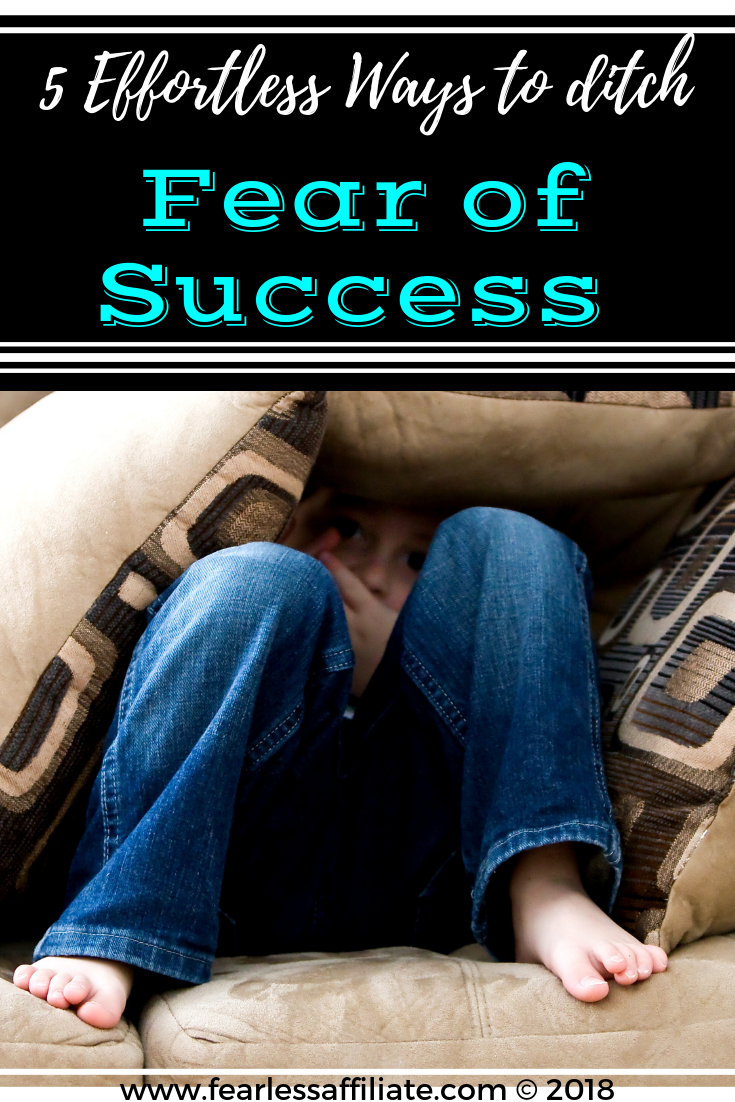 Potential reasons for fear
Lack of Confidence
You don't have to tell me that you grapple with a lack of confidence in your future success. I assume that you do because I do, myself.
If you are concerned about how successful your blog is at this point in time, go back to your original goals when you first hit publish button on your first post. What were your expectations? Did you set your bar too high for your level of experience or skill? Shooting for big goals is admirable, but if you lack confidence you may not hit your target because deep down you do not believe that you can.
Comparing your blog to someone else's
You can read income reports all day long, but they are not a realistic picture of real blogging. Most of the time the numbers do not reflect reality. The income may be based on potential income that has not been verified yet.
Some people are on their second or third blog, they know what worked for them before, they got all their stuff set up before they published even one blog post, so bam right out the gate they made some money.
But that is not realistic for someone who is brand new to blogging and knows nothing about content management systems or which theme to use or even how to structure a blog post.
Lesson: do not compare your beginning to someone else's middle. Sage advice.
Holding yourself back
Not on purpose. It is a survival mechanism. You tell yourself that you need to fix this or tweak that, but in reality you are afraid to move forward into the unknown.
And tied to this is the fear of using affiliate links, starting email marketing, and course creation which all require you to basically ask people for money. Asking strangers for money is scary!
success factors to eliminate fear
So how can we kick these fears to the curb?
We keep working and we seek out the information that we need to squash each fear.
1. Set goals
You will love The 12 Week Year by Brian Moran. Setting and achieving goals is the fastest way to success and a huge boost for your blogging confidence.

This is a straightforward and uncomplicated program for those new to goal setting, as you can adjust your goals weekly. No waiting until the end of year to see if you achieved your goal.
If you set the bar too high, you will know in the first week. Then you can drop it back.
If you set the bar too low, you will know and then you can raise it for the second week.
Monitor your results week-by-week in that 12 week period and a clear picture of your blog will emerge. I know it did for me.
This is also an excellent way to keep track of your successes. Setting and achieving goals sets us up for the win. Every time you complete a goal, write it down on an on-going list. Use a journal or document it on your computer. When fear of moving forward grips you, read your list of all the things you have succeeded at, and keep moving forward.
2. Try using a Planner
Start writing things down in one place, including a plan of action. Do you know what the next step is for someone at your stage of blogging? Not the stage that your blogging gurus were at, but the stage that you are at based on your original goals.
If you have money blocks – fear of asking people for money, like charging the right amount for a course or using affiliate links – then find some help. I know you will LEARN tons from Denise Duffield-Thomas' book Get Rich, Lucky Bitch. Denise helps women all over the world plow through their money blocks, and she has tons of free videos on YouTube.
Just by believing in herself, Denise was able to win a contest that enabled her and her husband to travel the world and write reviews of the amazing accommodations they were provided with during a six month extended honeymoon! Denise worked hard to bring that amazing win into her life. Learn from Denise!


3. Keep working on your authority
Keep building out your website with helpful and useful content. If you need more content, then make a plan to write more often. Create a block of time in Google calendar, and dedicate it to just writing content. No social media, no emails, no time wasters.
Related Post: Create Content Quickly
Block out 2 hours an evening. Or block out 4 hours on a Saturday, and then free write. Just write and write and write. You will get tons of ideas for blog posts, and you might even get a couple of rough drafts written.
If you want more traffic, what are you doing right now that can be improved? SEO and evergreen content is great for the long game. For the short term, you really need the power of social media to get some traffic quickly.
Pick one and learn it inside and out. Use it, often. I recommend Pinterest, because it a visual search engine. Anyone searching Google will get results from Pinterest as well. But if you are already having some success with Instagram, Twitter or Facebook then keep working it.
4. Focus on one project goal at a time
One traffic project. One monetizing project. Monitor results every week, and check your stats at the four week mark. Adjust and move forward.
For example with Pinterest. Sign up and create a business account. Start making pins for your blog posts (one pin at a time). See which pins resonate with your audience and which blog post topics get the most interest. It can take a month or two to collect some useful data, so be patient but keep trying things while you wait.
Related Post: How to use Pinterest for Business
Create a secret board and keep pins in here that have a design that you want to adapt or copy. As a result, you will discover the template that you want to be associated with.
Add pins to your secret board for blog posts that you want to write. Look for pins that have a lot of repins. See if you can figure out what is popular and replicate it.
5. Try everything and keep on trying.
What if I try and it does not work? Try again. Or…try, try again!
What if I try everything and nothing works? First, try something that is totally out of left field. Secondly, try something so revolutionary that it scares you. What is the worst that can happen? You have to try again? It is nothing fatal to have to adjust your plan when trying something new. Just go for it!
What if I try and discover that I am not really cut out for this whole blogging thing? Well how do you know that? What criteria do you need to have data on to know that you are failing?
Blog not making any money? Maybe you do not have enough traffic yet. Or you are promoting the wrong kind of affiliate products for your audience.
No blog traffic? Work on your SEO and try Pinterest for traffic (a bloggers dream!)
Related Post: Top 9 SEO Tips
FINAL THOUGHTS
Apparently the first course you create is the hardest. Is that like the first cut is the deepest? I thought I would test this theory by creating a couple of small, free courses to give to visitors to my website.
The result? I have people signing up for my free courses! Well duh Irma. This is also spilling over to more subscribers for my newsletter. I know that a tiny 5 day mini-course is not the same a full blown paid course, but it's a start. I know more than I did before. And I can figure out how to create a larger course, and that is gold.
Just getting out there and trying, and learning from failures, is the best medicine for fear of success!
I hope that this post has been helpful, and if it has please share it with your friends or on social media. Sharing is caring!
Sign up for my weekly newsletter of tips, deals on blogging products and freebies for bloggers like courses and webinars to help you advance your website.
Happy Blogging, and follow me on Pinterest!
-Irma 🙂