The meta description is the ~160 character snippet that summarizes a post's content and it is written in HTML. In other words, YOUR advertising copy! So let us look at best practices for…
Writing Effective Meta Descriptions
The meta description appears underneath the clickable links in the search engine results page (SERP). If you are not putting some work into your meta descriptions, you may be missing out on new traffic.
Writing your own, well thought out meta description is one of the ways that you can encourage people to click your link, and we should be doing every time we can. Google says "The more information you give us, the better your search result snippet can be".
These are the words relevant to that search. If your descriptions are not relevant, Google will search your page for a description that better suits your site and then that will be what visitors see in search results. Why not make that decision yourself?
While not part of SEO per se, having well written meta descriptions encourages searchers to stop and click on your site. As well, if you are ranked at the top of Page One in Google searches, you want to discourage people from searching further. The function of the meta description is to get a visitor to click your link. According to Google, "accurate meta descriptions can help improve your clickthrough".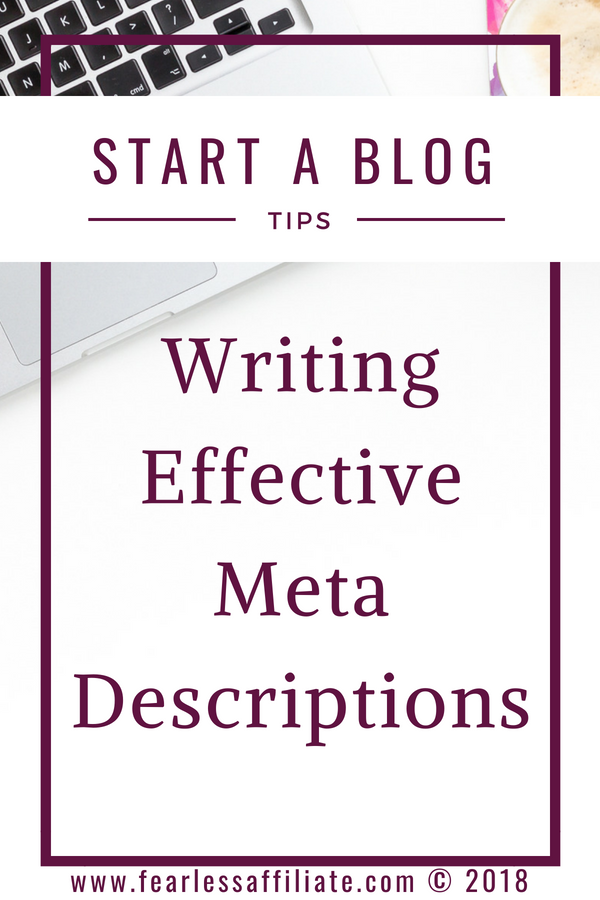 How to write effective meta descriptions
If you are using wordpress and the All-In-One SEO, just scroll down below your post BEFORE you publish and write the description. The field is blank until you publish. You can edit this after publishing but if Google chooses your snippet for you, it may not change on the search page. I can edit my snippet from my main list of posts in the dashboard.
Include clearly tagged facts in the description: This does not have to be in sentence format. If you are selling something, you can include the price, manufacturer, or any details relevant to the searcher. Use an "active" voice and action oriented language for call-to-action copy. "Find out More", "Learn more now" "Today Only".
It should match the content! Do not write descriptions that trick visitors into clicking, which encourages bounce rate. Also, if you have more than one page with the same type of information use a different description for each page, making them unique from each other. Make sure that it is specific and relevant.
Provide a benefit or solution. This is why we choose niches like we do, to provide an answer to someone's search. Tell searchers of the benefits that you provide or why they should read your post, in clear language.
Do not include double quotation marks or any non-alphanumeric characters in your description. Google may think that the start of the quote is actually the end of the tag and cut it off right there! There are HTML entities (special characters) that can be used, but it is simpler to just not do it.
Note that sometimes Google will just go ahead and not use your description. They may feel that your description does not match the content of the page, or it identifies a snippet from your page that matches a search query better.
Do not stuff keywords into the meta description!! No one wants to see it, and you do not want to appear spammy to Google. You can certainly use a focus keyword so that Google will be inclined to highlight it in search results. And you can use synonyms as well, and you should 🙂
Here are some pointers for effective meta titles
Meta titles not only show up in search engine result pages, but you can also see them in the top of your web browser, and in social networks.
Make sure every page has a specified title tag. If you are using wordpress with the All-In-One SEO, you can scroll down below your post before you publish it and check to see if the title is accurate.
Titles should be descriptive and concise. Avoid overly long titles which will likely get cut off in search results. If you do not choose an accurate title, Google can choose to show a different title.
An optimal format is Primary Keyword first, Secondary Keyword next, (pipe/vertical line character) and then Brand Name. You get 50 to 60 characters so use them to summarize your content. Some characters take up more space than others, like uppercase W, compared to uppercase I.
Do not use vague titles that do not give people searching enough information, or the search engine robots. For example a vague title would be "Birds", whereas a good title would be "Parakeets and their needs".
Use initial caps throughout the title: Parakeets And Their Needs.
Do not use all caps. It is hard to read, and seriously, no one wants to read all caps!
Limit the use of punctuation.
Write for people searching on the internet, and consider that there are thousands of people from all walks of life, age groups, and demographics so do not use a lot of jargon if you are trying to attract new visitors.
Do not overstuff the title with keywords. Overstuffing is bad, very bad. Google may rewrite your title as a result. You do not want that, so save yourself the trouble.
Ok, now you are armed with the information that you need to create your own meta descriptions for all of your future blog posts!
Related Post: Top 9 SEO Tips
Related Post: Top 3 SEO Mistakes and One bonus tip that you must avoid!
I hope that I have given you some helpful ideas for improving or creating your meta descriptions and titles. Any thing that we can do to help Google recognize our quality content is a good thing…am i right?
Happy Blogging and follow me on Pinterest!
-Irma 🙂