What makes a successful website? One word…WordPress.org. You will be joining the estimated 20% of all bloggers doing the same.
WordPress is popular for good reason: it's self-hosted, compatible with most plugins, and simple to use.
But the best reason is also one word…monetization.
This post was originally published February 27th, 2017 and has been updated to be current with new information. This post may contain affiliate links. Full disclosure is here.
Welcome to Fearless Affiliate.
My name is Irma and I help new bloggers to learn the ropes. There is a lot to take in that first year of blogging, from choosing a niche to changing your mindset from worker bee mentality to that of successful entrepreneur.
I like to focus on practical information and positive thinking, so if that sounds good to you please sign up for my weekly newsletter of tips and free stuff for bloggers.
Subscribers will get exclusive content, including the password to my resource library of PDF printables for bloggers like my:
Google Analytics Cheatsheet or my SEO Checklist.#win-win
Still haven't picked a blog niche?
I can help with that too! Read my 5 Secrets To Finding Your Niche eReport…it's in the Resource Library. Sign up now and check it out.
What Makes A Successful Website?
Bloggers who find financial success online use quality products that are (1) easy to automate tasks for and (2) easy to monetize.
WordPress.org websites can do both.
Please note: there are two versions of WordPress. Both are Content Management Systems (CMS)
Both are free open-source software, so you should never be charged for WordPress.
WordPress.com websites are privately hosted.
With the .com version, instead of .com at the end of your website address, it will be @wordpress.com.
WordPress.org (the original) websites are self-hosted, which means you pay a hosting company, like Siteground, to host your website. Most hosting companies have a 1-click WordPress.org install.
You will need to purchase a domain (your website name) for a WordPress.org website.
You can choose .com, .org, .net or another extension, based on availability.
For the purpose of comparing them, I will refer to the .org version as the paid version, because you pay for hosting and a domain name.
The most straight-forward way to do online marketing is by having a paid WordPress website with links to paid products. Hands down.
Why is this?
Will your blog fail without this juggernaut of a Content Management System (CMS)?
What exactly is wrong with a free blogging account anyway?
Why WordPress.com Sites Are Not As Successful
WordPress.com was created by an original WordPress.org creator to be a simple blogging solution for the less tech-friendly. Pick a theme and away you go.
Your free website will have the extension @wordpress.com instead of the usual .com that most blogs have.
Your website will be hosted by WordPress.com in exchange for them placing their 'WordPress.com" branding on your site. You can get paid plans without the branding.
The higher you go up the paid pricing tiers, the closer you get to the self-hosted .org version.
The paid plans also offer custom domains, so you can have .com instead of @wordpress.com
The free WordPress.com websites come pre-loaded with WordPress branding, which is why it's free. Wix.com is a similar product.
They are excellent for:
Casual blogging – Like students
Family websites – If you're planning a large get-together, like a reunion, and you want everyone to have access or be able to contribute.
Practice for new bloggers – I started out with a free site to see if it interested me and how hard it was to use.
If you are blogging for fun or to just try it on for size, then a free site is perfectly fine.
Many people get started with the WordPress.com site because they do not know the difference.
No problem! You can switch over to the .com version in the future. However, if you plan to use your website as part of your business model, consider starting out with self-hosted. See more on that below.
There are a number of limitations with using these free websites. To name a few:
You cannot put paid ads on the free websites because WordPress puts it's own ads on the site. You cannot remove the ads unless you upgrade to a paid plan.
Your website can be deleted if they think that you have violated their terms of service (TOS)
Google Analytics cannot be added to your site. You are limited to their stats.
There is no option to use functionality plugins. You get what you get.
Themes are limited to whatever they offer. No custom themes are allowed.
You have a sub-domain extension i.e. @wordpress.com
You do not need to know coding with WordPress.org. There are plugins that help you add any CSS code that you might need.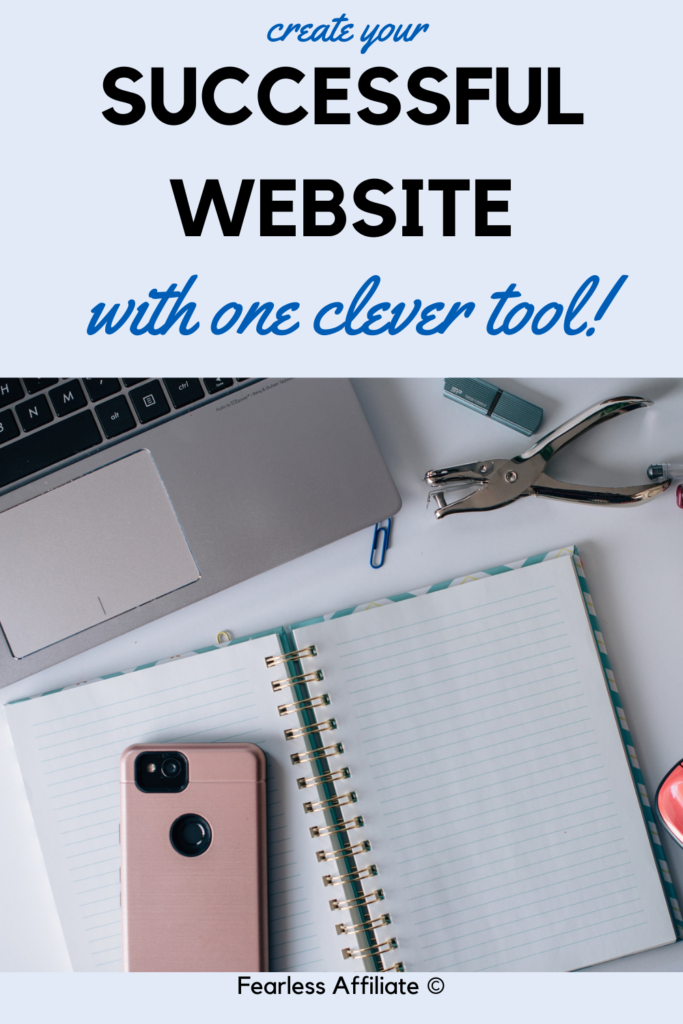 How To Create A Successful Website…Self-Hosted WordPress
Do you want control over your site? Then you want self-hosted.
Are you planning to monetize? Then you want self-hosted.
If you want to appear professional, then you want self-hosted.
And if you want to join a huge community of other bloggers, then WordPress.org is the way to go.
WordPress.org is the original WordPress version.
It is bigger and more robust, feature-wise, than it's free cousin. WordPress.org is what comes with many website hosting services these days.
Hosting companies like SiteGround, Bluehost, and Hostgator all provide 1-click WordPress.org install. That means that with the click of a button, WordPress will be installed.
It literally takes 1 minute to install.
Your host is where your website files are stored, so choose a quality host!
I recommend Siteground for quality hassle-free website hosting with excellent online chat support.
Having been a customer for a year, I find their support to be quick, efficient, and top-notch. When I needed helped moving 2 websites and it was fast and painless.
You do not need to know any coding.
As soon as you are set up, you can log in to the back office (dashboard) and start writing! Getting started with a self-hosted blog is pretty simple these days.
This is part of the reason why WordPress.org websites are so prolific now. It is easy to set them up!
Over 20% of all blogs on the internet are now WordPress blogs!
You have to do some prep work, like choosing a domain name (your www name).
The prices for the services provided vary from host-company to host-company, and many of these will provide the domain with the costs of hosting.
This is a nice feature, but you can get your domain wherever you want; so if you have already purchased a domain you can take it with you to your hosting.
FYI: Domains cost roughly between $10 and $15 per year, which is a reasonable expense.
Benefits of self-hosted WordPress websites:
You can earn money in a variety of ways on a self-hosted site. Affiliate links, paids ads (like Google AdSense), Woo-commerce (store fronts) are all options.
There are thousands of themes for self-hosted sites so you can stand out from the crowds.
Customize your website any way you like.
You can use multiple plugins to make your website more efficient or easier to share
Google Analytics is now an option. Check your website visitor data and create more content based on real information.
You own your website. No one can delete your website except you.
The only potential downsides are the cost of a domain and the cost of hosting.
What Are The Costs Associated with Paid WordPress?
It is 100% free software. You can actually download the software onto your computer, and manually install it if you are into that sort of thing.
If you are looking at hosting and they try to convince you that they are giving you a deal on WordPress, you will know better.
If your hosting is approximately $4 a month (based on paying yearly), the cost is roughly $48 + $13 (domain) = $61 USD per year to start a business.
Not bad eh?
I do not think that you can get set up with a business in any other way so inexpensively.
As well, WordPress.org comes with thousands of free themes, so you can choose one based on whatever your blog is going to promote.
Many of the themes are already set up for commerce (if you are going to sell things) or mobile (many users view websites on their phones).
You can also upgrade many themes to PRO and get more customizing features. Pro themes run about $50 with some higher prices and some lower.
And no worries if you want to change themes later. With the click of a button you can have a new look! Just be sure to choose another theme with the options that you need, like the commerce check-out options.
Can I Really Earn Money With a WordPress Website?
Oh yes you can! Some people are making 6 figures per month.
Yes, you read that right.
It takes several years to get to build your business up to that point. And those bloggers worked hard to figure out the best practices for their particular situation, but it is do-able for anyone.
Pro Tip: If you find a blogging website that is doing what you want to do, emulate them.
Email the owner and ask for advice. Every niche site is different, and not all practices work for all websites. Maybe they can mentor you if you ask.
For your standard blogging website, you need lot's of content until you develop a steady audience. This is usually blog posts, recipes, or video tutorials but there are many variations of these.
The basic premise goes something like this:
Get domain and hosting set up. Install WordPress. Add some helpful plugins (anti-spam, image optimizer, SEO helper)
Start writing content and then get indexed on Google. Indexing is when search engines crawl your website content to determine what it's about.
Longer posts are better (2,000 words +)
Keep writing
Yup, more writing
Set up email marketing
Find ways to bring your site more traffic (social media; more blog posts)
When you have some decent traffic and a bit of a fan base, put up affiliate ads for products that you use and love.
More writing.
As the traffic comes and you develop a fan base that loves your content and trusts your judgment, you will be able to promote products that your visitors may want to purchase. Ta-da!
So why can't I use a free website to do this?
The top 4 ways to make money online with a website are:
Creating and selling physical or digital products
Affiliate marketing – promoting other people's products in exchange for commissions. Also includes paid ads.
Private or Group Coaching Programs
Membership sites – where people pay a monthly fee to learn from you
Free websites do not allow payment processing, so you cannot hook up a cart system on your site.
That eliminates 3 of the 4 ways right there. That leaves affiliate marketing and paid ads.
Paid ads are placed on your website by other companies. You receive money based on either clicks or views depending on the company.
As mentioned earlier, WordPress free websites do not allow you to place the paid ads on your site, because they do not want your ads to compete with their ads for themselves.
That is why their site are free.
As well, you cannot modify the code in your site.
The reasons for adding code are varied, but you can get plugins that help you add bits of code.
An example is for items that you want on every page of your website; or if you want some content in some areas but not others. Paid WordPress allows this.
No so for free sites.
You cannot install plugins on your free site.
Plugins are great for social sharing, SEO (search engine optimization), for building a landing page, or growing your email list. These are all things that help you to build a site that is worthy of monetizing.
You also cannot add Google Analytics unless you upgrade to a business plan.
And why bother doing this when you can switch over to self-hosted website, find some website hosting and then do whatever you want?
Business plans start at $33/a month and this is the minimum plan if you want to have the freedom that the self-hosted websites have.
If you can get decent hosting and a domain for cheaper than that, Which you can easily, I would say go for that.
It should also be noted that free sites have a limited amount of space for you to store images or videos.
You cannot just delete them because they will be deleted on your blog post as well.
Free websites are awesome for people who just want an online diary, or they want to keep friends and family in the loop without sharing to their Facebook feed.
If you want to "practice" blogging, free sites are great for testing this out.
If you did set up a wordpress.com site, you can switch over to a wordpress.org site; there are plenty of guides on the internet to help you.
I tried this with Wix a few years ago, but found it cumbersome. Free sites do not offer up the help that new bloggers want.
If you want support to respond to you right away, you need to upgrade. So again, why bother?
Might as well start with a decent hosting company with a reputation for quick support that is available when you need it, like Siteground.
Conclusion
I hope this post has helped you to see the benefits of using a self-hosted WordPress website. If you want to create a side-hustle that can lead into full-time income, self-hosted websites are the way to go.
And really the only way to go if you want a successful affiliate website.
Free websites are limited in many ways, but are useful for hobby or casual blogging.
Are you ready to start your blog and/or side hustle? Now is the time to create your own future and future income. Please sign up for my weekly newsletter of tips and free stuff for bloggers, like my passive income checklists. See if a blogging "side hustle" is right for you!
Happy blogging and follow me on Pinterest!
-Irma 🙂
Happy Blogging!
-Irma 🙂