Today's post is about how to design the steps for creating a new product. Most entrepreneurs that I know have a new ideas for products all the time.
But not all ideas are viable at the present time. And if you keep stopping your other work to go off and create something new, you may end up with a lot of half finished projects.
So why not go through a series of steps for testing your ideas…before going through the work of creating them.
Welcome to Fearless Affiliate.
My name is Irma and I help new bloggers to learn the ropes. There is a lot to take in that first year of blogging, from choosing a niche to changing your mindset from worker bee mentality to that of successful entrepreneur.
I like to focus on practical information and positive thinking. If that sounds good to you please sign up for my weekly newsletter of tips and exclusive content for subscribers.
Right now, get your FREE 5-Minute Guide to Affiliate Marketing. You will be added to my weekly newsletter of tips for new online entrepreneurs.
This post may contain affiliate links. If you click a link and make a purchase, I may receive a commission at no extra cost to you.
Thank you for supporting my business! Full disclosure is here.
Why You Should Not Create Products Without Research
An important way to sustain profits in your niche-related business is to create new products and services that your targeted audience will be eager to buy.
You can accomplish this in a number of ways.
The most obvious is the new product launch.
If you know your niche well, chances are you should have a pretty good idea of what they really need and how much they are willing to pay for it.
And this is the first key in to keep in mind when you want to create new products…
Only create products that you are certain will sell.
Now this seems pretty obvious, but many an enrepreneur create products that sit collecting dust because the idea was good but their audience did not want it.
So what's a blogger to do?
Great places to find product ideas are as easy as joining related Reddit or Quora groups.
Make a list of ideas you might want to create products for and keep it handy as you research.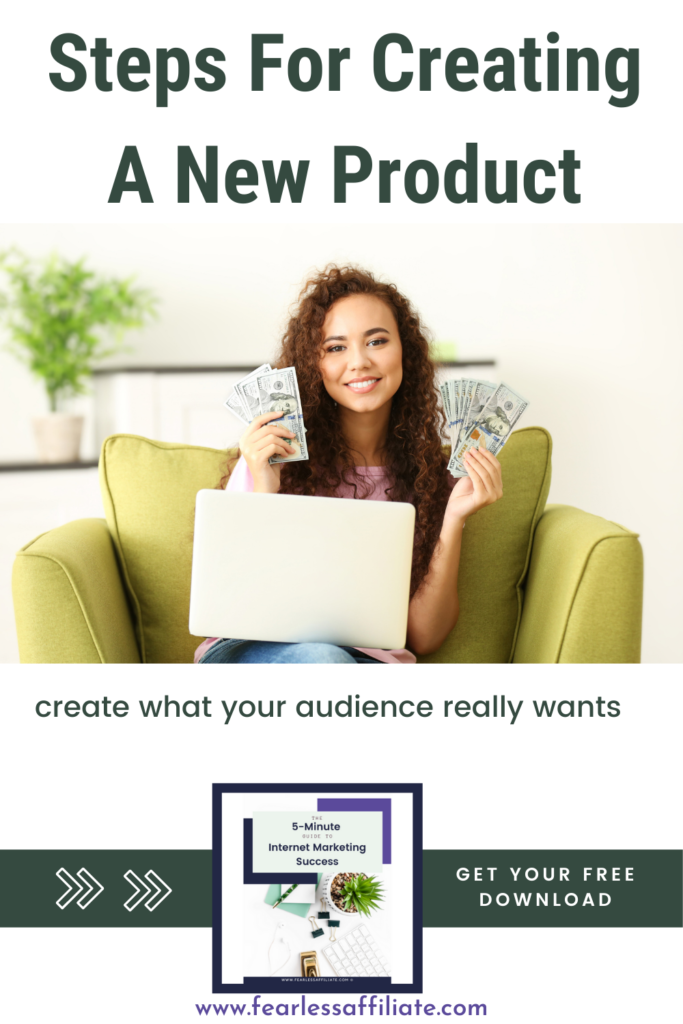 Tips To Help You Create New Product Ideas
If you are not sure what to create, there are plenty of ways to find out.
Take the time to survey the people on your email list/s
Or you can poll them at Facebook to ask which options they would find most useful.
Let them pick from a range of choices, such as from your list above, because the answers may surprise you.
And it will certain stop you from wasting a lot of time and effort.
Why bother to create product A when they are really eager to get their hands on product E?
Pre-Sell Your Idea
Create an outline, make a sales page and direct your email list to check it out.
You want to target your current customers for this, since they have purchased from you and are still on your list. #fans
Ask upfront for feedback on the topic and ask specific questions on:
If they would want or need this product
Why they have not solved their problem up to this point.
You want feedback for improving the product or seeing if the idea is viable.
And you may find future product ideas within the feedback.
Test your idea in a small Facebook group
If you have a group for a specific product you already offer, ask members to look over your sales page.
Find out from them whether the product is something that can help them solve their problem.
Pay attention to the people who are hesitant about the product and see if you can get clearer on why they hesitate.
Is there not enough content? Or too much?
Do they understand the offer or is the sales page unclear?
Or maybe this is not a problem they have.
And if no one bites or your feedback shows that they want something else, then create that product instead.
Offer a free webinar
Webinars can prove very useful for product creation.
When people are at the signup page, this is a good time to get them to answer a few questions on the type of problems they have.
You can then address the answers during your webinar, and people pay more attention when the speaker addresses their particular problems.
Be sure to add content related to the answers inside your product.
Record these webinars as a future product
Have a transcript made to sell as is.
Turn it into a free ecourse, special report, or an e-book of insider secrets.
If you interact with the audience by allowing them to ask questions, take note of their queries and see if any of them are worth creating a product for.
If you have a lot of content at your site or blog, consider putting e-books together by topics.
Pay attention to your analytics on what your top posts are and consider putting that information into an eBook.
"How to" titles are extremely attractive to most audiences.
Consider different levels of learners in your niche, such as beginners, intermediates, and advanced students. #funnels
You can present information in a sequential way, or go into more depth for those beyond beginner level.
Look at what your competitors are selling, and at what price points.
In this case you have 2 choices.
Charge less and give the same type of information, or charge more due to your expertise and the excellent bundle you will be offering.
Either way, you get a good idea of what is going on in your niche market and how other people are trying to solve problems.
Bundle your products for even better deals for your audience
Again, you have 2 choices.
You can sell one main product and bundle a range of very attractive bonuses together, such as worksheets, hand-outs, templates, infographics and more.
Or you can group 2 of your most popular products and services together to create an all new offer that your niche market will be eager to buy.
Add some fabulous bonuses on top of that and see how much profit you can make from your niche-related products and services.
Conclusion
Once you are sure your product is as good as it can be at the correct price point for your niche audience, then you can widen your audience through your hard launch.
Affiliate marketing is one of many ways to earn income with an online business. You can also create your products to sell (recommended) and put affiliate links within them to potentially increase your earnings.
Other ways to earn online are: membership programs you run, coaching, putting ads on your site or paying for ads to promote products. When you create your online business, you can combine many of these for a totally unique business.
If you are not quite ready to go all-in, then be sure to get your copy of my free AFFILIATE MARKETING GUIDE. You will be added to my weekly newsletter of tips for new online entrepreneurs.
Please share with others…sharing is caring! Let me know in the comments if these tips work for you! Until next time, happy blogging and follow me on Pinterest!
-Irma 🙂