Maintaining your WordPress website can be as easy or as challenging as you like. If you want it to be easy, start now!
Got any company news? Make an announcement! Got a winner for your contest or giveaway? How about a pinning that to the top of your blog roll! Discontinuing a product? Let people know! This is all part of your maintenance, as well as a few other things that we will get into below.
There are things that you can do on a regular basis to make visiting your website an enjoyable experience for your valued visitors, like keeping load times down and broken links fixed. It is assumed that you are using WordPress, which is what I am using.
Daily/Weekly (depending on how often you publish)
Keep on top of things happening at your site by checking in regularly.
Backup– Do this first. Go to TOOLS > EXPORT in your back office and save the file. A handy idea is to keep a folder for backups, labelled so that you can find it quickly if anything should go wrong. I can attest that this works, as I deleted a bunch of revisions to a post, and did not realize that my cleanup program was set to delete unapproved comments (which I did not see right away!).
I just imported my saved file and they were back!
There are plugins for everything on WordPress! Get a backup plugin. Always do a backup before any updates or major changes that can affect the website. There are many free plugins, so keep searching until you find what you need. I use WP Optimize, and I keep it deactivated until use, and then deactivate again after the clean up. This keeps my plug-in use to a minimum.
*If possible, backup to more than one location, such as your desktop and a usb drive that you keep just for this purpose. Flash/USB drives are cheap, and it is always good to have backups in a safe spot!*
Updates– Do this next. Update WordPress, then your theme and then the plugins before creating any new posts/pages. Do your plugins one at a time, and watch for errors so that you know which plugin has caused the error.
Broken links– If you have a plugin for this, you will see an icon in the dashboard indicating that you have something to take care of. I used to get a lot of broken link messages, but they were about the people leaving me comments and not actual broken links from my site. Good to know!
You also get broken links from linking to other websites, but if that site is taken down then you will have broken links. Use a checker to save time.
Spam– If you have anything here to delete or empty, now is a good time to do it. Keep an eye on who is sending the spam (IP address if available) in case you are being targeted by a group.
Comments– Go to the dashboard and check the box in SETTINGS > DISCUSSION that says "comment is held for moderation" and "comment must be manually approved", which give the opportunity to delete spam messages before they can do damage.
Speed– Use an online speed checker to make sure that your download speed is optimal. If your site is slow, visitors will just move on to a site that is working.
Be sure to deactivate plugins that you are not using daily, and perhaps back off on the number of ads and affiliate links that you have on your home page/blog roll. You will not make money from your links if your visitors do not stay long enough to form a relationship with you and your website.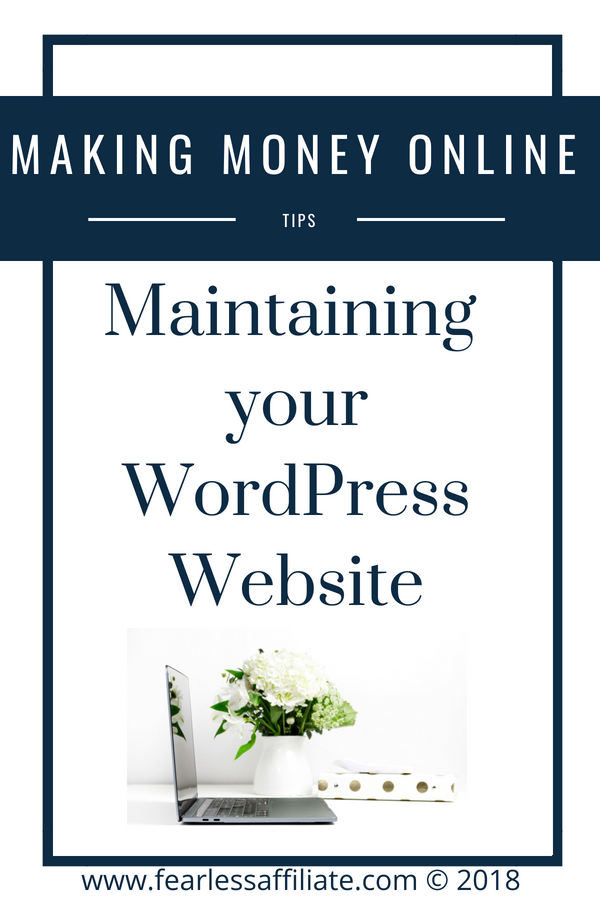 Monthly
Google Search Console– Be sure to have this set up for your website as soon as possible. You need this to submit a sitemap to Google to get indexed, but GSC has lots of valuable information within it. The sooner you start to watch for changes to any aspect of your website, the better.
Traffic stats– This is an area to be aware of as you build your site out. Check to see which content is most visited, by which demographic and on what day of the week! Lots of stats, so start checking early.
If, for example, most of your visitors fall into one age-range category you may consider tailoring your content to that age group, or at least create more content for them. This is also true for people visiting from specific countries, as well as referring sites.
What is your bounce rate? How long are visitors staying on your site? This is good information to have as you move forward building out your content.
SEO– Go through your old posts and tidy up the descriptions and tags, make sure that your forms work, and be sure to delete content if a promotion has expired or is no longer valid.
Even if you do not label all of the photos on your various posts, at least complete the alt description for photos. This is a kindness to the visually impaired. A brief description of the photo is all that is necessary!
Where are you in Google search results? Are you getting on the first page? It may be time to reassess who your target demographic is.
Yearly
Renew your domain! And be sure that your account information is up to date. Still using the same email address or has that changed?
Renew any subscriptions that you have or pro version themes and plugins.
Final Thoughts
Keeping your website running smooth is the best thing for everyone, and it makes visitors feel welcome and able to return. Going to a page that loads so slowly due to a ton of ads or pop-ups encourages me to leave and go somewhere else.
Some of these tips are new to me, so I hope that they help you like they have helped me 🙂
I hope that you have found value in this post, and if you have, please share it with others. And sign up for my free weekly newsletter of tips and freebies for bloggers.
Until next time, happy blogging and follow me on Pinterest!
-Irma 🙂