This week we will look at how to choose affiliate marketing products that align with and make sense for your unique business.
It is a good idea to choose products that are good fit, rather than the ones with a good payout.
Many new bloggers head to Amazon and start linking to anything related to their niche, but this is not the best strategy for long-term business growth.
Welcome to Fearless Affiliate.
My name is Irma and I help new bloggers to learn the ropes. There is a lot to take in that first year of blogging, from choosing a niche to changing your mindset from worker bee mentality to that of successful entrepreneur.
I like to focus on practical information and positive thinking. If that sounds good to you please sign up for my weekly newsletter of tips and exclusive content for subscribers.
Right now, get your FREE 5-Minute Guide to Affiliate Marketing to help you understand better how many ways you can implement affiliate marketing for your online business. You will be added to my weekly newsletter of tips for new online entrepreneurs.
This post may contain affiliate links. If you click a link and make a purchase, I may receive a commission at no extra cost to you.
Thank you for supporting my business! Full disclosure is here.
A good rule of thumb is to write out a checklist of items that are important to your unique business.
Then as you run across products, you can double check that they will work for your goals.
After you've written your list, it's important to make sure that the promotions you join make sense for your business.
From choosing a program with high payouts to a program with excellent customer service, there's a lot to consider before saying 'Yes!' to a program.
If you sell products that serve a specific industry, it might not make sense to introduce a product that feels disconnected to your audience.
Choosing a product simply because of the potential commissions or because you adore the product creator might not be in your best interest.
Be sure your customers won't be confused by the goods, services, or products you promote.
Here are three tips for choosing affiliate products to promote that are aligned with your business goals.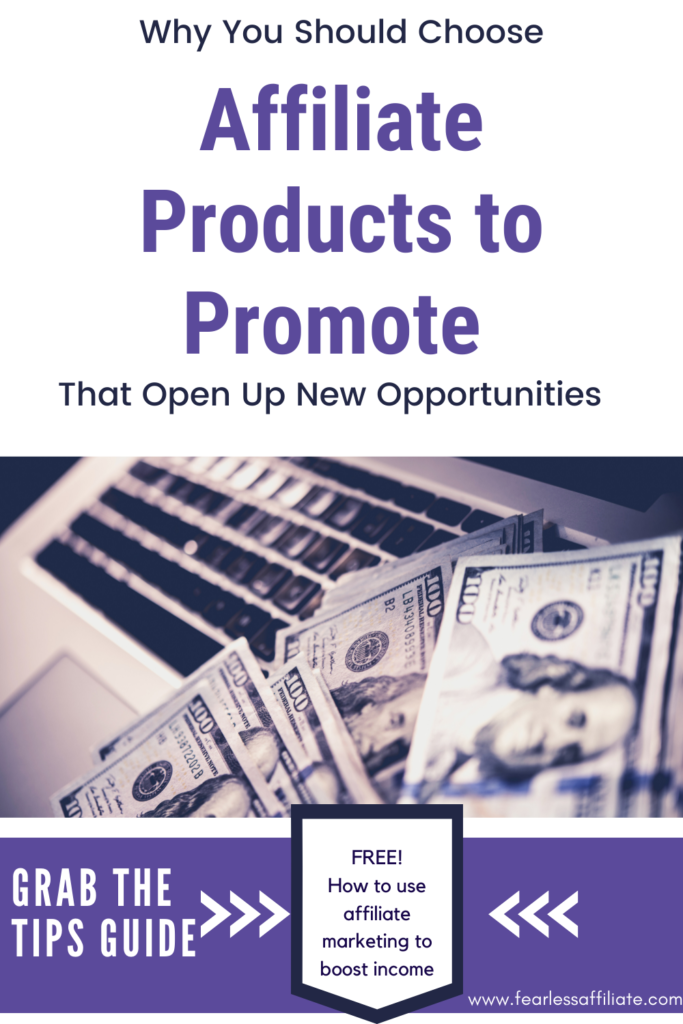 Finding Affiliate Products That Help Your Business
1. Choose programs that compliment what you already do
It's ok to promote products that are similar to your own.
Choosing to promote affiliate programs offering products similar to your own is a wonderful way to compliment what you are already doing.
Sharing businesses who mirror what you do isn't about competition, it's about collaboration.
Consumers love finding new outlets and resources for the things they love.
And if they see you promoting someone they already love, that is a bonus for your business because it gives you instant credibility.
As well, if someone in your industry is promoting a similar, or like product, you can have an easy time making sales and passive income because your market is hot.
2. Choose programs that enhance what you already do
You should promote products that enhance your products.
One of the awesome ways to use affiliate marketing programs is to offer items that take yours to a new level.
If you offer a service, promoting goods that support your service or make it easier or better is a no-brainer.
If a promotion can add value to the goods and services you already sell, it makes perfect sense to encourage your audience to buy.
Finding a solution to a problem your customers face or product that they likely will use makes you the hero for doing the research on their behalf.
3. Choose a program that opens up a new opportunity
Try to find some products that open up new opportunities.
If you've been connected with your customers for a while and you've done a great job of rounding out your communication, you may be in a great position to open up new funnels or opportunities to connect.
There may be a product that you'd like to promote that at first glance doesn't seem like a natural fit.
If you've been creative in your communication, you can capitalize on the opportunity to endorse something from a different angle.
If you've connected with your readers about a secondary issue like parenting, lifestyle, or health, it's possible that you can promote a product that is unrelated to your typical sales funnel.
But it may connect with your readers on a more personal level.
Choosing products that make sense for your business is important.
Make sure that what you offer your people is a logical part of the sales pitch.
If something is a natural fit, the sale will be easier.
Pay close attention to how the affiliate program aligns with your audience, and you'll see higher traffic and sales.
Do This, Not That for Promoting Affiliate Products
Successful affiliate sales come from frequent and meaningful connections with your audience.
Reaching out and promoting the goods, services, and products you endorse isn't just one and done.
You've got to be consistent and persistent to make sure your people hear the news.
Being a product promoter is more than giving someone a shout out.
It's important to have a marketing campaign with a goal-focused outcome.
Taking consistent action will help ensure you capture as much of the market as you can. On that note, do this:
Commit to a campaign
Many affiliate programs offer swipe copy, banners and/or images that you can use to market through emails and social media.
Pay attention to any marketing advice the product owner offers during the campaign.
Commit to consistently promoting the product through the life of the campaign and pay attention to what methods seem to work well.
You can rinse and repeat if you know that the product creator offers regular promotions.
Pay attention to what is selling
If your audience is loving a specific product, make the offer again throughout the year, say once every three months i.e quarterly.
Offering products that have worked with your audience in the past can help make future sales even easier and less of a gamble.
And you can use the consistent sales as part of your promotional copy. For example, you can say that this product is one of your most popular offers.
Use contests to motivate you
Many affiliate programs offer contests for the most sales or reaching certain milestones. You may get freebies that relate to helping you build your business.
This can invigorate you and help you stay focused and committed to the campaign.
If you are competitive and love contests this can help you become an excellent and happy affiliate.
And now for the 'not that':
Don't Promote what you haven't seen
It's important to purchase the product yourself.
Invest your own money to check the quality of the product and make sure it meets your standards and expectations.
If you've experienced the product firsthand, it's even easier to promote.
Your honest feedback of a product goes much further than any other copy you can write about it.
People can tell when you are being forthright about something and that helps to build up your know-like-trust.
Don't forget to mention any negatives; your readers will appreciate that the product is not 'perfect'.
Bypassing the customer experience is a no-no
You'll want to know firsthand what the buying and delivery experience is like, as well as how refunds are handled.
Be sure to go through the funnel yourself so you can discover any glitches or problems, plus having done the exact thing your customers will do helps you if they run into any hassles.
You can help them out rather than reaching out to customer service.
Asking for special treatment is Taboo
Unless you know the product creator really well.
Generally, the product owner has put a lot of thought into creating their affiliate program.
They are confident in how it works and how they want to engage their affiliates.
Be mindful of their protocols and avoid asking for special or unusual accommodations especially if they don't know you.
Being an affiliate is a great way to promote goods, services, and products you know matter to your core group of fans.
Making money by sharing your enthusiasm and support for a program is a win-win.
Be a considerate affiliate and you'll thoroughly enjoy the opportunity to promote other peoples products.
Conclusion
Affiliate marketing is one of many ways to earn income with an online business. You can also create your products to sell (recommended) and put affiliate links within them to potentially increase your earnings.
Other ways to earn online are: membership programs you run, coaching, putting ads on your site or paying for ads to promote products. When you create your online business, you can combine many of these for a totally unique business.
If you are not quite ready to go all-in, then be sure to get your copy of my free 5-Minute Guide to Affiliate Marketing. You will be added to my weekly newsletter of tips for new online entrepreneurs.
Please share with others…sharing is caring! Let me know in the comments if these tips work for you! Until next time, happy blogging and follow me on Pinterest!
-Irma 🙂