If you want to be successful, then watch what successful people are doing that helps their success and emulate that. The most successful people in the world share a few key traits with each other. These are the traits that keep them on track for success and they work for anyone. The trick with these traits is that you must act on them daily, and with the purpose of the end goal.
There are many traits that can help you to succeed in life, like planning out your day the night before. I always laid out my work clothes and made my lunch the night before. It saved time in the morning and my lunch was cheaper and healthier than my co-workers who bought food in the cafeteria. But not everyone does that.
And while we are talking about health, make yours a priority. You cannot be productive if you are not fueling your body and brain with healthy food, and you will not be successful with brain fog. If you are feeling stressed, get outside and go for a brisk walk. Even 5 minutes can help sort your thoughts. Life is busy, and you must take time for yourself. This leads us to habit #1, which is meditation.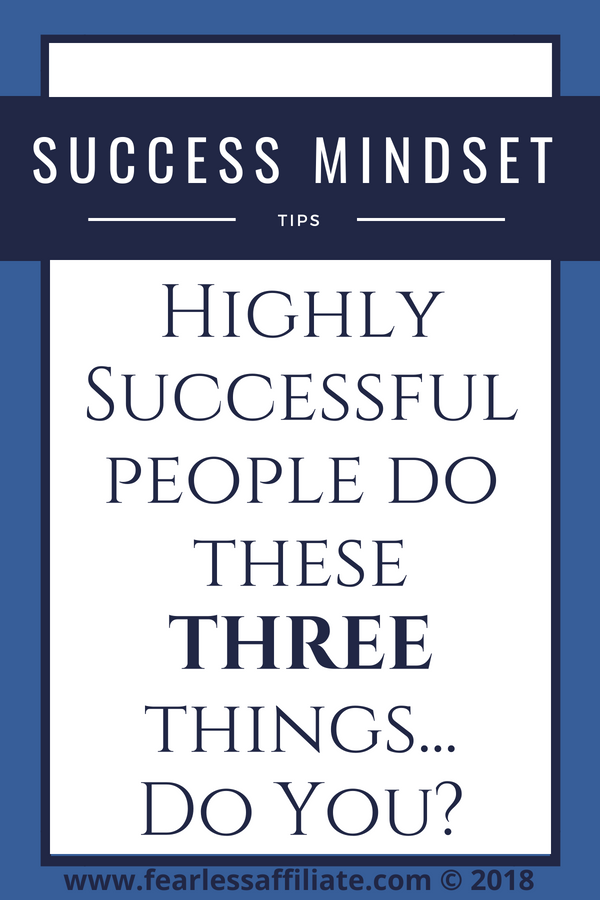 Meditation
Meditation is the time of day when you organize your mind to focus on your goals. Take 15 minutes, either at the beginning or the end of every day to think about what you want, and how you can achieve it. Do not concern yourself with whether your thoughts are realistic, just let ideas come. The purpose of meditation is to calm your mind and let YOUR ideas come forward, the ideas that will work for you.
When thinking on your goals, start with the end and work backwards, paying attention to areas that you have to work on. If your goal is to increase traffic to your site to 10,000 visitors a month, what do you think will improve your numbers? Read articles about SEO, and compare their suggestions to what you are already doing. Keep refining what you have to do to move forward. What is the next thing I need or what action do I have to take? Meditate for clarity every day.
I meditate every night as I am going to sleep, while listening to subliminal programs for success. I get my best ideas as I am getting close to drifting off, and I now keep a small notebook and pen on my bedside table to write these ideas in. I get many ideas on content, but also future book ideas!
Decision Making
The ability to make decisions is crucial to being successful. If someone presents you with an idea that can increase your success, can you make the decision to move forward with it immediately? Being wishy-washy or indecisive will keep you stuck, and will cripple your ability to make good decisions later on as well, since you clearly do not trust yourself. If you are not giving yourself a chance to succeed or fail, how will you know where to adjust things? There are no mistakes, only feedback that can be used to make future decisions.
If you have a mastermind group, use them to help. Spend time with people who challenge you to be your best self, and who can help you destroy reasons that hold you back. It is imperative that you learn to trust yourself and your inherent ability to choose things that are right for YOU. Make a decision and take action. Decision making is part of our intuition, and this ability is what kept our ancestors alive, choosing to climb a tree, run away, or fight. We would not live long if we cannot decide the best course of action when seeing an approaching predator!
Choosing also stops you from having to think about that one thing anymore. If you choose to invite a guest blogger to your website, go with it and see what happens. If you get an increase in traffic, you can consider whether to bring that guest back or have a series of guests. Continue to monitor your progress, making adjustments as you go.
Persistence
Persistence is defined as a "firm or obstinate continuance in a course of action in spite of difficulty or opposition", or in other words NEVER GIVE UP! Regardless of what other people may think of what you are doing, if you know it is the right thing for you keep doing it! And never act on the advice of people who do not have to live with the consequences, because that just sets you up for regret.
If your dream is to have a successful blog, or to be a successful affiliate marketer, then that is YOUR dream, and you owe it to yourself to succeed or fail on your terms. Do not let people belittle your dreams, just because they do not understand them or because they have their own fears. Find people who are supportive of what you are doing, and let them build you up! Pluck, tenacity, and endurance are all positive words that are used to describe positive traits, so do not give up before you have a chance to see where your dreams can take you.
There will be times when you have fears about what you are doing, but chase them back to their origins and blast them away. The first step in eliminating your fears is to be aware of them. Identify where they came from and look at why they are in your life.
Many of our fears come from the fears of the adults that were in our lives as we were growing up. People with their own problems and troubles, saying or doing things to us that have had a ripple effect for many years in our lives. They are probably not even aware of what they did! So we do not have to carry this baggage for the rest of our lives. Face your fear and eliminate it!
Final Thoughts
These are 3 of my favorite traits. Personally, I meditate daily to clear my mind and access my intuition. Since I have started the practice of meditation, my blogging life has become much easier. I generate ideas quicker, and I seem to find the information that I need on the first try almost every time.
I have also stopped procrastinating, so my decision making has improved 100%. And both the meditation and decision making have caused the side benefit of making me more persistent because my results get better and better which motivates me to keep moving forward and trying new things. Win-win!
I have read numerous articles on success, and there are many ways to defines success, but success is different for each person. What matters to me may not matter to you, but you can never go wrong with practicing meditation, persistence and the ability to make decisions!
What tips you have for success? Have you adapted any of these tips already? And how are they working for you? I would love to hear from you! Please share this post with anyone that can benefit from it!
Happy Blogging and follow me on Pinterest!
-Irma 🙂