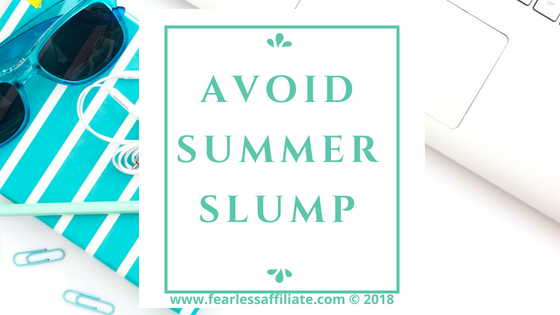 So, summer slump. Real problem or fake news? And can we
Avoid Summmer Slump?
For bloggers it can be one or the other. I have read some blog posts on how to earn money while traffic is low. And I have read other posts of people who bemoan the summer months. Sigh. I think that now is a great time to work on SEO and other ways for us to show our authority, considering the August 1, 2018 Google algorithm update just kicked a bunch of rank #1 blogs out of the top spot due to the change in their local and organic ranking system. It is a long story that you can read here.
What is summer slump?
It is that time when all of our loyal readers are at the beach. Or the pool. Or their backyard. But one place they are not is on the computer reading blog posts or newsletters.
Our loyal readers are outside! Oh, the humanity!
Summer slump appears to be less about how much traffic and more about what you can do with the traffic that you do have. Because you are still getting traffic right?
So what exactly does "summer slump" mean to bloggers?
In theory, it means that traffic will go down because people are not at home on their computers, but does that mean that conversions are down?
Not necessarily.
Want to know what this one blogger discovered about summer slump? Hint: more conversions. In this blog post by PotPieGirl, Jennifer noticed that her conversions were up! Granted this post refers to Amazon sales, but seriously…conversions going up in summer? Hmmm. Not so much of a slump for some bloggers.
I do not sell much from Amazon and so have not noticed an increase in conversions. Actually, I lied just then. I have not even checked my stats lately. Ahem.
So this is promising news! Not so much traffic but more conversions…I can live with a slump like that!
Ok then what should we do during summer slump?
Well, you could go outside too you know. But if that is not an option, and I know it is not an option for lots of bloggers (bad weather, nearby forest fires, sick kids, all of the above) then this would be a great time to finish some projects and cross things off of your list.
Since there are people shopping, now is a good time to offer more stuff on your website as opt-in incentives. Create a new content upgrade for the people who are visiting.
For me, personally, I finished up that 7 Day Auto-Responder Audit email course I was working on. It is a new freebie opt-in offer and because email marketing fascinates me, I was hoping that other people who are fascinated as well might like to spruce up their auto-responder.
Be sure to sign up for my newsletter (opt in forms are above and below this post) to find out about new courses or sale prices for any of the paid products I will be mentioning below.
I will try to get another free course done before the end of August, but I am going out of town for a week (sun! pool! Free concerts!) and then I will need to spend a couple of days this month driving to my mom's (an hour away) to help her pack so she is ready to move in mid-September after she gets back from a cruise to Alaska.
I am not concerned about the weather outside, as it never rains but pours in my life. Ha.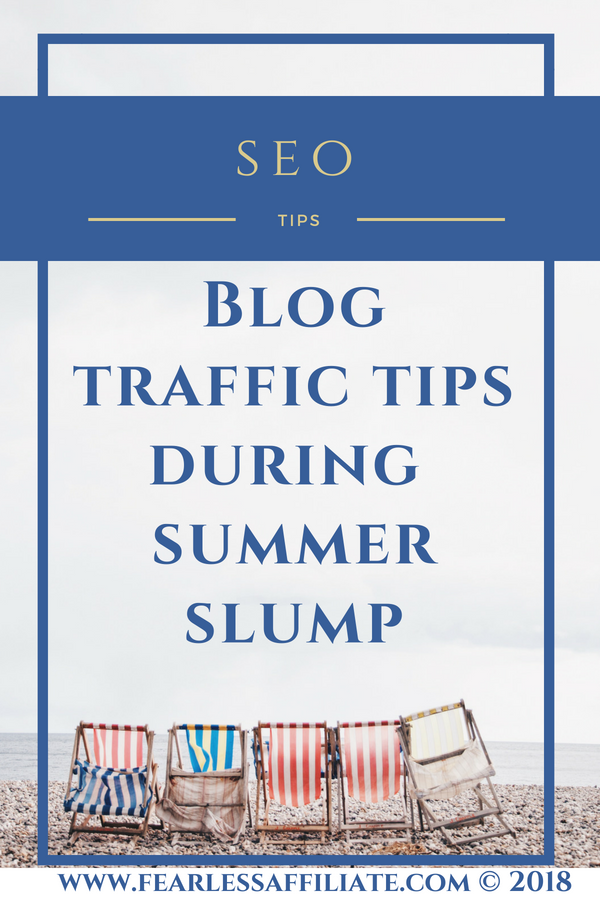 *This post contains affiliate links. If you click a link and sign up for something, I may be compensated at no extra cost to you. Full disclosure at the bottom of the page*
Things to do during the slump or "I Know What to Do This Summer"
Work on your SEO
Go back through your old posts and fix 'em up. A super handy resource for this is Lena Gott's Blog Traffic Bootcamp. This awesome little resource has 5 strategies that will help you to polish up some of your older gems and make them shine (Lena's words, and she is right. I started getting a ton of new traffic within 2 weeks of implementing just one suggestion).
Or, if you are ready to go hard, follow this link to Traffic Transformation guide. 21 strategies for improving traffic. I can attest that there are some awesome ideas in this book that helped to improve my traffic and it has changed how I write blog posts so that I get more traffic from them right away.
Read a book
No, not the latest best seller. A book that can help your mindset like Think and Grow Rich.  or Happy Pocket Full of Money.
I am in a Facebook group hosted by Bob Doyle, a feature teacher (yes that is how he references it lol) in the movie The Secret, and he credits Happy Pocket Full of Money as being the book that changed his life for the better. Bob got clear on his purpose in life after reading that.
Grab a book that can help you to believe in yourself, what you can do and how you can help others while earning an income.
Learn a new blogging skill
I have been promoting free Canva since I learned what it can do, but over time I have learned that it is pretty limited compared to Pic Monkey. This app is awesome!
I grabbed the free trial to test out Pic Monkey when I realized that the subscription price is less than half what I am paying for Canva for Work. Canva for work allows you to upload fonts and to keep more branding colors in your palette instead of adding the colors in manually.
From the different ways that you can manipulate your photos, to all of the other photo editing that you can, Pic Monkey is the new winner for my blog. And I look forward to paying much less. Click the link below to learn more.
Set up your auto-responder
if you haven't already. Email marketing is crucial to blogging success. I know that I harp on this, like, weekly but all the high-rolling 7 figure bloggers will tell you that they did not get on top of this in the beginning and they regret all the money they left on the table because of it.
Not only do you get to create a relationship with your readers, you learn how to sell and what to sell and this is invaluable if you are considering replacing your job with your blog. I have the steps to setting up the key components of MailerLite in this blog post .
Get ahead on your blog posts
And as much fun as that sounds, it is good advice. Put a folder on your desktop, open up your word processor and commence to writing. If you can create 2 or 3 drafts a week, you will be all ready by the time the kids are back in school and the blogging world gets back to normal…i.e. Halloween and Christmas posts lol.
Create a product to sell
Or at least get an outline down on paper. What is the next evolution for your blog? How are you helping people? What is your message? And how can you take those answers and turn them into something for your audience?
Switch web hosting
Not happy with BlueHost? Try Siteground . You will get all the help you need to switch over and Siteground comes out the clear winner in the Facebook polls that I have seen. Everyone is switching…for good reason.
Optimize your website
Screaming Frog SEO is free program that you can use to see what is going on with your website, SEO-wise. I forget who turned me on to this program but it kicks butt. There is even a short demo on the front page to show you how to use it.
Just plug your URL into the bar at the top and wait for it to do its thing.  This is how I found out that I had a bunch of images on my website that needed to be optimized. You can use it for 500 URL's before you have to pay for it.
Speaking of optimizing images…
Optimize the images on your site
Switch out images from .jpg to .png on your site for faster load times or grab a plugin to fix them for you. ShortPixel gives you 100 images a month on their free plan, so get the plugin and get optimizing and make your website load time faster! Plus the one API key is good for multiple websites! Nice.
And speaking of images, yet again…
Make new pins
If you are using Pinterest to drive some traffic, and you should be if you are not, then now is a great time to make a bunch of pins. The latest intel from Pinterest is that they are liking new pins daily. That is a lot if you are not used to doing that. However, if it is coming from Pinterest you can bet that there is benefit to doing this, so do it.
Pinterest has said that there is no penalty for having a ton of pins, and they have said many times over the past few months that you should not delete pins, but go ahead and make a new one.
Yes, even if the old pins are ugly, small, or otherwise not top-of-the-line pins. DO.NOT.DELETE.
Go ahead and find your popular posts in Google Analytics (Behaviour > Site Content > All Pages and then change the date range) and make some pins with new wording, or new background/photo and bright shiny call-to-action.
Add new content to old posts
I am currently updating my old posts as well, so you will not be alone in screaming in horror at your old posts. I actually found a post that was just a bit over 400 words. 400?? Ugh, I shudder. Lately I am lucky if I can stop at 2000 words per post. It takes restraint, so finding a short little post like that horrified me.
So I went in there with gloves and goggles on, ready to get into it and I kicked it up to over 1500 words! Yup, pretty proud. New blog post banner and new pins too!
And while you are digging around in the vault, look for content that is outdated. Or that you can remove the date from, such as that awesome Christmas post from 2016. Make a note to yourself to update it and change the date and use it for this season.
Okay, enough. If you are still reading, stop. Go outside before summer is over. Come back in after a reasonable amount of time and get back to work.
Summer slump? Nope, not here! We are giving our visitors the best and most valuable content possible 🙂
Have a great week and happy blogging. Follow me on Pinterest! And if you find this post helpful, please share it freely and often. Thank you!!
-Irma 🙂