Today's post is why blogging is important for businesses. These days, anyone who is a serious business owner has a website to help market their business. After seeing countless news reports of giant brick and mortar businesses going under, while online shops are on the rise, I think I can confidently say that the writing is on the wall…or the feed?
A website with your own domain name (URL) establishes a professional online presence and offers a central hub for all of your online and offline marketing efforts. However, if you have not updated your website recently or posted fresh content to it, it's time to enhance your online presence to improve your chances of succeeding in a competitive niche.
*This post contains affiliate links. If you click through and purchase, I may receive a commission at no extra cost to you. This funds my blog, so thank you! Full disclosure below.*
Enhance your online presence with great niche-related features
Is your website mobile-friendly?
With the rise in Smartphones and tablets being used by shoppers, this should be your first enhancement. Seek out themes that are mobile friendly and responsive.
Consider purchasing a new theme that will enhance your website on mobile phones. My theme is called Boss Lady and comes from A Prettier Web. On mobile, the theme looks amazing and my social media icons are right at the top, as is my logo and upper opt-in form.
The Boss Lady theme also allows you to place opt-in forms in several places on your blog, for optimal sign ups, and has a cool announcement bar at the top for special announcements and deals for your visitors.
Do you have a blog?
A blog is a fun and interesting way to present fresh niche-related content on a regular basis. Keep your visitors in the loop with updated content related to special deals, sales, and up-and-coming new products. It is a great way to reach out with a personal touch.
Related Post: How to start a blog and make money online
Write your content, upload it, and set the publication date. Your blog will be updated regularly without you having to work on it every day.
If you are working in a small company or are a solo entrepreneur, you might be thinking that you have no idea how to do either of these task and have no budget to hire anyone. The good news is that you can kill two birds with one stone with a completely free program called WordPress.
WordPress.com or WordPress.org – what's the diff?
WordPress is the go-to content management system (CMS) for bloggers. 30% of bloggers worldwide us WordPress. And because of vast number of helpful plugins, you will see why when you use it.
There are two ways to accomplish this. The first is to set up a free blog at WordPress.com. This basic version of the program is mobile-friendly and will show you just how easy WordPress is to use. Link to your site and vice versa to drive more traffic.
The downside of free WordPress.com
is that you cannot put affiliate ads on your site (to earn passive income), because WordPress is putting their ads on your site, which pays for the free hosting that you get. WordPress.com is perfect for hobby bloggers and anyone who wants to dip their toes into blogging.
The second way to do this (recommended) is to sign up for website hosting with a company such as Siteground, and use their one-click install for the WordPress.org version (free open-source software). In just minutes you will be looking at the WP dashboard, ready to blog! How easy was that?
The full version of WordPress includes 2 key items that can really help your niche business take off.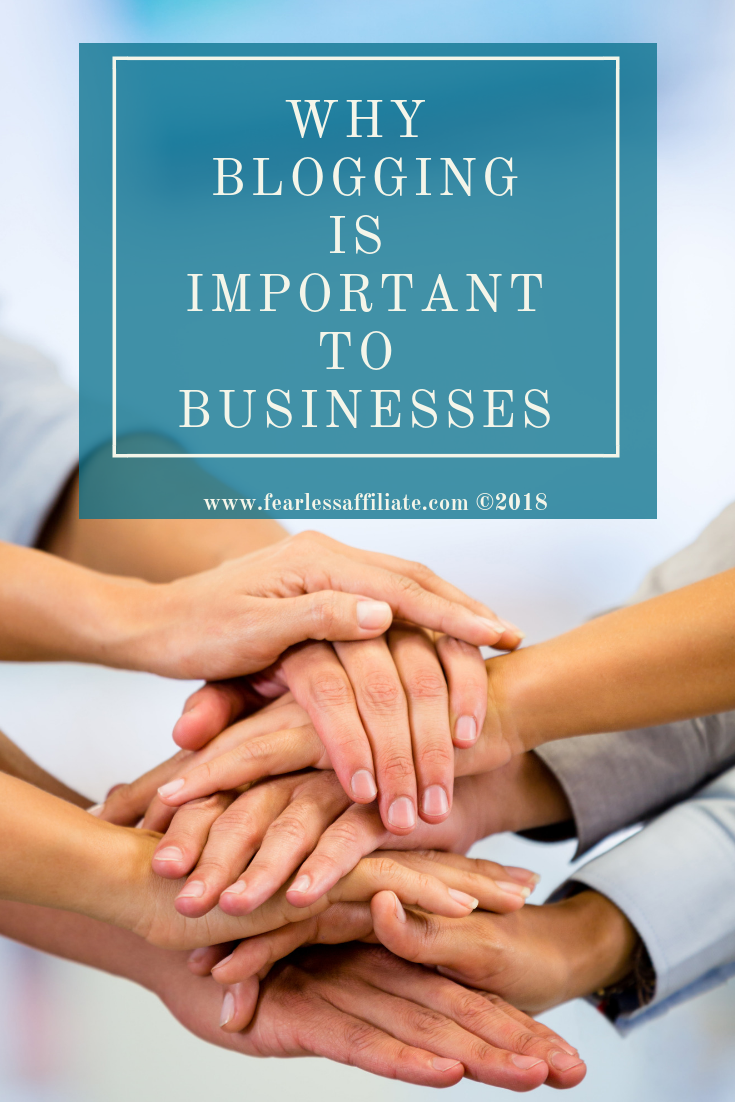 Themes and Plugins
Themes set the overall appearance and functionality of the site, such as a text-based blog versus a photo blog. Search through all the free professional-looking themes – and there are many to choose from – to find the one that is right for the look and feel of your business.
Plugins are little mini-programs that add a range of functions and tools to your pages and site. Here are some suggestions:
– Additional functions for your social media sharing, like Social Warfare. Great for Pinterest users.
– An SEO plugin that allows you to modify meta data. I use All-In-One SEO Yoast SEO
– A forum or discussion board
– Top niche products lists with links to buy
– A spam catcher, like Akismet Anti-spam
– A membership site, free or paid
– A Frequently Asked Questions (FAQs) portal
– An image optimizer, to help your page load faster if you have a lot of photos. I use EWWW Image Optimizer plugin.
– Popular posts. You can grab a plugin for this or create a new tab in your menu bar. Either way, it is super helpful for visitors.
And much more. Be sure to do some research of the plugins, as things in the blogging world change fast and you want your website to be responsive, functional, and aesthetically pleasing to visitors, with up-to-date plugins that work with your theme.
If your site isn't getting the kind of traffic you want or enough repeat visitors, update your site/blog, add functionality, and see what a difference it can make to your profits.
Helpful links:
Need a domain? Our recommendation is NameCheap. Try to find a domain name with the .com extension. Everyone types in .com automatically now, so go with it!
Need hosting? We recommend Siteground, for their ease of use, excellent technical support, and range of features for all types of users.
Need a theme? My theme is Boss Lady by A Prettier Web. An excellent free WP theme with tons of functionality is Ashe.
Please share this post with anyone that you think can benefit from it. You can also follow me on Pinterest, and if you blog about blogging, join my Fearless Bloggers group board.
If you would like to try a trial of Tailwind, the API Pinterest scheduler, please use this link. This also gives you a free month if you choose to purchase the yearly subscription. Try Tailwind today and see how it brings Pinterest traffic to your blog!
Until next time, happy blogging and follow me on Pinterest.
-Irma