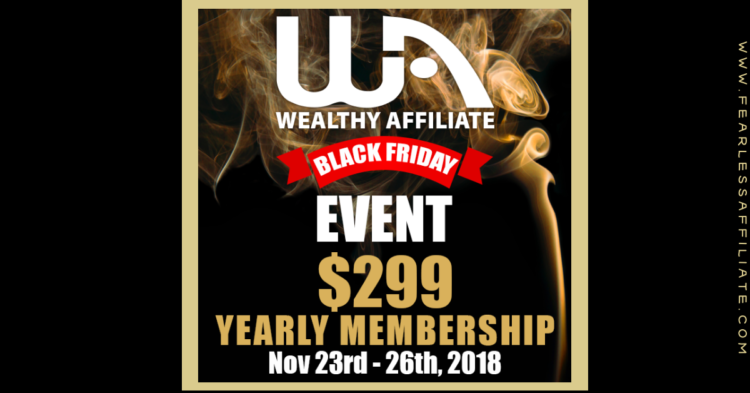 Thank you for your interest in this sale, but it is now over. Look for it again next year!
ONCE A YEAR you can access the wealthy affiliate black friday sale!!
If you are early, then bookmark this page and come back between November 23rd and 26th to grab this deal! And be sure to pin it for later 🙂
That's right! The regular membership for WA is $49/month x 12 months = $588/a year
This years bonuses (from WA – my bonuses are offered below):
Bonus #1: The 7 Factor "Secret Sauce" (Live Class)
Bonus #2: The Secret Sauce, The White Paper.
Bonus #3: Creating a Lucrative Niche Website in 2019 (5 Weeks of Live Training)
Bonus #4: Early Beta Access to Yearly Members
Where else can you get education for this price?
Let alone education that will teach you how to make money online? And did you see that 5 weeks of live niche training??
You always get 50 lessons to help you set up your website and create and promote content (articles that you write), as well as 70 lessons specific to affiliate marketing training in the various ways to monetize your site for passive income (income that is set-it-and-forget-it).
**This post contains affiliate links. If you purchase something using my link, I may receive a commission at no extra cost to you. See my full Affiliate Disclosure at the bottom of the page.**
This is an amazing offer for the education you need to get a niche website up and running and all the help you need to learn the tips and tricks to make it a successful affiliate marketing site, which can earn money for you…while you sleep, while you are on vacation or anytime!
Related Post: Wealthy Affiliate – Success! My review and why I chose this program over several others.
Imagine being able to give up your 9 to 5 job and replace that income with the money you earn from sharing your knowledge and skills with the world! Millions of people are doing this every.single.day and you can be one of them. Who owns the websites that you visit? Regular people who took their dream and made it an online reality!
Remember: Follow your dreams or you will spend the rest of your life working for someone who did.
You can also purchase membership yearly for $359, which is an excellent savings off the monthly cost, but why not take advantage of the Wealthy Affiliate Black Friday savings to save an additional 50 bucks that you can now use to treat yourself after making such a wise decision 😉
Take advantage of this once a year sale price and get your membership for $299, which is $24.92/month or HALF PRICE! There is no better time than now!
If you are already a free member, you can take advantage of the best time of year to upgrade! Or if you pay monthly or yearly already, you can purchase the Wealthy Affiliate Black Friday price and have your membership pro-rated so that you can take advantage of the discount every year!
Over 3 BILLION people are online daily!
They are searching for answers and looking for the information that you have locked up inside of you.
Let that knowledge out and share it with the world. Your knowledge and skills are valuable and you can help others to learn what you know, and you can build an income from that knowledge.
What are your hobbies? What do you like to do with your family on weekends? Vacations? Family trips? What have you learned about life that you can share with the world?
What struggles have you overcome?
You can share your wisdom with others who are seeking it, not to mention how cathartic it is to write about how you triumphed over adversity. So many people are out there struggling to find answers in difficult time and you might be the person to help them! Imagine how good that will feel 🙂
What do you search for online when you need help in your life? These websites are just like the one that you can create and monetize.
What kind of sites do you visit to learn things on the internet? Cooking or recipe sites? Shopping sites? Animal training sites? Camping sites (one of my favorites sites to visit has to do with vintage campers!)? Anime? Sports? News and commentary? Business? Art?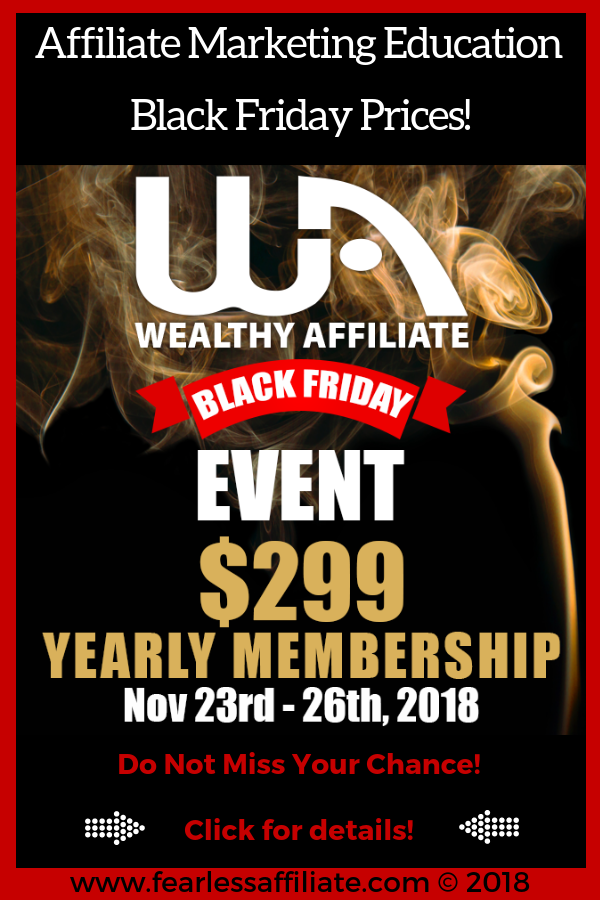 I am a member of Wealthy Affiliate
I started this website based on the teaching that I received and you can do this as well! And I have bonuses for all new members who sign up using my links:
Video: Help with how to choose a niche
How to quickly make your site look professional with custom branding using free programs!
How to set up your menus and sidebar
Video: How long has it taken you to earn what you earn?
As well, you can message me anytime and 'pick my brain'! I will be happy to help you with tips and tricks to get you organized that first crucial week and in the months ahead.
Once you are a member, you can take all the time you need and know that you can come back to the training anytime if life gets busy for you. The training modules let you quickly see where you left off, making it easy to jump back in.
Related Post: Wealthy Affiliate University Review – all the great benefits of membership!
We have many successful affiliate marketers, as well as those who do drop shipping or promote Amazon products. There are a lot of options for ways to make passive income online (passive = once you set it up, you can forget about it), but you need to advantage of this fantastic price!
Wealthy Affiliate Black Friday is but once a year, so take advantage NOW. Start today to create the life that you really want.
Q & A
Who is affiliate marketing for? It is for anyone who wants to create multiple streams of income to help you build wealth faster.
Why would I want that? It is not a good idea to count on only the income from your employer, pension or government check. We have all seen how unstable the economy can be and how quickly it goes from okay to uh-oh (2008 anybody?).
Creating several streams of income gives you the financial buffer that can help you get through unsteady financial times like medical issues, downsizing, or sudden loss of employment or other storms of life.
Who is affiliate marketing NOT for? People who are not in it for the long term. It takes time to be successful and that goes for anything in life. If you are looking for get rich quick, then this is not for you.
How long does it take to make money? That is up to you and how much work you put into it. Some people start getting affiliate commissions right away, some not for six months, and some people will never make money because they are in it entirely to make money and not because they want to help people.
How much money can I potentially earn? The sky is the limit, but understand that it will take time. Growth is slow in the beginning while you are setting things up and growing the traffic to your website.
As you gain traffic, you will gain sales. There is a 'snowball' effect, in that once you start earning money you can just keep replicating what you are doing and multiply the effect. Many of the 6 and 7 figure bloggers have been at this for 5 to 10 years already, building up a sizeable audience of raving fans. If you start now, think of where you can be in 5 years…
Message me at support@fearlessaffiliate.com or ask questions in the comment box below if you want to know more.
Happy Blogging and follow me on Pinterest!
Irma 🙂