If you do, then the most straight-forward way to do that is by having a self-hosted WordPress.org website with affiliate ads. Hands down.
Why is this? And will your blog fail without this juggernaut of a Content Management System (CMS)? And what exactly is wrong with a free blogging account anyway?
First off, I want you to understand that there is a huge difference between self-hosted and a free hosted website. There are two versions of WordPress websites. One is self-hosted and is the WordPress.org version. The other is free and is the WordPress.com version.
The difference is that if you get the self-hosted then your website extension is .com, or .org, or .net or another variation, perhaps one based on your country or niche. In any case, it is yours.
A free website belongs to the hosting company. In this case, instead of .com at the end of your website address, it is now @wordpress.com. Do you see the difference? One is yours and one is theirs.
Is this bad?
That depends. If you want control over your site, then you want self-hosted. If you want the ability to monetize, then you want self-hosted. If you want to appear professional, then you want self-hosted.
And if you want to join a huge community of other bloggers, then WordPress.org is the way to go.
If you are blogging for fun or to just try it on for size, then a free site is perfectly fine. There are plenty of choices, like Wix or Tumblr or the free hosted wordpress.com. Many people get started with the wordpress.com site because they do not know the difference. No problem! You can switch over to the .com version in the future.
Ok, so what is so great about WordPress.org?
WordPress.org is what comes with many website hosting services these days. Companies like Bluehost, Hostgator, and SiteGround all provide WordPress.org. Your host is where your website files are stored, so choose a quality host! I have a post here with more information
In most cases, your hosting site can help you get your website set up in less than 15 minutes, and it is usually a one-click process. You do not need to know any coding for this process. As soon as you are set up, you can log in to the back office and start writing! Getting started with a self-hosted blog is pretty simple these days.
This is part of the reason why WordPress.org websites are so prolific now. It is easy to set them up! Over 20% of all blogs on the internet are now WordPress blogs!
You have to do some prep work, like choosing a domain name (your www name). The prices for the services provided vary from host-company to host-company, and many of these will provide the domain with the costs of hosting. This is a nice feature, but you can get your domain wherever you want; so if you have already purchased a domain you can take it with you to your hosting.
Another great feature of the WordPress.org websites is that once you have an established audience, you can do affiliate marketing with your site. That means that you can put ads on your website and earn commissions from the sales. This is how bloggers make money online.
This is not an option with most free websites, because they are advertising themselves on your site. So your wordpress.com site is promoting wordpress.com. There are some plans with the wordpress.com sites that allow you place certain kinds of ads, but you have to split the income with your host! Kind of a bummer.
How much does WordPress.org cost?
It is 100% free software. You can actually download the software onto your computer, if you are into that sort of thing. I am not a coder, but I have all the files in a folder on my desktop from when I thought that was what I needed to do to get started with a website.
If you are looking at hosting and they try to convince you that they are giving you a deal on WordPress, you will know better!
However, I found an all-in-one hosting and education provider and I was able to get set up with WordPress.org in one-click. To read more about that, click here. I mention this because the hosting is awesome, with SSL and 24/7 support, and if you pay yearly is it works out to about $25 a month for education and all the hosting benefits.
I do not think that you can get set up with a business in any other way so inexpensively.
As well, WordPress.org comes with thousands of free themes, so you can choose one based on whatever your blog is going to promote. Many of the themes are already set up for commerce (if you are going to sell things) or mobile (many users view websites on their phones so you need to be mobile optimized).
You can also upgrade many themes to PRO and get more customizing features.
And no worries if you want to change themes later. With the click of a button you can have a new look! Just be sure to choose another theme with the options that you need, like the commerce check-out options.

Can I really earn money with a website?
Oh yes you can! Some people are making 6 figures per month. Yes, you read that right. It takes a few years to get to that point, and those bloggers worked hard to figure out the best practices for their particular situation, but it is do-able for anyone. Every niche site is different, and not all practices work for all websites.
The basic premise goes something like this:
-Set up website, get domain and hosting, add some helpful plugins (anti-spam, image optimizer, SEO helper)
-Start writing content and then get indexed on Google (so the world can find you)
-Keep writing
-Yup, more writing
-Set up email marketing and find ways to bring your site more traffic (social media; more blog posts)
-When you have some decent traffic and a bit of a fan base, put up affiliate ads for products that you use and love.
-Keep writing.
As the traffic comes and you develop a fan base that loves your content and trusts your judgment, you will be able to promote products that your visitors may want to purchase. Ta-da! Income J
So why can't I use a free website to do this?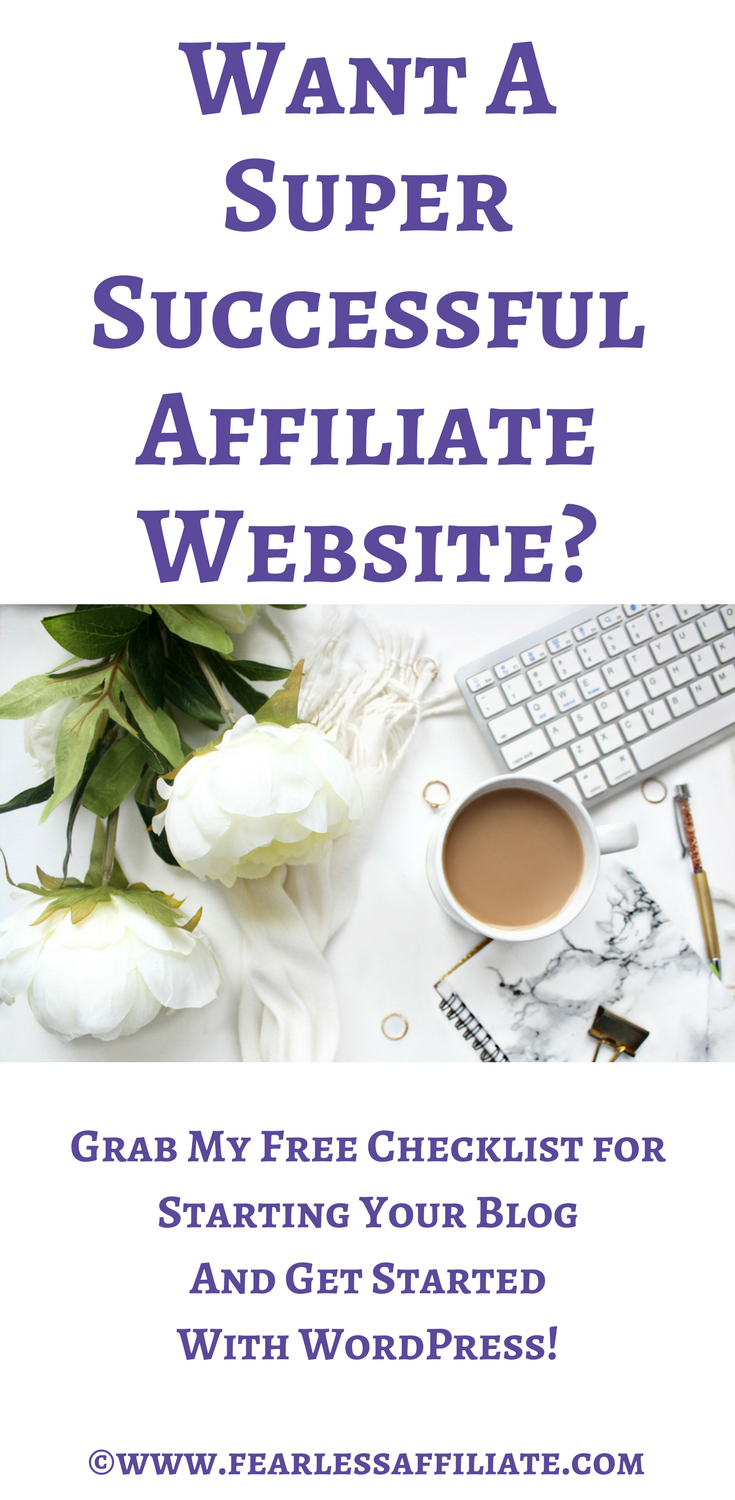 As mentioned earlier, most free websites do not allow you to place the all-important affiliate ads on your site. This is because they do not want your ads to compete with their ads for themselves. That is why their site are free.
As well, you cannot modify the code in your site. There are a few easy tweaks that non-coders can do to hide images on WordPress.org sites, which is great for creating promotional ads on your site when you need a URL (a web address) for the ad. There is no URL when your photos are on your desktop, so if you want to promote on your site, learning how to hide images is a handy trick.
You cannot install plugins on your free site. Plugins are great for social sharing, SEO (search engine optimization), for building a landing page, or growing your email list which are all things that help you to build a site that is worthy of monetizing.
You also cannot add Google Analytics unless you upgrade to a business plan. And why bother doing this when you can switch over to self-hosted website, find some website hosting and then do whatever you want. Business plans start at $33/a month and this is the minimum plan if you want to have the freedom that the self-hosted websites have. If you can get decent hosting and a domain for cheaper than that, I would say go for it.
It should also be noted that free sites have a limited amount of space for you to store images or videos. You cannot just delete them because they will be deleted on your blog post as well.
Free websites are awesome for people who just want an online diary, or they want to keep friends and family in the loop without sharing to their Facebook feed. If you want to "practice" blogging, free sites are great for testing this out.
If you did set up a wordpress.com site, you can switch over to a wordpress.org site; there are plenty of guides on the internet to help you.
I tried this with Wix a few years ago, but found it cumbersome. Free sites do not offer up the help that new bloggers want.
If you want someone to respond to you right away, you need to upgrade. So again, why bother? Might as well start with a decent hosting company with a reputation for quick support that is available when you need it.
I hope this post has helped you to see the benefits of using a self-hosted WordPress website. If you want to create a side-hustle that can lead into full-time income, self-hosted websites are the way to go. And really the only way to go if you want a successful affiliate website.
Free websites are limited in many ways, but are useful for hobby or casual blogging. Is it possible to have a super successful affiliate website with a free hosted site? Not really 🙁
If you would like a free checklist for starting your blog, sign up below to access my Resource Library.
Happy Blogging!
-Irma 🙂