Greetings my fellow blogger and digital entrepreneur! Let us review the updated Pinterest strategies that you can use to start increasing your traffic today, straight from the people in the know – Pinterest!
You may think that Pinterest is confusing or pointless but then you would be underestimating the reach that you can get with this search engine.
"67% of pinners say they've discovered a new brand or product from business content on Pinterest". That right there is a compelling reason to sign up.
Not enough? How about this stat: "93% of Pinners use Pinterest to plan purchases". Wow. People are searching for a solution and many are ready to buy something. You just have to get in front of them!
Related Reading:
How To Use Pinterest For Business
Pinterest keeps updating its algorithms and policies specifically for the business user, and the latest updates can help us use their platform more effectively to promote our online businesses.
A few weeks ago, Pinterest did a huge update. They gave us a new profile header so we can showcase our pins. They also gave us new tips on how best to pin. This is going to be the basis of our strategies today.
The information in this post was taken directly from two recent Pinterest articles:
Best Practices https://business.pinterest.com/en/best-practices-for-pinterest-success
A Creative Approach to Pinterest https://business.pinterest.com/en/a-creative-approach-to-pinterest
I paraphrased and edited the content to make it easier to read quickly as well as combining information from both articles into one point for clarity.
Let's go!
Pin 10 to 12 pins per day, usually in the evenings or on weekends.
This is from Pinterest. They are telling you when the most optimal time to pin is. Trust and believe.
Consistent daily pinning is preferred over mass once-a-week pinning.
Pinterest will reward your consistency by moving you up the feed faster.
The first five pins that you pin daily will be prioritized for distribution
UPDATE: June 2018. Pinterest has announced that the first 5 pins idea is no longer required, so do your manual pinning all day, any time! (I have read a few threads about this and most people seem to think that this means to pin right when the new day starts based on where you are in the world and using UTC (Coordinated Universal Time aka the basic for our 24 hour time zone).
For me, I am in the Pacific time zone, so the optimal time for me to pin my first five is at 5 pm (UTC – 7). Figure out how UTC works for where you live and pin at the optimal time. Include these five pins in your 10 to 12 and you are golden!
So what does this mean exactly? If you have a brand new pin (new blog post or old post with a new pin), pin it first thing in your new day. It will then be prioritized to go to your followers, along with another four pins (for a total of five). So this is a good way to keep your followers happy and engaged with your content.
After your followers get these pins, they will go out into the feed for anyone else to see. So this is a motivator to have a following.)
Create multiple pins that point to the same URL.
This is perfect for split testing. People who have been pinning for a few years have noticed that some of their off-brand pins have gone viral. Do not be afraid to switch up your colors and fonts, try new keywords or re-word the main description on your pin as well as creating a unique description for each pin.
I will caution you to not upload a ton of new pins with the same URL on the same day or Pinterest may think it is spam. Try one every two weeks and monitor your results in Pinterest analytics.
Pinterest Analytics (drop down menu on the left side on your profile page) > Overview > Your Pinterest Profile > More > Saves will show you the pins that people are saving.
Watch for patterns like similar colors or how the pin is designed to give you clues as to what your audience is reacting favorably to, and recreate it a few more times to see if that is indeed what your people like. This is super helpful!
There is no penalty for having tons of pins
I belong to a number of Facebook groups with "follow" threads or "re-pin" threads. This gets my pins out to many boards.
Sometimes there are no pins for my niche in these groups, so I have created a bunch of "secret" boards to pin to so that I can do my requisite pinning without having to worry about the wrong kinds of pins showing up in my feed.
*A lot of people with Pinterest group boards also have Facebook groups, so watch for these. It really helps get your stats up quickly.
As well, many people who create courses related to Pinterest also have group boards. The more you are active on Pinterest the easier it will be to find these groups, as well as knowing which groups are quality groups.

6. Lean into Trends
Just like it says. Seasons, holidays, events; pinners look to Pinterest for whatever they may want for something upcoming in their lives.
Use this to your advantage by planning ahead and getting your seasonal items on a pin well in advance of the event/holiday/season change and get people to visit your website before they even know that they want to.
Pinterest recommends being 45 days in advance of the event or holiday.
Share, share, share
Social media, email or whatever distribution channel you use. Put the words "pin it" or "pin me" in the alt tag of your media within blog posts.
Hopefully you are using some kind of social sharing plugin for your website. I am using Social Warfare (free) and I love it.
It also allows you to choose the image that goes out to social media sites, so you can upload a website banner and hide a pin on your post and then you can choose which of these images goes to which type of site you are using.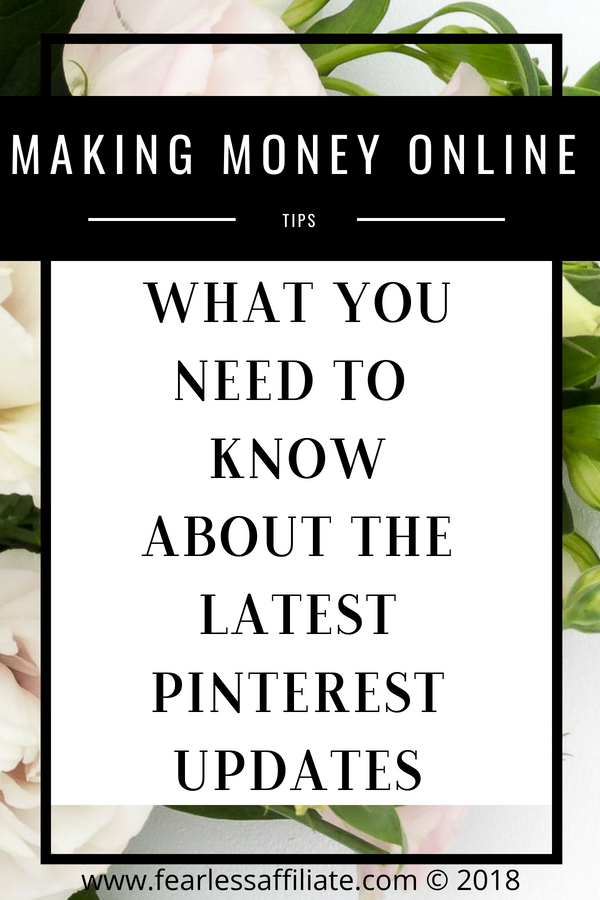 Name your boards wisely
Make sure that they are specific and relevant. Use keywords that people would search for in your niche. You can sub-divide boards into sections so inside your "Fashion" board you can have "purses", "shoes", "dresses" etc. Board covers are not necessary, however they act like pins so put an awesome description in yours to help people find your topic.

Always include links
Pinterest will prioritize clickthroughs with low bounce rate, so be sure that your pin image is also on your landing page or blog post and that your pins description matches the page's content.
Pins that lead to 404 pages or have broken links will be penalized.
Get the save button https://business.pinterest.com/en/save-button-for-websites
It increases saves up to 5x by making it easier, faster and more intuitive for people to save your content to Pinterest.
Pins should represent actionable, inspiring ideas. People come to Pinterest to find ideas and they want pins that help them to give something a try or do something new. Use this to your advantage.
Avoid "busy" images on your pins. 80% of pinners use mobile so make sure that your pin message is easy to digest and that the text is legible in the feed and on close up.
Pins are organized into columns on Pinterest, so an ideal aspect ratio is 2:3; 600 px wide by 900 px high or if you like square images 600×600 px.
If you are getting strange pins in your feed then Pinterest cannot understand what your pin(s) is/are about. Try testing some pins without images and just text and do not use light colored text that is hard to read.
Also try more specific keywords with a clear call-to-action (CTA).
And be sure to brand your pins in some way such as putting your websites URL in the pin (usually at the bottom) but avoid the corners since Pinterest is using this area to read your pins and you do not want to block that.
15. Make sure that your pin is "actionable"
Give people a reason to click through by telling them to do just that. Words like "shop", "buy", "make", "find" are all actionable words that you can use to encourage people to take the next steps.
Pins with a strong call to action have a 35% higher click through rate! (This tip courtesy of Carly at mommyonpurpose.com)
If your pins are getting a lot of engagement, they stay in the smart feed longer and have a better chance of being seen by more and more people.
Use hashtags
Pinterest used to be against hashtags but now they are for them. Add up to 20 relevant hashtags into your pin description to help people find your pins and then your website.
Hashtags should act as broad search terms, not niche humor. (#springfashion is great but #ilookterribleinhats is not)
You can now use video on Pinterest!
They are recommending that you make sure your videos are designed for mobile and are either square (1:1) or portrait (9:16)
Shorter length videos tend to work best when you want pinners to discover your idea – ie goal awareness or storytelling.
Go longer when you want people to do something with your idea – ie tutorial or education.
Either way make sure your message comes across even when the sound is off.
If you want to make pins specific to these niches: Home, Food and Drink, Style, and Hair and Beauty niches, click this helpful Pinterest page link:
https://business.pinterest.com/en/how-to-make-great-pins
These next two points are my own and are some quality tips I have gotten from Pinterest influencers:
Join group boards
Look for influencers in your niche and then look at the group boards that they belong to. Look for any that are accepting new members and apply. Apply to lots of boards because not all will accept you, and some take weeks to respond to your email.
Be aware of the group boards rules for pinning and re-pinning and pin strategically so that you are pinning your 10 to 12 a day at the right time.
Do not join any old group board just to belong to a group. I have already had to delete some of the group boards that I joined because I was the only one active on the board! The point of joining a group board is that your pin will show up in the boards of all the people who belong to the group, so you have a better chance of being seen by more people.
If you do not belong to any groups, there is no penalty.
**The following link is an affiliate link, and I may receive compensation if you click the link and purchase something. This is at no additional cost to you.**
If you cannot find any boards to join, consider joining Boardbooster for their 500 pins for $5 a month plan (their cheapest). When you sign up you will get 500 free pins to use over a 10 day time period. This is a great way to see if it is a good fit for you.
Boardbooster has something called Tribes, which is like group boards. You join a tribe and upload whatever the max amount of pins is for that tribe. You share their pins and they share yours.
Because of the pin limit, your pins get circulated at least once a week, so this is helpful. The groups that I have joined encourage you to upload your best performing pins.
You can also go in anytime and delete pins and upload new pins. Check your Pinterest Analytics and upload your best performing pins for optimal success!
Fill up your boards with quality pins.
You do not need a lot of them if they are of good quality. What you want is to find the influencers of your niche and try to find their most popular pins to save to your boards. Be sure to follow the pin through to the website to make sure that it is not spam before you pin it.
Their success will be your success.
Also, if you take any courses from people who pin a lot be sure to pin your review post pins to their boards or try to make them aware of your pin.
Most will gladly re-pin your pin if it is positive review. Then people will find your pin on their board and that will give your pins some extra legitimacy! Win-win.
Bonus Tip: Do NOT delete pins. The experts at Pinterest (I just watched a webinar with Sarah Hoople Shere, a Product Marketing Manager at Pinterest, so she would know) suggest that there is really no reason to delete pins ever. If the pin is nor performing well, then change the font, colors, keyword or create a brand new description to use on a NEW pin.
Try not to edit old or under-performing pins. Also do not bother to add hash tags to old posts. Just move forward with this new information.
Final Thoughts
I know for myself, I did not see a lot of traffic to my website for the first four weeks. I did get some signups but not many. I tried to be patient…
This month however, I have had 25 new signups just in the past two weeks! Every day I get an email from MailerLite telling me of my new signups. I also have more people following me on Pinterest, saving my pins, and sharing my posts on social media.
As a result, I am getting more action with my affiliate programs! Win-win!
If anyone had told me last year that Pinterest would do all of that for me, I would have got on top of this sooner.
I have discovered the colors that my audience likes the best, so I am making more pins with those colors. Yay to Pinterest Analytics for that help!
FYI:
Impressions: The number of users that Pinterest has shown your pin to
Clicks: Someone clicked on your pin, either on purpose or by accident
(You need Google Analytics to see who clicked through)
Saves: Number of users who have saved your pin to a board (when you see this happening try to repeat what you did often because it is working).
Happy Blogging and best of luck with Pinterest! I know you will love it. Do you have any questions or comments on this post? Or suggestions for posts? Leave them in the comment box below and remember to follow me on Pinterest at https://www.pinterest.ca/1fearlessaffiliate/ and click my social share buttons.
If you enjoyed this post and are pinning it, please leave me a comment on Pinterest as well, and tell me how things are going, what did or did not work for you. I would love to hear from you!
Happy Blogging, and follow me on Pinterest!
-Irma 🙂