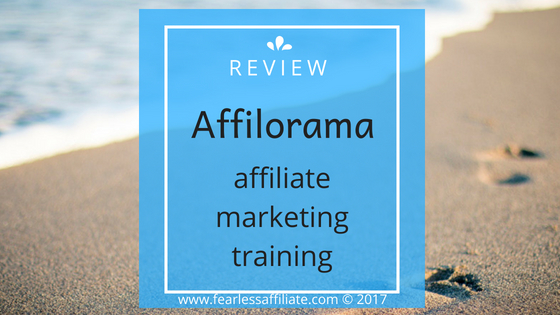 This a my review of Affilorama. Affilorama is a blogging education website, much like Wealthy Affiliate or Clickbank university. I joined Affilorama on the free plan and did not sign up for upgrades. This post is my personal opinion of the program. I signed up to several of these to compare them to each other.
Affilorama 
Free to join, then 1 month for $1, then $67 a month after that.
Founded by Mark Ling and Simon Slade.
Based out of New Zealand
As soon as you join, you get an offer to sign up for the first month for $1, but you must do this within the first 7 days or the deal expires. After that, you pay $67 a month, which is $20 a month more than anyone else charges.
What education does Affilorama offer?
Affilorama has a lot of basic content which you can access for free. There are tabs at the top, and if you click on "lessons" it lists:
Introduction
Market Research
Content Creation
Site Building
Marketing Ideas
SEO – Search Engine Optimization
PPC – Pay Per Click, which is a way to earn money with ads on your site.
Affiliate Outsourcing
They are very clear that they will give you tools to set up your first website, but after that you need to pay for the tools. There is quality education here, but you get the minimal amount for free.
Affilorama – The free program

I read the short introduction to affiliate marketing, and was left to choose my next topic. Some of the steps are pretty obvious: "Affiliate Marketing for Beginners" seems like the next logical step. After that, your guess is as good as mine.
As a newbie, it would be nice to have steps laid out in a logical progression. So people who are learning the steps and jargon can see what they are up against. Or maybe that is just me?
There is no explanation for the randomness
My guess is that if you are confused enough you will pay for Blueprint or Jetpack.
The other thing that I found odd was the progress bar.
It shows how much of the total education you have completed, but not which areas specifically. You have to click through the various topics to see which ones you have completed. Not a very helpful progress bar.
The education is minimal
I worked through about 20% of the lessons, using a free website. The lessons are bite-sized and education is basic. Perfect for newbies. The videos are exactly the same as the written lesson. This is helpful for different learning styles.
I had to wait 24 hours for support
And it was not chat. If you have more questions you have to send more messages. That kind of sucks if you are working on something and need an answer before you can continue. It would be nice to get one within the hour at least, so I can keep working. I am guessing that this is part of being in the free plan.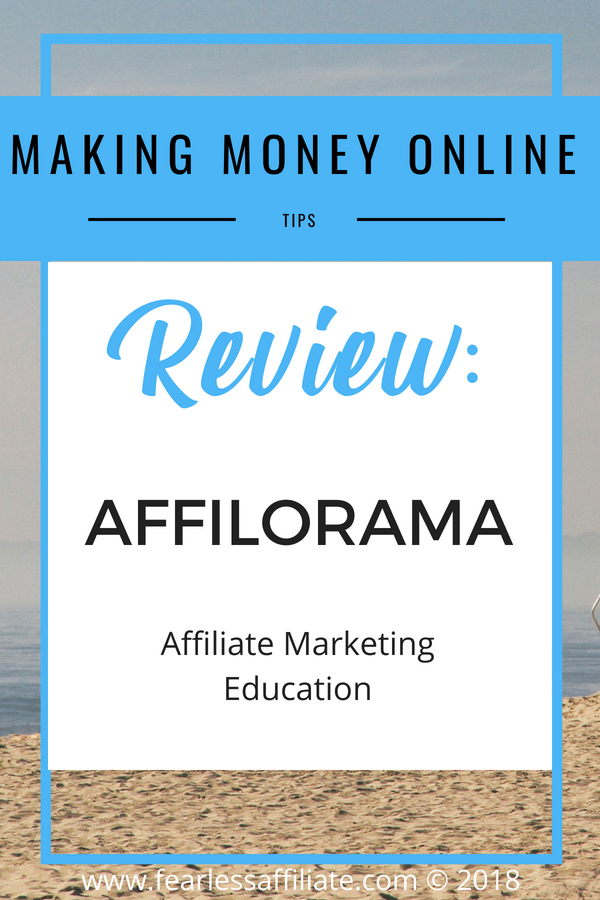 Pathway to Passive
This is an ebook that you can purchase for $37. The purpose of the products is to show you the steps to earning money online. It is helpful to those who do not know anything about online marketing.
And it is also meant for people who have tried online marketing, but did not find success and they need to find out why.
I can offer up a cheaper education. A lot cheaper.
It is a book by Ruth Soukup called "How to Blog for Profit Without Selling Your Soul". This little gem is available for the bargain price of 8 bucks. Ruth is a 7 figure blogger of the website Living Well, Spending Less. This book lays out everything, in order, for how to create online success. And not just affiliate marketing or sales funnels. All the ways to make legit money online.
If you are considering getting in to the world of online marketing, this book lays it out for you. After that, if you are still interested you can go looking for some education. And you will be informed of what online success takes so you can get the education that you need.
 Affiloblueprint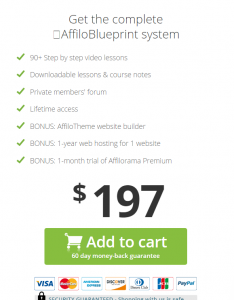 Unfortunately this product has a huge one-page ad that looks like a scam. I am not saying it is a scam, just that it looks like it.
From what I can see on the sales page, you get the same education that is available for free on their website. Except now it is laid out in logical progression.
The education comes with: 90 video lessons, downloadable lessons and course notes; private members forum; lifetime access.  A good deal for basic education.
Bonuses include: AffiloTheme website builder, 1 year of website hosting for 1 website; 1 month of Affilorama premium. Affilorama premium is a suite of tools – free for one month, $67 a month after that.
The theme is not a bonus in my opinion. If you host your website with any of the more popular hosting companies, they all come with one-click WordPress.org installation.
You should not have to pay for a theme, so that is not a bonus.
WordPress.org websites come with thousands of free themes, and all can be customized.
Hosting outside of Affilorama can cost, on average, $6 a month. Check Siteground, BlueHost and HostGator for prices. Since your free hosting at Affilorama expires in one year, you need to know these costs in advance of that.
FYI #1
There is a lot of talk on these types of websites about "building a website". Forget that. Bloggers do not need to "build" a website.
Most of top website hosting companies (like Siteground) come with WordPress.org websites that are one-click install. You click the button and it is installed for you in 10 seconds. Your biggest issue will now be choosing a theme.
Do not fall for any sales copy that makes a big deal out of them building your site for you. It is fluff.
 FYI #2
WordPress.org is free software and you should never be charged by anyone for using it. Pay for hosting? Yes. Pay for WordPress.org? No.
Affilotools is not a bonus
Products like this are designed to get you excited about looking at your data, which is fine. But a new website only recently indexed has no data. Your first month you will looking at…not much. Then you have to pay for tools…and you still have no data. It takes time to build an audience and get traffic. $67 a month is a lot if your website is not yet making money. Down the road you will want tools like this, but not necessarily these tools.
Google Analytics provides website analytics information for free. You can go there anytime and see who is visiting your website.
The backlink finder is sketchy. You may be building backlinks to scammy sites that will cause your websites reputation to tank. If you are new to blogging, how do you know who is legit?
Successful bloggers build relationships with other bloggers to get quality backlinks. It is much less risky.
As well, there are free tools to help you scope out the competition and their backlinks. Examples of this are Buzzsumo and SemRush. You need to use these tools wisely as you only get so many free searches or searches per day.
The education is inexpensive
Compared to a lot of blogging education programs, $197 is not expensive. I cannot tell how detailed the information is or what the end result might be from the sales page. It looks like you get the same education that is available for free on their website. Plus a suite of overpriced tools and $97 theme. Hmmmm.
AffiloJetPack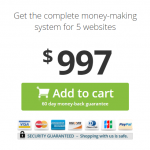 For $997 the folks at Affilo will do it all: you get themes, hosting, website set up, content (!?!), FIVE websites (you pick the niches that interest you from a choice of 18). They set it all up for you. You pick articles and content from what they send you, customize your website and you are done.
These types of websites are called sales funnels. They are designed to get people to click through to buy something. Sales funnels are a legitimate way to make money. I am not sure if it is a good idea to have a website that is mostly identical to what everyone else gets.
The plus for this item is that you are getting WordPress.org websites (not the free .com version). You need the .org version to monetize your website.
I do have several issues with the jetpack components
1. The free reports your website promotes i.e "the bait"
If everyone else who chooses the same niche topics as you get the same reports, why would people choose yours? How do you even know the report is useful or timely? If the report has been around the internet for a few years, and that is highly likely, will anyone still click on it?
2. What happens after year one?
When your first year is up, then what? You pay another $999? Your sales funnel includes hosting for one year, so what happens when your year is up? Can you move your websites to other hosting platforms? Is any of your website tied to Affilorama forever?
3. You are encouraged to use cheat sheets or hire ghost writers to write your content
What happens if they stop selling this package or you lose support? You have not learned how to do things on your own. You have very little control of the process. If Affilorama goes away, you cannot replicate what you are doing on your own because you did not learn how.
4. They use scare tactics to get you to buy from them
The ad copy for Jetpack contains these gems: "Here's why you probably can't do this yourself" or "You could choose your own niche, but what if you get it wrong?" or (my favorite) "how can you possibly know what will work and what won't?". Gee, the question of the ages.
Note: This can be a good product to use in the future
In addition to a website that you are already developing, you can have some of these funnel websites generating income in the future. They are not "get rich quick" or "overnight" income. You still have to find visitor traffic and do the work. I would recommend this for anyone wanting to scale their income after they have a good understanding of how online marketing works.
Final Thoughts
Affilorama is NOT a scam. But it is more expensive than comparable programs. 
For $67 a month, I expect a solid education, because this is $20 a month more than anyone else is charging. I could not see what they were doing that would justify the extra expense. Fail.
Both Wealthy Affiliate and Clickbank University offer similar education for around $50 a month.
All three of these programs offer basic, beginner education in online marketing. You will have to seek out more advanced education later, so do not get tied down to one of these platforms. They are first year education only.
You will get legit blogging education, which you can get for free on the website.
I am on Mark Ling's mailing list and I have attended several of his webinars, so I know Affilorama is not a scam.
AffiloBlueprint is the only product I would consider purchasing, and only to learn how to set up a website and create content. Jetpack does not teach you skills; you are paying for a product. In other words, there is no guarantee of success regardless of what the sales copy says.
Related Post: How to Start a Blog and Make Money Online
Do you have any experience with Affilo products? What did you think of the education? Was it hard to get support? Leave your comments and questions in the box below and thank you!
Please sign up for my free weekly newsletter of tips and freebies for bloggers. And share this post with anyone that you think may benefit. Sharing is caring!
Happy blogging and be sure to follow me on Pinterest.
-Irma 🙂