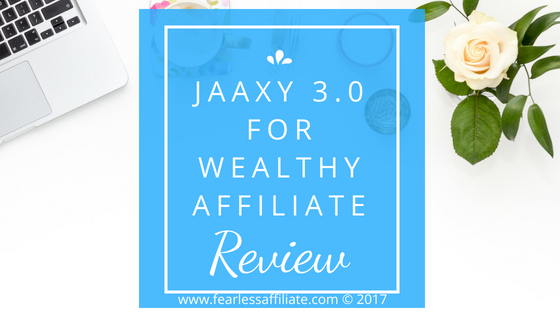 Greetings fellow affiliates! At this time of year, when giving is plentiful, those of us who belong to the Wealthy Affiliate communtity have been given the gift of the best keyword tool ever, Jaaxy 3.0 for 2018, now fully integrated within the WA program, for both starter members and Premium. And this gift can be yours as well!
Jaaxy 3.0 is now integrated within the Wealthy Affiliate platform 🙂
What this means is that when you join Wealthy Affiliate, even as a free STARTER member, you will have access to the benefits of this amazing tool! Everything that I wrote about Jaaxy last summer is still true, but this new integration comes with some awesome benefits!
Wealthy Affiliate had its own built-in keyword research tool, which had its limitations. Then Jaaxy was created a separate stand-alone program with its own website. While you can still access Jaaxy this way, it has now replaced the WA keyword tool, and is integrated into the WA platform for all members to use!
Here is how the new WA/Jaaxy integration breaks down
Jaaxy Starter (Free WA member, Free Jaaxy): 30 Keyword searches, 2 saved keyword lists, 30 Site Rank Scans (!!! See the benefit of this below!!), manual QSR (this is super handy! see explanation below)
Jaaxy Lite (Premium WA member, Free Jaaxy): Unlimite Keyword searches, 25 saved keyword lists, 100 Site Rank Scans, plus more!
Jaaxy Pro (Premium WA member, $19/month cost): Unlimited Keyword searches and saved Keyword lists, 1000 Site Rank Scans PLUS Site Rank Tracking (read about this below), as well as the highly popular Brainstorm feature.
Jaaxy Enterprise (Premium WA member, $49/month cost): Unlimited Keyword searches and saved lists, 10,000 Site Rank Scans, Instant QSR (no clicking!), and many other features.
**You can also sign up for Jaaxy without going through Wealthy Affiliate, but this post today is about the upgrade for WA members and anyone who is thinking of signing up now has one more reason to!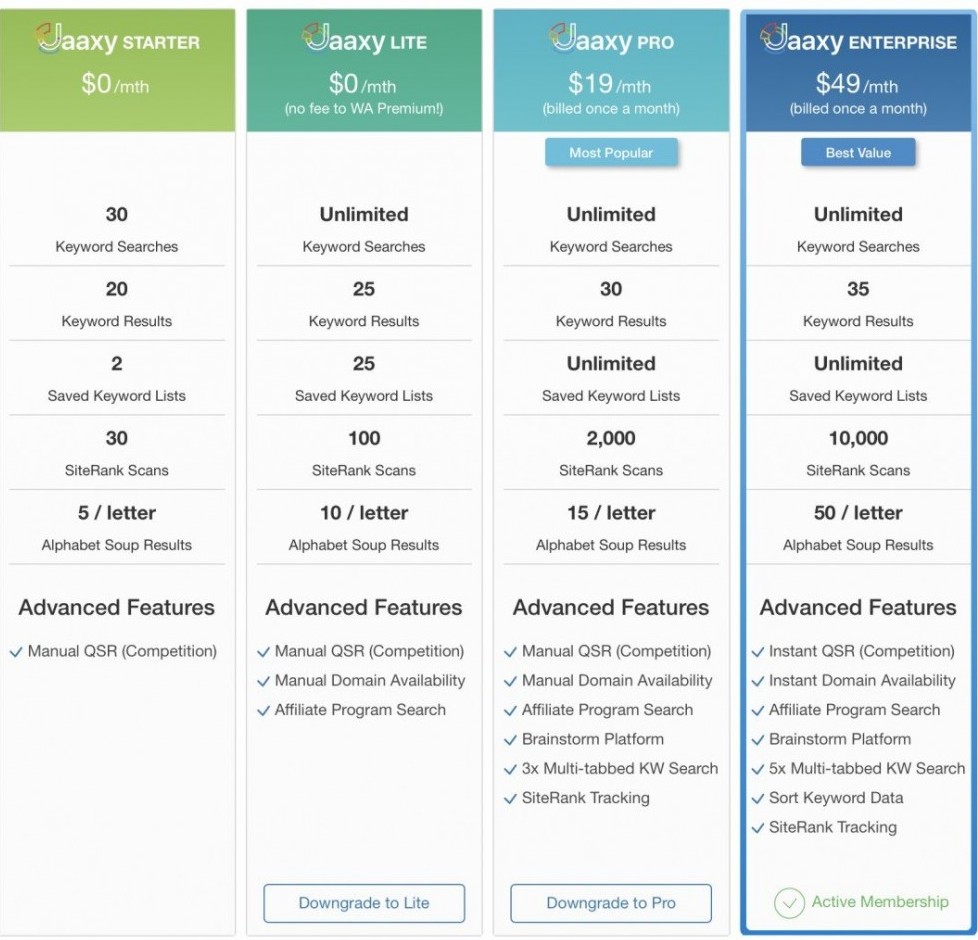 I was able to grab Jaaxy Pro last fall after it was updated to the 3.0 version and prior to pricing changes, but now anyone at WA can get Pro for the bargain price of $19 a month, or go with Lite for free! After paying for a pro theme for your website, I think that paying for an upgraded Jaaxy is the second thing to do once your site is starting to earn money.
Site Rank Feature
I have to say that the site rank feature is well worth the money! You can add all of your blog posts and then set the program to scan on a schedule of twice a week, weekly, twice a month or monthly. Just check in whenever you want to see how your posts are ranking and Jaaxy will show you your rank for Google, Bing and Yahoo, along with green up arrows to show your post climbing or red down arrows to show it dropping. This is very useful information!
QSR, Alphabet soup and Brainstorm!
All of the other great features are still there, such as keyword search, which allows you to manually click (Enterprise does it automatically) to find out the QSR (Quoted Search Results = the number of competing websites ranked in Google for that exact keyword); as well you have alphabet soup, and the very cool Brainstorm function (Pro and Enterprise plans only) which lets you see what topics are currently trending so that you can incorporate them into posts.
You can also search out and purchase domains (not available in the basic plan, but it comes with Lite and above), save your keyword searches into lists that you can view later, and check out the details of your competitors webpages using the Search Analysis tool!
KQI
KQI is still there as well (Keyword Quality Indicator). This helps you to decide if the keyword you are searching would rank Great, Ok, or Poorly in the rankings. This is quite helpful for a keyword tool! It sure is a time saver for me 🙂
Tell me again why I need this awesome product??
If you are just getting started with affiliate marketing, then you must have read about the benefits of keyword research and perhaps have gone looking for tool that can help you with this. When I was researching Jaaxy in July of 2017, I discovered that there are very few quality keyword tools, and zero that do what Jaaxy is offering for the starter or Lite members here at WA. Zero. Let me know in the comments if you found one that does what Jaaxy does, at any level.
If you are looking at the getting into something that you can call your own in 2018, please think about affiliate marketing. Yes, I am encouraging you to sign up at Wealthy Affiliate. I like it here, and so do tons of other people. It is helping me to create my side hustle, and we have an awesome community of helpful people here to answer questions. As well, there is live video training with Jay on Friday evenings, plenty of tutorials for all subjects like integrating youtube videos, as well as the regular and bootcamp training to get you started.
I encourage anyone who wants to sign up to go with the FREE STARTER MEMBERSHIP at WA, which you can then upgrade as you see fit. It comes with the 2 free sub-domain websites, and now access to Jaaxy for free! Sign up, start a niche website, and work your way towards ditching your 9-to-5 at some point in the future when you are ready to let it go. Give the world the benefit of your knowledge.
As always, I also encourage you to comment below on your experiences with using Jaaxy or your thoughts on starting out with affiliate marketing and the benefits to your life. Please share anything you wish you had done differently, or any words of wisdom. Thank you!
Cheers,
Irma 🙂