Today we will be talking about finding a niche that works for you. What do I mean by that? Just that some niches are easier to make money with, like personal finance. Consider adding a money making niche to your website to boost your income while helping your visitors.
Niche websites are awesome! And where would be without them? I do not buy recipe books anymore, I just type my ingredients into Google Search and poof! a fun new recipe is born! I get great ideas, which I adjust for the ingredients that I have, and my family gets interesting new foods to try. I love it!
The same idea is true for any niche that you choose to blog about.
And to go along with those niche sites are matching affiliate programs.
Sweet!
Do you want to blog about babies? There are affiliate programs for that!
Or would you rather blog about sneakers? There is an affiliate program for that as well.
Is your passion chainsaws? Affiliate program? Check.
Not everyone goes to a website for the same reason and your visitors will come to your site for YOUR viewpoint and information. They want YOUR stories, YOUR tips, and YOUR specific information. How cool is that? Pretty cool I think.
how to choose your niche
I did not know what steps to take to get started, so I went online and looked around. I had signed up for some Law of Attraction newsletters and found one that talked about earning money from anywhere in the world with a laptop.
Huh?
Wow, that sounds like something that I might like. I started thinking about writing while sitting on a beach somewhere warm and tropical. Yup, I like that idea.
I was on YouTube and saw an ad for someone promoting online sales funnels, which is some of the jargon I was reading about online at other websites. This sounds interesting. So I read some more. I discovered this whole movement of bloggers and affiliate marketers. This is just what I was looking for!
There are affiliate programs for pretty much any niche that you can think of. Just go check out your favorite websites and look at their ads. Most are affiliate ads and they earn the blogger an income. When you see an affiliate disclosure, you know that someone is making some sweet cash for promoting that item.
Related Post: 9 Reasons Your Blog Must Have A Niche
You can have a niche website too!
It is important for you to seek out quality affiliate programs, as a gift to your readers. You want them to have the best information possible when making decisions, and that includes promoting quality products.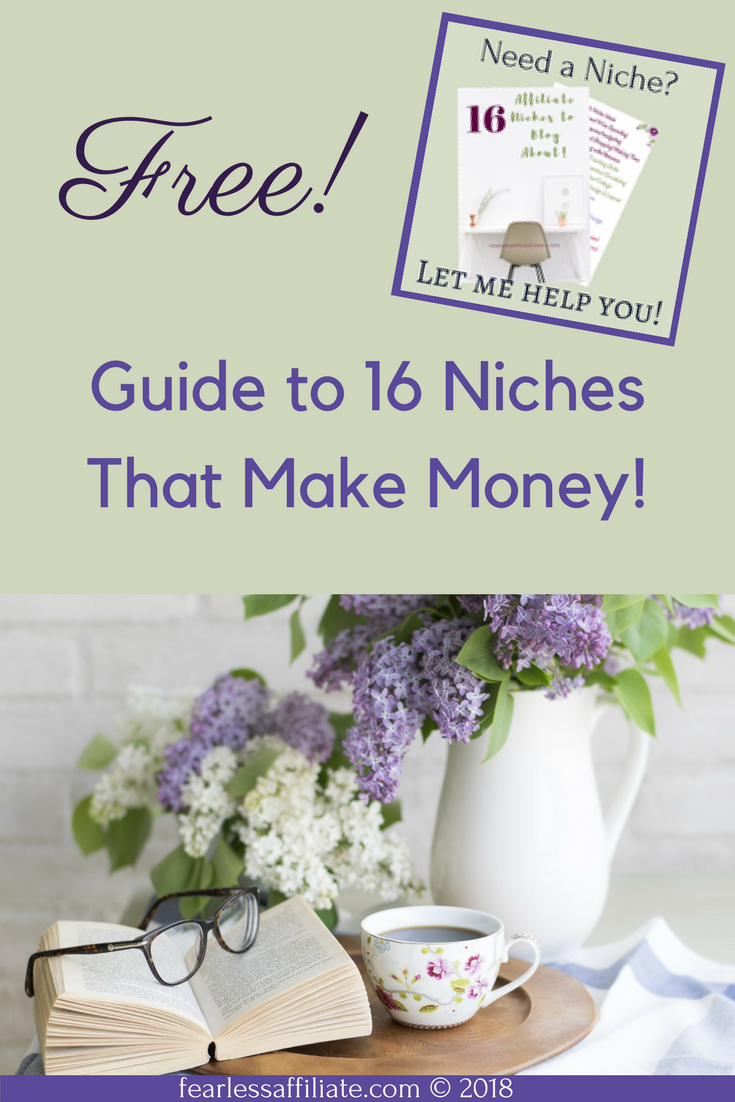 So, how do I find the perfect little alcove for me?
It is easiest to start with what you are already interested in.
What kind of books do you like to read? Magazines count here too.
Do friends or family ask you for advice about a specific topic?
Are your hobbies something that people ask you about because of your expertise? This could be your niche.
What struggles have you overcome and can share with others?
Are you a problem solver? Perhaps you have created a work-around for something and you want to share that?
Do you want to learn about a specific subject and then teach others?
What subject do you think you would be most comfortable writing about?
And don't get all down on yourself that you can't write, because that is just not true! Writing is one of those things that you get better at the more you do it. The more you do it, the more your personal style will emerge.
And you are giving a gift to your readers, in the form of your expertise, so just do it already!
As well, writing is very cathartic. It helps to clear your mind, which is why there are so many "lifestyle" blogs. People who have survived something – like illness, bullying, or a major accident – write to help themselves grieve or clear their minds, and it ends up growing a fan base of like-minded people who want to feel better too.
You want to drill-down to find your niche
For example, dogs is too broad of a category to be a niche. Poodles, is a bit better, but still pretty broad so we keep going. Toy poodles is a niche. Miniature poodles is a niche. Teacup poodles is a niche. These are quite specific breeds of poodle.
So if you have a teacup poodle you can blog about haircuts, fur color, grooming and clothes and anything else that you know about teacup poodles.
But I don't have a dog…
Ok, so you will blog about something else. There are just too many niches to list, so I have created a printable to help you see how you can start with a basic idea and get a niche from it.
The beauty of blogging is that your niche can change over time! Maybe you have a poodle, and then get a Siamese cat. Now you can blog about both of your pets and all of their "stuff" (food, toys, obedience, grooming, collars…).
Or, you move across the country for work. Now you can blog about life in your new city.
Or you quit your job and blog about house-sitting around the world. The possibilities are limitless.
The point is to pick something and get started. Get started sharing what you know with the world.
How do I find affiliate products for my niche?
You go online and start looking at the competition. Find sites that are like what you want to write about, scroll to the bottom of the page, and look for words like AFFILIATE PROGRAM.
Or type you're the name of your niche + affiliate program into a browser search bar and see what pops up.
You can also sign up at Clickbank, which takes a few minutes, and then search through their extensive database of digital products to find one that aligns with what you want to promote on your blog.
There is also the big gun, Amazon Associates, and you can promote products that are for sale on Amazon. This is also an awesome site for products that you can do reviews about!
There is also ShareASale and CJ Affiliate, which connect you to retail affiliates that sell digital as well as physical products.
There are plenty of independant product affiliate programs as well, such as supplements for health and wellness blogs.
Be sure to review the programs before committing to anything.
Sometimes you will get information about competitive programs with better commissions or products. New things are happening all the time!
Signing up for these programs is fairly painless, except for Amazon which wants the most amount of information but also has different shapes and sizes of ads. Amazon will give you six months to make a sale before they pull your association with them.
You can reapply, but it is a bummer getting kicked off so save Amazon for after you set up email marketing and have some decent traffic for your site. Actually, that is good advice for all the programs.
All affiliate programs have different pay out structures and criteria for working with them. Be sure to read the fine print!
How do I make money with my niche?
It works like this: Create a website, write blog posts that are targeted to your audience and that seek to solve a problem that your audience needs help with. And then eventually put ads on your site.
Seek out ways to help others first, and more ways to help others will come to you. And more ideas. Keep writing posts and seeking ways to engage with people who arrive at your site. You must write a lot of content for your website, so that you can see what resonates with your audience and then tailor future posts to those subjects.
Try to understand your audience using Google Analytics. Who are they? What are their hobbies? What country are they from? As well, you will want to use analytics to find your popular content and replicate it for even more success.
Keep writing posts.
Get your email marketing up and running. Promote your blog on social media, and figure out which social media site works best for your purpose. Do not spread yourself too thin trying to use them all. Pick one and learn about how to use it to promote your site. Yes, you do have to learn the business side of social media is different than the social side.
And the ways to monetize your blog will appear. You will find the program that you really want to work with. It will make sense to you and be a good fit for your visitors.
Please, please, please do not load up your site with ads!! It is annoying for visitors and makes your site look unprofessional, and dare I say, desperate. A few ads are fine, but if your pages load slowly from them, it is time to cut back.
And in very little time (it is dependent on how much work you put into it), you will be able to replace the income from your 9-to-5 job with an income that comes from your heart! Awesome right? Indeed!
Network with other bloggers. Learn what steps they are taking on the path to success. Take the money that you earn and put it back into your website in the form of courses or premium themes. Treat it like the business that it is, by re-investing in it.
Final Thoughts
The learning never stops. The tweaking of your site and how you write never stops. Grab yourself a piece of the internet and find a niche that works for you to create passive income.
What can stop is your fear of the future. Because once you are successful with one website, you can create more!
You can have the amazing life that you want and the beauty part is that YOU created it, and now it works for you!!
WOW, right? Be sure to sign up for my FREE weekly newsletter of tips and free stuff for bloggers. Sign up form is in the sidebar or below this post. Thank you!
Happy blogging and follow me on Pinterest!
-Irma 🙂