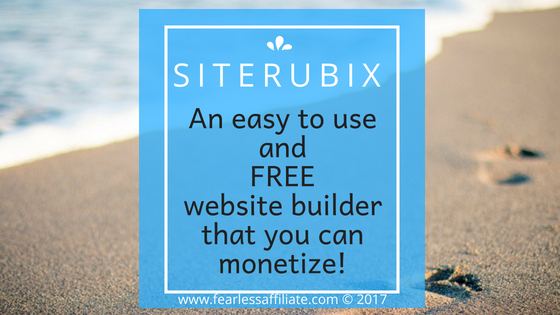 Today I will be telling you of all the benefits to using SiteRubix as your easy and free website builder. If you want to start a blog or you have a product that you would like to promote, but you are not code "savvy", then choose the SiteRubix builder with WordPress platform. Blogging has never been this easy to set up!
*This post contains affiliate links. See my disclosure at the bottom of the page*
Why SiteRubix?
SiteRubix is a free website building platform that allows you to start a blog without knowing anything about building a website. The team at SiteRubix have removed all of the technical aspects of building a website, so you can be up and running in minutes.
The hardest part will be choosing a theme for your site! No really! With all the stunning themes available through WordPress, you will be changing themes for an hour searching out the one that best represents you and your business.
And you can change your theme in the future with one click! Some themes are more optimized for people who are going to be selling on-site, and come with check-out features.
Using the SiteRubix builder gives you 1000+ themes! You do not get as many choices for themes if you use a WordPress.com website.
Wealthy Affiliate?
SiteRubix is powered by WealthyAffiliate.com, and this is where you will receive free training to get a website up and running in no time. A free account with Wealthy Affiliate allows you access to the community, as well as website support, coaching, and spam protection. You also have access to a free keyword research tool!
You get 10 lessons with a free account, and these lessons will help you get your site set up the way you like, as well as help you get your first post published on your site!
As part of the Wealthy Affiliate community, you have access to the opinions and help of others. You can get helpful feedback on various aspects of your website; this will help you to improve the experience for visitors. As well, you will learn what works to bring more visitors thereby improving your potential to earn more income from your website.
How easy is it?
Please watch this video to see how easy it is to get set up quickly. Before getting started, you should have a name for your website. Free websites usually have use a sub-domain, which in this case is @SiteRubix.com.
SiteRubix websites come with pre-installed helpful plugins and as soon as you log in to your back office, you can see notifications if your theme or plugins have updates, so that your site is always current and functional. The two plugins are All-In-One SEO, which allows you to set your own meta descriptions and titles, as well as the EWWW Image Optimizer, which will compress your images so they look great on your website. Large images slow down site speed.
What do I get with the free account?
A free account with Wealthy Affiliate gives you TWO free SiteRubix websites that you can use for blogging and affiliate marketing. You cannot do affiliate marketing with the free website from WordPress.com, as placing ads on your website is a no-no. As well, WordPress.com will be placing their ads on your site!
While there are limitations to access at the Wealthy Affiliate site using the free account, you can still PM anyone on site. As well, the owners Kyle and Carson are on site daily and ready to answer questions. You also have access to the video training, your own personal blog, and Bootcamp Phase 1, which is the training to promote any affiliate program, as well as promoting Wealthy Affiliate if you so choose (it is not required, and the training works for any affiliate program).
A SiteRubix website gives you two free subdomains with free hosting. Your website is protected and optimized, all from behind the scene, and this protection is included in your membership, whether free or paid.
You also have 30 free keyword searches with the Jaaxy keyword tool!
Websites created with SiteRubix are 100% transferrable to a paid domain. All websites are mobile ready, so that your creation can be seen on any size screen. Themes can be changed at any time.
Websites created with SiteRubix are able to rank on Google, which is imperative if you want to earn an income with your website.
Tap into the 3 billion people who are online daily, searching for many things, which can include whatever you are promoting or would like to share with the world. People are doing more and more of their shopping online, and judging from the number of physical stores that are closing because of this, it is only going to grow.
Final Words…
I highly recommend purchasing premium membership through Wealthy Affiliate, as well as purchasing a domain. However, there are plenty of successful websites who are making money with the free websites. If you are unsure of your finances, I would recommend NOT upgrading to Premium, as you cannot downgrade. You will have 30 days to move your domain elsewhere, which is a bonus from Wealthy Affiliate, because normally when you cancel membership you have to move your domain asap.
Please leave your comments in the comment box below. I value your input and I will never share your information!
See any errors or omissions? Please contact support@fearlessaffiliate.com
Happy Blogging!
-Irma 🙂