UpdraftPlus is a free plugin that you can use to backup your wordpress website and keep your precious datat safe. I am sure that I do not have to tell you how important it is to backup your site weekly, or more often if you post a lot.
Why Backup?
There are vulnerabilities with open source software downloads, or possible problems with your hosting provider and their security. Your computer could crash. Hackers might hack you just for something to do, because WP sites are easy to hack.
But not today! Today you will install and activate a free plugin that you will use to backup your website.
Go into your back office, choose plugins and then ADD NEW.
Search for "backups" and you will see UpdraftPlus at the top. Go ahead and install and activate UpdraftPlus and follow along with this article and we will do a backup!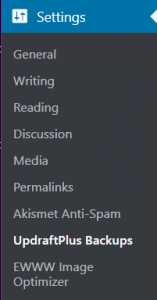 You will find your download in your back office dashboard under SETTINGS. Click on UPDRAFTPLUS BACKUPS and then choose the SETTINGS tab, where you will set up your schedule, if you want, or you can choose to backup manually; this will allow you to deactivate the plugin when not in use, if you like to keep plugins at a minimum (which is what I do).
Choose a storage option.
I opted for Dropbox since I already have it installed on my computer. I will show you how simple the process is. Choose DROPBOX from the choices and then scroll down and click SAVE CHANGES. This will open a popup telling you that you need to authorize remote storage access to Dropbox, so click the link to be taken to Dropbox and then click the COMPLETE SETUP button. If you are new to Dropbox, you will be asked to allow Dropbox to be your storage, so you can click ALLOW.
Another great option is to choose EMAIL
You can download the file and save it to where you want like another folder just for backups or maybe a usb device. It is a good idea to have a secondary backup like a usb flash drive on the off chance that your computer crashes (it happens!).
Updraft can backup on the schedule that you created, or you can do it manually.
From your dashboard, go to SETTINGS > UPDRAFTPLUS BACKUPS and choose the CURRENT STATUS tab. Click the button that says BACKUP NOW. You will get a popup window showing you the preselected options of what to backup. Click BACKUP NOW.
It may take a few minutes, but you can watch the progress. Your backup is also being uploaded to your remote location at the same time. You will then you will get a message that your backup was a success and you can see it in the EXISTING BACKUPS tab.
Related Post: Start Blogging with WordPress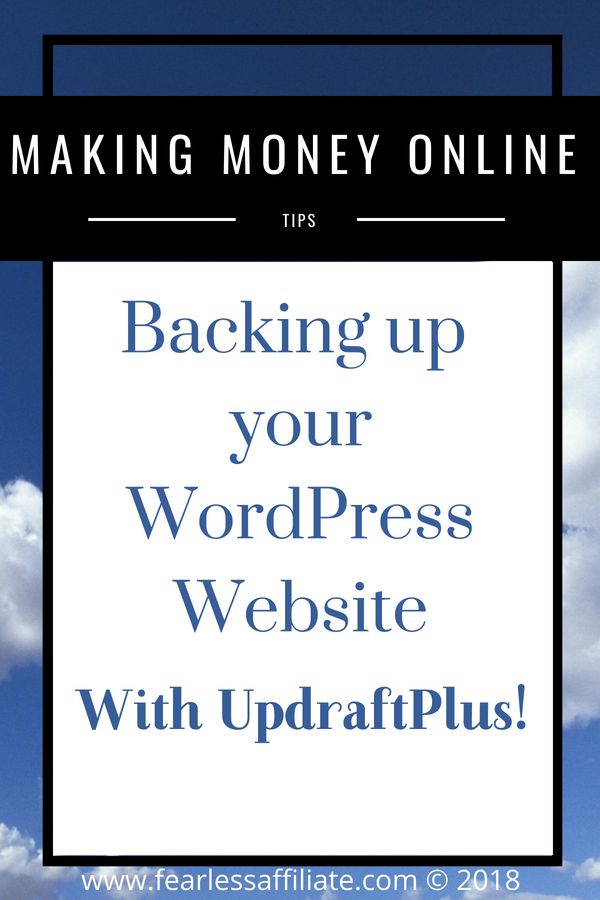 To Restore Your Backup
If you get hacked or want to do a reinstall, you will need to delete everything first and reinstall WordPress and any plugins that you had before. Do your updates first as well. Then reinstall UpdraftPlus and activate it.
Go to the SETTINGS in your dashboard and choose UPDRAFTPLUS BACKUPS and choose RESTORE.

Updraft will search for existing backups but if you deleted everything there will be nothing to find. Choose UPLOAD BACKUP FILES if you saved files to your computer. Or go to SETTINGS > UPDRAFTPLUS BACKUPS > SETTINGS to choose your remote location, which in this case would be Dropbox.
Follow the instructions to authenicate Dropbox
And do not forget to save changes! Then go to the EXISTING BACKUPS tab and choose RESCAN REMOTE STORAGE. UpdraftPlus will now look for backups and display the results. Choose the RESTORE button next to the backup. UpdraftPlus will ask you what you want to restore, so select everything and then click the RESTORE button. UpdraftPlus will now collect your files and start the restore process.Ta da!
Related Post: About Free WordPress Website Hosting
Final Thoughts…
As you can see, UpdraftPlus is a great free backup resource. If you want more features and options, you can choose to purchase the Pro version, which varies in price from $70 to $145 currently (November 2017), but you get more storage options, plus free upgrades, free support and free storage (1G) to the Updraft vault. This is fairly inexpensive for peace of mind!
Related Post: Maintaining Your WordPress Website
Updraft will not protect your website from hackers, but it is great to know that you do not have to lose all of your hard work on the off chance that some negative event happens to you. Your progress is safe if you have a backup!
If you like this article, please share it on social media. Please leave your comments about your experiences with backing up and restoring files, either with WordPress and their plugins or just in general, and thank you for visiting today!
You can also sign up for my free weekly newsletter of tips and deals for bloggers, as well as freebies. There are two opt in boxes on this page.
Until next time, happy blogging and follow me on Pinterest!
-Irma 🙂