This 7 Day Auto-responder audit is meant to check for "gaps" in your automated email system.
The point of creating automated systems is so that they will be "set-it-and-forget-it", but that does not mean that you should not check them periodically for errors.
This post was originally published July 31st, 2018 and has been updated to be current with new information. This post may contain affiliate links. If you click a link and make a purchase, I may receive a commission at no extra cost to you. However, my opinions are my own. Full disclosure is here.
Welcome to Fearless Affiliate.
My name is Irma and I help new bloggers to learn the ropes. There is a lot to take in that first year of blogging, from choosing a niche to changing your mindset from worker bee mentality to that of successful entrepreneur.
I like to focus on practical information and positive thinking, so if that sounds good to you please sign up for my weekly newsletter of tips and free stuff for bloggers.
Subscribers will get the password to my resource library of PDF printables for bloggers like my Google Analytics Cheatsheet or my SEO Checklist.#win-win
Still haven't picked a blog niche?
I can help with that too! Read my 5 Secrets To Finding Your Niche eReport…it's in the Resource Library. Sign up now and check it out.
What Is In The 7-Day Auto-responder audit?
The thing about email is that your subscribers are yours…no algorithm will cause them to disappear overnight. Twitter, Facebook, and Instagram can die a quick death, taking your followers with them.
Not so for email!
Plus, email is the easiest way to always be able to reach your peeps!
And if you are like many new bloggers, you set up your email auto-responder and welcome series and then never looked at it again.
Uh oh. You may be leaving money on the table.
Every day for 7 days, you will receive an email with an actionable strategy that you can implement that day.
The actionable tips and strategies will help you find the holes in your welcome series that may be causing people to unsubscribe right away.
As well, let's make sure that you are getting the most benefit from the work that you are doing to retain quality subscribers and potential customers.
If part of that system is not working well, then we should fix it!
Topics are:
Sign up for your own list
Look at your lead magnet
Review your download/thank you page
Is your welcome email welcoming?
Are your messages serving your customers?
Are your messages serving you?
Create a plan for the future.
Try my 7 Day Auto-Responder Audit today, and then go through it again once or twice a year to keep things running smoothly for you and your subscribers!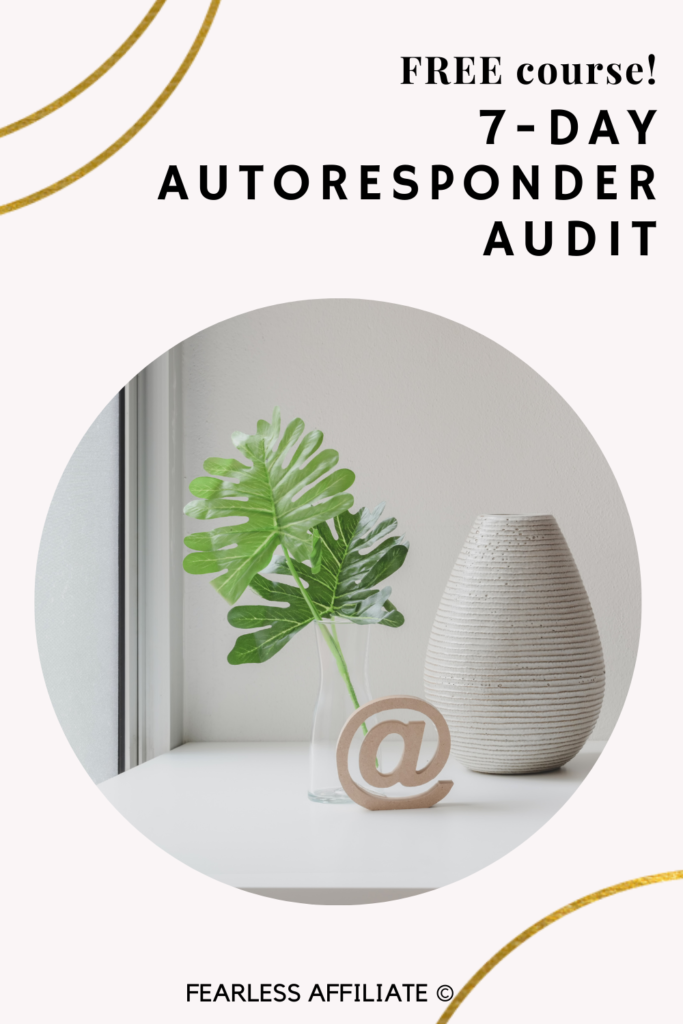 If you are considering a new Email Service Provider, than I recommend MailerLite
MailerLite is a robust email service provider (ESP) that gives you all the bells and whistles of higher priced ESP's but for free, up to 1,000 subscribers.
The free account has a cap of 12,000 emails per month. If you want to upgrade to unlimited emails, it is $10 a month.
For 1,001 to 2,500 subscribers, it is only $15 a month with unlimited emails sent by you.
Seriously, if you have less than 1K subscribers, you will not find a better email service provider (ESP) at this price point.
Features include:
Campaigns:
Campaigns are your daily/weekly/month "update" emails; the ones you use to keep in touch.
In addition, you can set up an RSS campaign that will automatically send out your latest blog post(s).
Try the updated drag-and-drop editor to add surveys, timers, and other helpful blocks into your weekly newsletters.
Ways to segment your subscribers:
Helpful if you have several niches on your website. You can send custom emails to each group!
Forms:
Landing pages, pop-up boxes and embedded forms for all your lead capture needs.
All forms are customizable for your brand colors. You can add photos of your freebies or courses to give potential subscribers a peek at what you are offering.
Automation:
This is how you set up your welcome series of emails; when people first subscribe, this is how you send them the freebie.
Set it to create two, three, four or more letters to be dripped out to new sign ups.
Depending on your niche, you may be able to just use this and not bother with campaigns. That would mean that all subscribers would get every email starting at number 1 and going forward.
MailerLite also has all the data for these options.
Link your MailerLite account to your Google Analytics
Check open rates, click rates, unsubscribes and more from each of the tabs on the dashboard page.
Yay! Data! There is never enough for the newer blogger.
Dashboard
The main hub of MailerLite, this is where you can find analytics for your latest campaigns and automations.
Related Post: How to Use MailerLite
You can see that this is fairly robust for a free program. You are getting all of the benefits of ESP's like ConvertKit, but without the pricier prices.
Conclusion
Now is the best time to audit your auto-responder and get it ready for the higher traffic times.
I also have a 5 Days of Email Marketing Tips course, if you would like to join that as well.
If you need help, email me at 1fearlessaffiliate@gmail.com. I will assist you in any way that I can.
Please share this post with anyone who can benefit from it and sign up for my newsletter of exclusive content, freebies and updates about courses and special offers.
Happy Blogging, and follow me on Pinterest!
-Irma 🙂