Welcome to the wonderful new year of 2018!
Woo Hoo!! There is no better time to get started with blogging. In today's post I will give you 4 reasons to start your blog NOW in 2018. If you did consider making New Year's resolutions, did you think at all about how to ditch your job and earn from home? Did you? Lots of people did.
There are tons of ways to earn money from home. Some are inexpensive to start and do not take up much of your time. Others involve signing up for expensive programs, usually to get you to sell that same program to others so that you can earn your money back. And some are just plain scams!
This post is about the former, and why getting started today can lead pave a way for you to kick your 9-to-6 job to the curb and secure a replacement income for yourself that will allow you to live your life on your terms while earning a decent income, and from anywhere in the world!
You need:
-a name for your website (domain),
-a platform with which to write your blog posts (website platform, like WordPress),
-hosting for your website (gives you the www address for your website),
-and most importantly, a niche (the topic of your website)!
Let's get started!
1. Blogging is one of the least expensive ways to start a business.
When you consider that you can write blog posts and then put affiliate links on your website and generate an income, for less money than you spend on pretty much anything else in your world, there is no better time to get started.
It is realistic that, over a period of time that will depend on how often you publish posts on your website and how optimized your website it, that you can replace the income from your 9-to-5 job. Or more. Yes, it does take time to get to this point. But it takes time to start earning with a brick and mortar business as well. So start now!
Just one caveat: You cannot monetize free websites (Wix, Tumblr, or the free WordPress sites). Free websites are free because the website company usually puts their own ads on your site. They also don't allow affiliate ads, which is what you need to earn money from your website.
(There is one exception, which is if you are using an affiliate marketing program, like Wealthy Affiliate . Their free program gives you two free websites and you can monetize them.)
If you start today, and can write two posts per month, you would have a good start to building your business. When you have more time, write more. Get your friends to go over and leave comments on your posts (which alerts Google to the activity on your website and this helps to rank you higher).
Ideally, you will scale up your writing to many more than two posts per month, like two (or more!) posts per week. The more posts that you have on your website, the more authority your website has with Google. Just don't sacrifice quality for quantity.
If you already understand your niche, you can easily write a blog post in an hour and a half. Two blog posts a week is only 3 hours of your time. To build a business.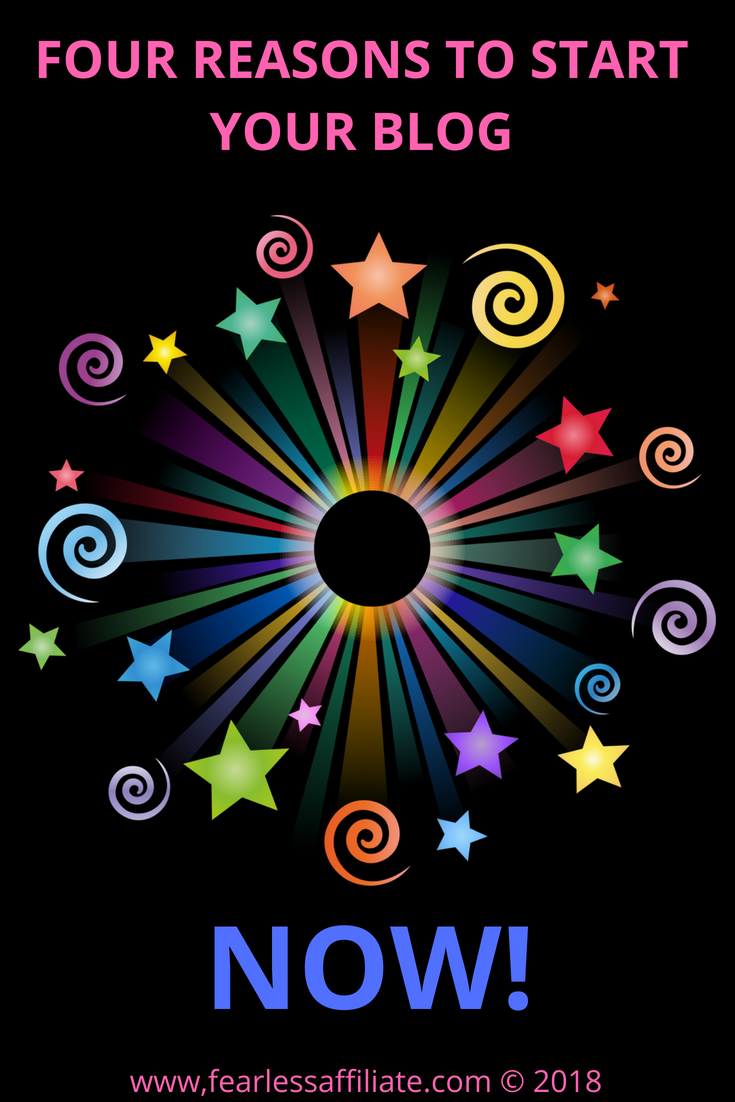 2. Google loves bloggers…
and has plenty of helpful tools and programs to help you do better in ranking.
Google Search Console and Google Analytics are free and helpful programs that show you who visits your site, how old they are, where they live, and sometimes even their hobbies (based on searches), to help you improve your posts and make your site as user friendly as possible.
Google has its own "affiliate" program called Google AdWords, which allows you to put ads of different sizes, shapes, and even colors on your website. These banner ads let you earn money when someone clicks on it. Ads are tailored to the theme (niche) of your website. You have probably clicked many of these ads without even knowing!
Google also likes to help you with optimizing your website and has a huge knowledge base of articles that help you tweak your site to get the most traffic. This optimizing is called SEO, or search engine optimization. There are thousands of websites with articles on best practices, and you will learn a lot as you move forward building out your site with great content.
Did I mention that you can start today?
3. Blogging helps you to help others!
If this is not the best reason to start, I am not sure what is. Taking your personal knowledge on of a subject, writing it out, and publishing it on your blog is an awesome way to clear your mind on that subject while helping others to learn what you know.
You also become more of an authority while you are learning to write better. You learn how to express your thoughts on the subject so that you can explain concepts to others. And you learn more about your niche, which in turn gives you more stuff to write about! How cool is that?
And you can start today!
It is important that you get into blogging with an eye to helping others, and not to make money. It is almost as if your website visitors can sense that you are trying to get them to buy as soon as they arrive. This tends to cause people to just go somewhere else.
If you can blog for people, they will also be able to tell that you are someone who wants to help them, then they will be more likely to buy from you later. It is imperative that you build up trust while serving others before you try to sell.
4. You will meet new people and make connections with other niche authorities.
You can join groups of other like-minded people from around the world. You can learn from them and they can learn from you.
You can go to the competition in your niche and see what they are writing about, and then see what they are not writing about so that you can write about it!
Visitors will come to your site, read your blog posts and ask questions. This gives you more opportunity to explore what you know and what you need to learn. The most popular blogs are the ones that are trying to help people first.
There is so much benefit for your personal well-being when you are blogging. Learning, inspiring, and teaching are just some of these benefits. And all of these will make you a better person! Start today!
Have I encouraged you to start thinking of a niche idea for your own website? I certainly hope so.
Please consider sharing your knowledge and gifts with the world, and inspire others! Enrich the lives of others while enriching your own. Happy 2018! If you know someone who can benefit from this post, please share 🙂
Until next time, happy blogging and follow me on Pinterest!
-Irma 🙂